When Disaster Falls is a band from Tilburg, The Netherlands and they have been roaming this city for one and a half years. Now with their upcoming debut EP, "The First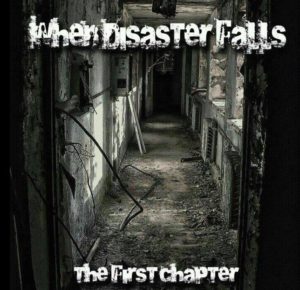 Chapter" (a suitable name for a first EP) they want to provide you with a fresh wind of metalcore. When the band started there were a lot of negative noises about them, there would be too much bands in the genre. With some stumbling along the road they eventually prove those noises wrong. They are coming forth, with a real hard punch in your face.
The EP represents strong and melodic way of making metalcore. When I listened to it I was amazed by the vocals performed by the very energetic Joey Uijens. The vocals vary from high pitch screams to some nice low growls. The riffs do not distinguish themselves from other bands and are not very original but still they really keep in your head. Especially with their first song "Broken" you might want to party and mosh along. Later in the song I have to give kudos to their bass player that shows his guts with some pig squealing. The band sometimes even grooves as much as a thrash band, but with a metalcore feeling. "Backstabbed" is a good example of this. The band plays in sync and the members really complement each other. You can see in every facet that they are having fun in what they are doing. The band does use some of the clichés well known to their genre. You could see that as a negative thing, but without those clichés it wouldn't be metalcore. The band does not give you a lot surprises, but does give you a lot of fun while listening to this EP.
Eventually I am not that fond of metalcore, but the way these guys are showing that they are willing to play at all costs and put their souls in the music makes me want them to grow. The EP is a nice composition of what this band has to offer, with that the recording is of high quality considering that this band has to deal with low budget conditions. It is more important to have fun in what you are doing rather than earning money and this band is breathing this statement.
A little Interview with their vocalist Joey Uijens:
What would you guys hope to achieve after bringing out your EP?
We hope we could be on stage as many as possible with our friends from many bands of holland and belgium. We also would love to promote our EP outside the Netherlands, do weekend tours and who knows some bigger tours! Our dream is to make music and share this with as many people as possible. Also an other dream is play some open air festivals! We also want to have big audience on shows and let people have an amazing time with us!
And what kind of open air festivals were you thinking off?
Some benefit festivals or  just festivals like breakfest, parkpop, appelpop etc. Just as many festivals as possible!
Can you tell me what your music is about and what you guys stand for?
Instrumental we just play what we like from deathcore riffs till punk, lyrically I mostly sing about problems and troubles in the world. I just have got an opinion which i want to share. Some songs like "broken" and "backstabbed" were written after some troubles with friends or lovers just to write-off my feelings. We guys are standing for honour, power, respect and loyalty we have got an opinion and it's just our way to let people know what we think about many subjects.
this is your first EP ever, how do you feel about the quality of the songs?
We were so afraid of the quality of the songs pure because our first records were really bad. After recording "The First Chapter" and hearing the recordings we were relieved. Every detail was on it the recordings are really perfect and we are very proud of this. We would love to thank Florian from Firmpro for the recording, mixing and mastering!
And now the last but not the least important question, where can the fans get your EP?
You can download our EP "The First Chapter" on our facebook from the 2nd of August 2013!
Tracklist:
– Broken
– Backstabbed
– Strife
– Red Light District
Bandmembers:
Danny Uijens – Drums
Timmy de Man – Bass, backing vocals
Lauran Verhaaren – Guitar
Joey Uijens – Vocals
When Disaster Falls – The Redlight District