With under 30 day go until the 25th Wacken and with bands like Accept being added to the line up last month the excitement is starting to build. I was last there in 2012 the year of torrential rain so I'm hoping this year it'll be different.
There has been a few bands pull out of the festival for me I was sad to see Iced Earth and Death Angel cancel their appearances however this is one of the pitfalls about bands being announced far in advance other commitments/life can get in the way!
Highlights on this year's bill for me are:
Metal-Battle finalists all competing for the top prize. This highlights the extremely high calibre of talent that is around these day's.
Arthemis it has been ages since I last seen these guys live so looking forward to their set on Saturday 2nd August.
Behemoth, Carcass, Hatebreed, Nightmare and Emperor all played superb sets at this year's Hellfest so I am looking forward to seeing them all slay Wacken!
Chthonic never fail to disappoint when playing live, same goes for Five Finger Death Punch high octane live sets that are guaranteed to get the crowd moving!
Decapitated the Polish Tech-Death metallers will take no prisoners and I am looking forward to seeing if they will be playing any new material from their forthcoming album that is scheduled to be released in September via Nuclear Blast :)
Demonic Resurrection I had the pleasure of seeing at Les-Fest last weekend and I was happily surprised at just how great these guys are live and the new tracks work very well.
Devin Townsend Project another favourite live band of mine and it'll be interesting to see how it works at a large outdoor festival compared to the indoor gigs that I have seen previously.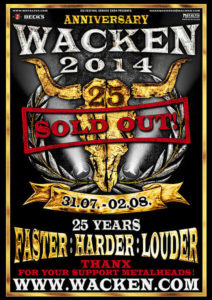 Kreator one of my all tine favourite bands are taking to the stage on Saturday 2nd August this will be the first time I've seen them in Germany and I have high expectations for their set.
Megadeth had to cancel their Hellfest slot due to personal circumstances so am I glad to hear they are still playing this festival
I am looking forward to seeing the full set of Vreid's 'Sognametal'. It's been 20 years since the bands Windir and Ulcus were established. This is an exclusive performance where they will perform songs from all 3 bands and cover their discography from past to present. Onboard for these special shows are their former troopers Righ from Windir, and Ese from Vreid. As a special guest on vocals they will also bring on Vegard Bakken, brother of Windir legend Terje "Valfar" Bakken who passed away in 2004.
Links:
https://www.facebook.com/WackenOpenAir.official