When the Megadeth livestream of their first-ever performance at the infamous Budokan in Tokyo was announced I have to admit I was a teeny bit curious because, of the "BIG FOUR" bands, they are without a shadow of a doubt, my favourite. Interesting lyrics, Mr Mustaine's snarly cynicism and some serious metal drew me like a moth to the flame and I've been a fan ever since.

Fast forward to today and I am sitting at my computer with a cup of tea, very metal, awaiting the start. The signup process with Dreamstage, who are the stream provider, is ridiculously simple, the headbanging is imminent, and here we go…. "welp, 16 more minutes" well it is a live show being streamed so there are always going to be hiccups. Whilst I await Mr M. I hop on the chat and the participants do not disappoint, it is absolute chaos!
And so… it starts, kind of. There is an exclusive behind-the-scenes video of the band leaving for and arriving in Japan, a photoshoot or three, a soundcheck for a warm-up gig at the Toyosu PIT on the other side of Tokyo and a number of interviews. Predictably the online chat is not happy as they just want the gig, although I am really enjoying it especially when Marty Friedman is re-introduced to the band – context is everything. Interestingly, Marty now lives 20 minutes from the Budokan so this is a local gig for him, and his Japanese is excellent.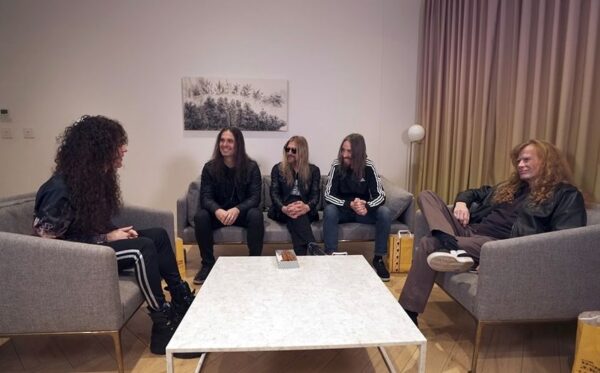 And so… it really does start!
The band launched into an utterly devastating Hangar 18 and my first impression is WOW! The production quality is incredible – the sound is crystal clear and the camera work is superb.
Dread and the Fugitive Mind and The Threat is Real as mind-blowingly good, Mustaine's soloing is perfect; James LoMenzo's bass tone in Angry Again is thunderous and his clean bass is really at the fore during Trust. This is top-notch stuff and by the time of Sweating Bullets, my palms are getting wet. Conquer or Die is a great vehicle for Kiko Courier's guitar playing and shows what such a versatile player he is.

The song for the Grammy they won for Best Metal Performance makes an appearance – Dystopia – and they are killing it, we get close-ups of Dirk Verbeuren too and show a very happy man behind the drum kit, he is clearly having a ball.

The moment many have waited so long for finally arrives, the return of Marty Friedman proving he isn't extinct as the band runs through Countdown to Extinction. He still has the chops and those chops continue with Tornado of Souls, he is slotting in so well it is almost like he has never been away. This is a cacophony of sound, a Symphony of Destruction, and once more Friedman sets fire to the stage; his job is done and he exits. The folks in the chat want more but it obviously isn't part of Mr Mustaine's plan.
We'll Be Back from the last album shows the band are still on form with new material and way ahead of anything the other bands in the Big Four can muster these days.
Peace Sells… and I'm buying as the song is sold to us perfectly. Sadly the end had to come and it arrived in the form of Holy Wars… The Punishment Due and once more Mustaine shows us how it is done.
They were Megadeth and that was sexy!!

If you are into Megadeth I highly recommend this live stream, it is everything and more that you would expect from the band live.
"Megadeth 'They Only Come Out at Night' – Live at Budokan is now available to watch on-demand for 2 days. Tickets are available here: https://driift.link/Megadeth."