Velvet Star was formed in East Yorkshire, back in 2007 by brothers Danny and Corey Jones. Several line up changes, and a change in direction, have seen the brothers decide to call it a day and move on with new venture Deadaudiosaints. To thank loyal fans Velvet Star didn't just disappear, they decided to go out with one last farewell gig and what better place than Goole, the town where it all started! Having seen them around 15 times before I wanted to be at their very last show, and never having been to Goole there's a first (and in Velvet Star's case a last) time for everything!
The MacIntosh Arms turned out to be a narrow fronted venue in a terraced block, with ample on street free parking. On first sight, I thought it was going to be tiny, but it's like The Tardis! One room leads to another, then another, then another! The MacIntosh Arm has an interesting history, it's a Grade two listed building, and in years gone by the lounge doubled as the local magistrates court. The stage, if you could call it a stage, was actually in what was probably the snug, a room akin to my late Gran's sitting room (complete with TV) but that's not unusual for a pub which wasn't built as a venue. This meant the audience were at stage level but, on the plus side, it provided the setting for a more intimate, get up close to the band, gig.
Support came from Stoke based Rockers Blue Origin who started off with a gentle, melodic intro then boom! A nuclear assault! Take your Pills set the pace for the rest of their six set show! Loud and fast with plenty of hair and sweat flying around! Nick produced a harmonica for the intro to Blur the Lines. Next came Scream about f**king – which the band apparently enjoy! Glad to hear it, and if it's true that your guitar playing face is your sex face, then these guys should be just as entertaining in the bedroom as they are on the stage! Finishing off with Godless, Blue Origin supplied a short but sweet (and sweaty) set paving the way for Velvet Star's last ever show!
During band equipment changeover, I quickly took the opportunity to ask Nick Pilgrim how it felt to be playing at Velvet Star's farewell gig – he said the band were very humbled and it was amazing to be asked!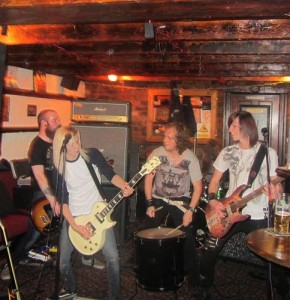 Set List: –
Take Your Pills / Whatever Happens / Blur The Lines/ Scream / Sick / Godless
Band Members: –
Nick Pilgrim – Lead Vocals
Mike Hawkings – Guitar & Backing Vocals
Josh Sutton – Guitar & Backing Vocals
Danny Venom – Bass
Tom Eivers – Drums & Backing Vocals
Link – https://www.facebook.com/blueorigin
Velvet Star then took to the (sitting room oops I mean) stage, for the very last time! Opening with one of my favourite's, the catchy 15 minutes which, fast paced and punky, set the scene for the rest of the show. They played, well what can only be described as, like it was their last ever gig! They put their all into putting on a great show. All their own songs came from In the Face of Vanity, with nothing from their latest EP, the aptly named, All Or Nothing, so I'm wondering if Deadaudiosaints will be playing some of those? Just have to wait and see!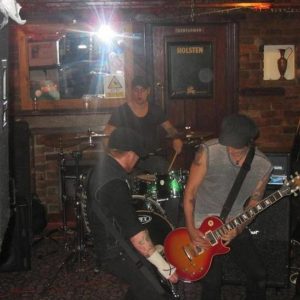 For, what Danny said was only, the second time ever Velvet Star included an acoustic track in the set. Something About You, which gave Matt the chance for a well-earned break! Danny managed to squeeze his way into the audience for this one! Next It Ain't Over started with Mewsy playing acoustic, before a quick guitar change over, half way through and back to electric for a heavier finish. Very fitting words It ain't over, until it's over as alas, it is indeed over for Velvet Star, although there were a couple more Velvet Star songs to go before the grand finale, plus three un-rehearsed covers of 'punk' classics. The Sex Pistols' Bodies, performed in John Lydon style gained some audience participation from a die-hard punk rocker, in braces and woolly hat! Iggy Pop's I wanna Be Your Dog came next, and whilst Danny doesn't look like Iggy, I've always thought he has the same energy and stage presence (or lust for life). A punked up version of Dead or Alive's You Spin Me Round came next. That is one of my all time favourite records and I can still remember all the moves, but luckily lack of space prevented me from hijacking this and ruining their show! We then came to the last song and the end of the road for Velvet Star. The band personally thanked people for supporting them and travelling long distances to be there, a nice touch before shooting into Revolver with a real powerful scream and Danny ripping his shirt off, so we ladies weren't disappointed! A fantastic song and a high note to say farewell on! A 10/10 performance! Velvet Star guilty of stealing the show, and sentenced to death by Hard Rock!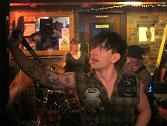 The show must go on and whilst that was the end for Velvet Star as a band. Mewsy continues his awesome guitar playing in Spill Sixteen, a band he has played in alongside his commitments to Velvet Star. Danny, Corey and Matt are continuing to perform together in a new venture Deadaudiosaints, who with Danny Le Vay (ex The Black Stars) on guitar, recently released their first single Taking Control, which was available to Download from 16th September. Deadaudiosaints have several dates lined up including three dates supporting Rachel Stamp. Two of those dates will be in Manchester so look out for a review here on PlanetMosh! I also managed to get a quick interview with Danny and Corey: –
Velvet Star / Deadaudiosaints – Interview with Danny & Corey Jones – 27th September 2013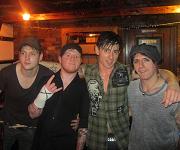 Set List: –
15 Minutes / Rockstar/Superstar / Ego / Zero / Something About You / It Ain't Over / One of Us / Bodies / I Wanna Be Your Dog / You Spin Me Round / Revolver
Band Members: –
Vocals: Danny Jones
Bass: Corey Jones
Guitar: Andrew Mewse (Mewsy)
Drums: Matt Gray
Links: –
Velvet Star https://www.facebook.com/velvetstarband
Spill Sixteen https://www.facebook.com/spillsixteenmusic
Deadaudiosaints: https://www.facebook.com/DeadAudioSaints