Tonight was a night I was really looking forward to. For Scottish grunge rock/metal band Afterlife showcasing new songs from their forthcoming debut album "Omega". It would also be a night I was looking forward to see support act Christie Connor-Vernal perform with her new band, and not on her own. Tonight I did however miss first support band Pariah Soul, due to spending time interviewing the Afterlife band in their dressing room during their performance.
Christie Connor-Vernal is a darling of a vocalist and a great songwriter in her own right.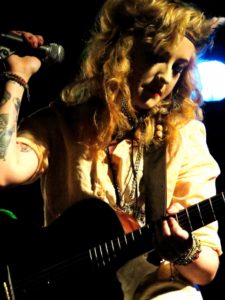 It did look strange that there were other musicians around her, but that was something that I quickly became accustomed to as the set progressed. As soon as scarves are draped, Steven Tyler style over the Mic stand, Christie opens up with "As Good As I Am". This track was a great little blues opener. Second track "Hound Dogs moon" was a song Christie shot a band video for and showcased on YouTube not too long ago. This was a nice song on video, but live it is even better, and comes into its own performed with a band. "Oceans Away" is a song I have always admired from Christie, and tonight it sent shivers down my spine. The accompanying instruments added further atmosphere to what was already emotional song when Christie sings this one, beautiful. Southern Blues Rocker "Bad Girl Boogie" led to the ballad "Black and Grey". Again the band created that nice ambient atmosphere for Christie and the now near to filling crowd showed their appreciation. Christie thanks the band, who I must say provided a great musical compliment to Christie's acoustic guitar playing. There was one slight technical guitar hic that was quickly resolved but other than that the whole set flowed very smoothly. Christie ended her set with "Eye For An Eye". This is a fantastic song to end the set which suited Christie with the band and it did benefit with the extra musicians involved. There is far more to come from this young talented singer/songwriter in the future, who I look forward to following for years to come.
Christie Connor-Vernal Setlist:
1. As Good As I Am
2. Hound Dog's Moon
3. Ocean's Away
4. Bad Girl Boogie
5. Black and Grey
6. Eye For An Eye
The first few songs from Afterlife flew by me when they took to the stage. Partly due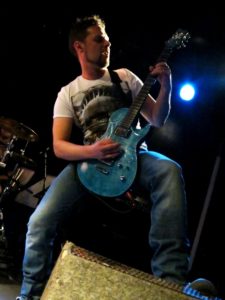 to the fact I was taking pictures during their performance at this point, and also enjoying the music, the flow and consistency of which Afterlife performed. The last time I saw Afterlife was early December last year and the band have developed into a very tight unit since I last seen them. As its namesake suggests first song "Energy" had an explosive start, and the band immediately let rip into this cracker of an opener tonight from their forthcoming album "Omega". By the time third track "Way Back Home" is finished the crowd are really getting into the night and then older song "Afterlife" from their "Alpha" EP brings in some familiarity to what I'd say was at least three quarters full venue tonight.
Another new song "What Do We Die For" brought about a cracking amount of noise and sound. The guitars in this song sounded very busy, with lot of shredding going on here. There was great opportunity for crowd participation and clapping which most people got into. "300" duly followed from their Alpha EP. This song is one I do love from the EP and live it's a classic, with amazing riff work. The band were very tight tonight and they seemed to have developed and come on in leaps and bounds. The sound of the guitars from Al Reilly and Stewart Brown worked well together, and complimented each other majestically when it came down to the solo and rhythm guitar work. The rhythm section of Iain Stratton on Drums and Steve Reilly on Bass kept it a very tight rocking ship indeed, and what a fantastic drummer Iain is for Afterlife. He worked his ass off throughout, with immense power and energy. Steve on Bass is a very charismatic person. I must also add, a bit of a poser for the camera too. This made for taking great photos of a fantastic musician and top bloke.
"Follow Where I Go" lowered the pace a little bit. This reminded me a little of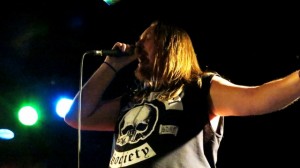 Smashing Pumpkins and what a great little ballad this was. The band then leaves Pete McCoy on his own to start another classic track "Never Fade" from the Alpha EP. Pete, with acoustic guitar in hand, and fitting he does start this on his own as it is such a personal song to him. It feels very emotional as this is performed and three quarters of the way through the band return in good time to bring more power to the song, joining in to the end. This was a highlight of the night for me, and Pete did a fantastic job holding the stage on his own. What quickly followed was one for the head bangers and the heaviest track off of Alpha, "War Machine" had them proudly standing at the front shaking their heads. Heavy riffage!
From all the new songs on display tonight "Masters of Reality" was one of the ones that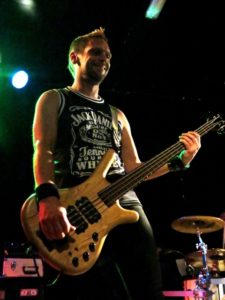 impressed me most. This continued from "War Machine" with the heaviness, with loads of great melodies. This could be an epic track off of "Omega" and one I'm looking forward to hearing from the album when it comes out. Another new song some will be familiar with is "Lost", which the band have let us see with a video for this track on YouTube. This is great live, with huge, huge riffs. This is very bass heavy and this is one song the crowd were really getting into. The band finishes with the ever familiar "Don't Come Crying To Me" which was a great stomping rocker to end the set.
I'd say it was mission accomplished for the lads tonight. The new songs displayed sounded really great. The band sounded tighter than when I heard from the last time. Only thing now is to wait for the album release, which had just been announced to me earlier in an interview and to the crowd on the night. The lads just days before this gig, had signed a record deal with Off Yer Rocka Recordings to release their debut album "Omega" on 2nd December this year. Keep an eye out for a further album review to follow. This one to me sounds like its shaping up to be a cracker!!
Afterlife Setlist:
1. Energy
2. Wolf Bitch
3. Way Back Home
4. Afterlife
5. What Do We Die For
6. 300
7. Follow Where I Go
8. Cold
9. Never Fade
10. War Machine
11. Masters of Reality
12. Lost
13. Survivor
14. Act of Defiance
15. Don't Come Crying To Me
Please see the full PlanetMosh Interview with Afterlife HERE
Please visit Afterlife at:
http://www.afterlifeband.co.uk/
https://www.facebook.com/afterlifeUK
https://twitter.com/UKafterlife