Vader, a band I've heard of but criminally have heard nothing by until now and I have certainly got a lot of catching up to do judging by the quality of soon to be released EP via Nuclear Blast called Thy Messenger.
Formed in 1983 in Olsztyn, Poland, they open up with 'Grand Deceiver'. Riffs fly out thick and fast from the off, trying their best to keep up with the blazing blast beats from James Stewart as guitar solos fly off the fretboard into the stratosphere. There is barely time to pause for breath as 'Litany' forges along on a metronomic pound and it switches speeds in the blink of an eye back and forth into fiery thrash metal. 'Emptiness' hypnotizes with mid paced death metal containing yet more superhuman drumming.
How they managed to fit all the music that is unleashed throughout 'Despair' in just over a minute is beyond belief! It's a masterclass of speed and precision but my personal highlight is a whiplash run through of the Judas Priest classic, 'Steeler'. A brave song to cover but in my opinion they came out of it with heads held high!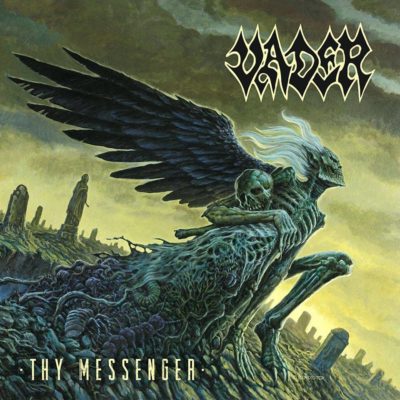 Thy Messenger EP track listing :-
Grand Deceiver.
Litany.
Emptiness.
Despair.
Steeler (Judas Priest cover).
Be prepared for a shockwave of potent Polish thrash metal.