Well here is a thrilling blast from the past to say the least! Clandestine Live sees Entombed joined by the Malmo Symphonic Orchestra to blast out their 1991 studio album Clandestine on November 12th 2016 in Malmo, Sweden. Three original members from that line up, Alex Hellid on guitar, Uffe Cederland on guitar/backing vocals and Nicke Andersson on drums are joined by Nicke's half brother Robert Andersson on vocals and Edvin Aftonfalk on bass guitar.
The album caused a bit of a stir back in the day as it had to match up to their groundbreaking debut, Left Hand Path and it certainly did as its death metal assault certainly delivered. It was also the only Entombed album not to feature lead vocalist L.G.Petrov as Nicke took hold of the reins, even though the album cover listed Johnny Dordevic as vocals. Anyway, Act One: featured the orchestra and the band but this album is Act Two:The Entombed Performance as a dense instrumental intro leads to the mauling grooves of 'Living Dead' and considering Nicke is thirty three years older he still plays at the same speed. 'Sinners Bleed' grinds and grinds with glee with Nicke's snappy snare drum work high up in the mix. 'Evilyn' has Robert ripping his lungs out here over a background of pummeling doom.
'Blessed Be' is a kick drum driven sure fire pit opener, slowing down midway for a leaden grind before careering off towards the finish line as a death metal vortex is whipped up by 'Stranger Aeons'. The riffs in 'Chaos Breed' still slay after all these years and the hammer blow breakdown is still monstrous to. 'Crawl' is aptly titled as the rhythms do just that especially through headphones. 'Severe Burns' is an adrenaline rush of brutality with an incendiary delivery. 'Through The Colonnades' is still psychotic to after all these years as six minutes of hellish vocals rage over thunderous riffing and bone breaking blast beats. There is only one way to finish the gig as they savagely thrash out 'Left Hand Path'. Robert effortlessly captures the evil vibe of L.G Petrov with a mesmerizing delivery. Musically it can do no wrong as the intensely lumbering outro follows the breathtaking death metal assault before it.
Clandestine Live track listing :-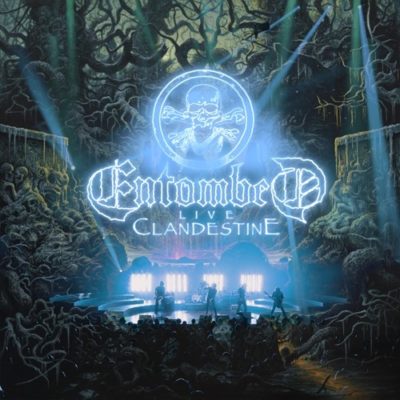 Intro.
Living Dead.
Sinners Bleed.
Evilyn.
Blessed Be.
Stranger Aeons.
Chaos Breed.
Crawl.
Severe Burns.
Through The Colonnades.
Left Hand Path.
Death metal played as it should be. With no compromise.
£29.36 (limited edition CD bundle that includes tshirt).

editor rating