I can remember Leeds based nutters Blind Haze play a hangover curing set at Bloodstock Open Air Festival a few years ago and it's good to see they have still got that fire as they hit the ground running with their latest EP Red Light Fever.
It's currently available for a measly £3 on their bandcamp page with three songs that shout out "If it's too loud, you're too old". It opens up with the three bad boys doing the 'Backstreet Boogie' as they hit hard with lashings of no frills, free for all rock and roll. Dynamics thud from bass guitarist Rob Threapleton Conan and drummer Ben Bowers backed by some searing riffing from the axe of Nicky Jefferson. A chest beating gonzo lead vocal from Rob makes it an impressive start as the band kick the shit out of their instruments for a rip roaring outro.
'Burnin Up' lives up to its title here with Nicky letting rip with some raucous soloing. A barroom boogie vibe running throughout shows that rock is not meant to be taken too seriously. Live it up! The EP has a Motorhead feel throughout but not to the point of plagiarism as final song 'Wasting My Time' is the ace in the pack here. It's a red rag to a bull heads down charger that doesn't let up till an explosive end.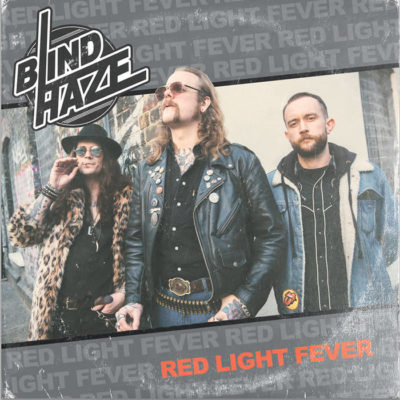 Red Light Fever EP track listing : –
Backstreet Boogie.
Burnin Up.
Wasting My Time.
No red lights stopping Blind Haze as they hurtle through on green for this impressive EP!