British slide guitarist and singer-songwriter, Troy Redfern is pleased to announce the release of his new single Getaway; the second single taken from his forthcoming 2024 studio album Invocation.

Released Wednesday 25th October, Getaway is available on all streaming platforms HERE.  
The single is accompanied by an official music video:
Featuring his strongest material to date, the 'Invocation' album will be launched with an extensive Kickstarter Campaign on Monday, October 30th. Coloured vinyl, hand-drawn artworks and an array of exclusive bundles are just a few of the things on offer to backers of the new album. Further information about the countdown to the Kickstarter campaign is available HERE.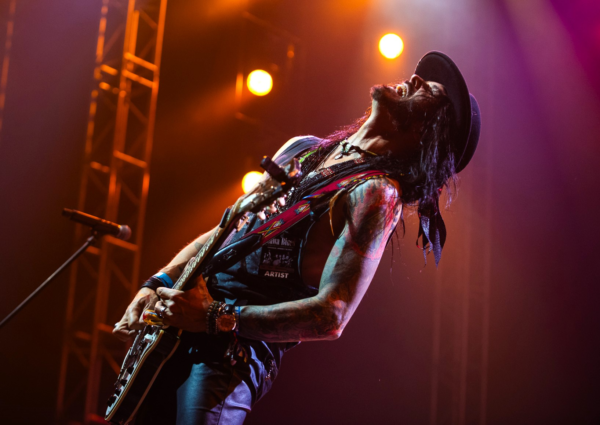 Getaway follows Redfern's 2023 summer festival appearances including Steelhouse, Maid in Stone, and Rawa Blues Festival in Poland where he performed to a crowd of 7,000.

The new single dovetails Redfern's highly anticipated November 2023 UK tour supporting guitar prodigy Philip Sayce, followed by a mainstage performance at Planet Rockstock in Wales during early December. Tickets for the Sayce/Redfern November UK tour are available from https://troyredfern.com/dates.

Invocation is the follow-up to Redfern's 2022 studio album The Wings of Salvation which received rave reviews. Said Blues Rock Review of the Salvation album, "Redfern balances big-league chops with mad songwriting skills to bring us an action-packed set of blues rock that will blow out your windows.

"Getaway is produced by Dave Marks and mixed by Jo Webb. The new single features Troy Redfern (guitar, vocals), Paul Stewart (drums), and Dave Marks (bass).

On Getaway and the forthcoming album, I wanted to write and record songs that were bigger and ballsier than what has come before," says Redfern. "The new songs embrace more of the rockier elements of my writing and playing.  I've also given myself the creative freedom to explore and feel out other styles or aspects of my writing that have not been heard on any of my other albums.

"Continues Redfern, "As an artist, I feel it's important to keep pushing and striving to refine your art, while staying true to your vision.  It is important to know who you are as an artist, and on Getaway and the upcoming album, I think I have finally perfected my own contemporary signature sound."

Getaway is a slide guitar, rock 'n' roll tour de force. Lyrically, it deals with themes of freedom and knowing when it's time to leave a bad situation. It's undeniably Troy Redfern full circle blues rock and roll! "Getaway is about cutting yourself some slack," adds Redfern. "It's about transforming your life, even if there are difficult decisions to be made.  As they say, from the mud grows the lotus."

"This is fantastic, killer slide guitar. I can't stop playing his new music." – Planet Rock

"Guitar player extraordinaire." – Huey Morgan, The Blues Show. BBC Radio 2

"Honest, heavyweight blues… a talent to watch closely." – Classic Rock

PHILIP SAYCE NOVEMBER 2023 UK TOUR
WITH SPECIAL GUEST
TROY REDFERN
TICKETS AVAILABLE FROM
WWW.THEGIGCARTEL.COM & WWW.PHILIPSAYCE.COM

Bristol, Fleece
Sunday 19 November 2023
(Sold Out)

Manchester, Band On The Wall
Monday 20 November 2023

Newcastle, The Cluny
Tuesday 21 November 2023

Glasgow, Oran Mor
Thursday 23 November 2023

Leeds, Brudenell
Friday 24 November 2023

London, The Garage
Saturday 25 November 2023
(Sold Out)