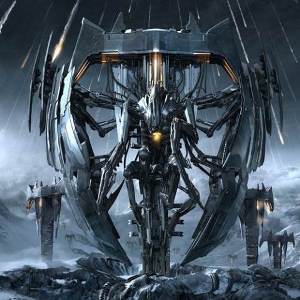 From the outset I must point out that I have thoroughly enjoyed every single album Trivium have released to date, and 2011's 'In Waves' was one of my albums of the year. Through each of their previous releases you could chart their music as it matured and progressed both in terms of songwriting & technical ability. So when it was announced that there would be a 6th studio album in the form of Vengeance Falls, and it was to be produced by Disturbed & Device front man David Draiman, I couldn't wait to get my hands on a copy.
Album opener 'Brave this Storm' announces itself with some quick-fire guitar work and ferocious double kick drum action from drummer Nick Agusto, but after a few bars when the first breakdown kicks in you realize that this isn't going to be quite the Trivium as heard on their previous releases.
In producing this album Draimans' influences can be heard in pretty much every aspect of each of the 10 tracks. In fact there are sections where Matt Heafy's vocals and melodies sound like they are straight from a Disturbed album. During the choruses of tracks such as 'Vengeance Falls' and 'To Believe' this is particularly prevalent, so much so that you begin to wonder if you are really listening to a Trivium album at all. They are only really rescued by the growling vocals of bass player Paolo Gregoletto in the later parts of the songs.
Vocal stylings aside, Corey Beaulieu & Matt Heafy's double guitar work is exemplary throughout. Beaulieu in particular has evolved into something of a 6-string technical wizard, in both his soloing and rhythm work.
'Wake (The End is Nigh)' builds slowly to a crescendo of growling vocals & tremendous guitar soloing making it the strongest of the 10 tracks on the album.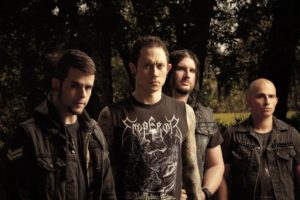 On the whole this is a metal album that is an easy listen, technically the musicianship is of a high standard though it would have been nice to hear how these songs would have evolved without Draiman's seemingly overbearing influence. I'm sure record sales will prove me wrong but unfortunately this doesn't seem like the step forward Trivium had perhaps hoped for, but rather another David Draimen side project that may leave some fans feeling a little bit disappointed.
Track Listing: 
Brave This Storm
Vengeance Falls
Strife
No Way To Heal
To Believe
At the End Of This War
Through Blood & Dirt & Bone
Villainy Thrives
Incineration: The Broken World
Wake (The End Is Nigh)
Band Lineup:
Matt Heafy – Lead Vocals, Guitar
Corey Beaulieu – Guitar, Vocals
Paolo Gregoletto – Bass, Vocals
Nick Augusto – Drums
Band Links:
http://www.trivium.org
https://www.facebook.com/TriviumOfficial