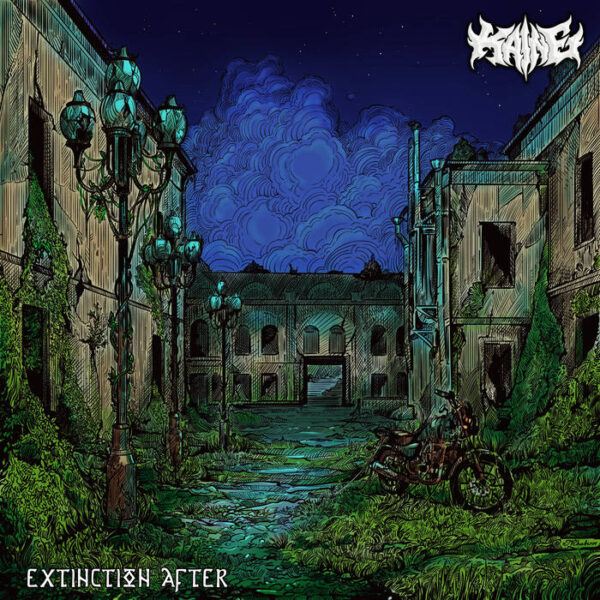 Kaine, the irrepressible band formed in Colchester 2009 forge on with their unrelenting five track EP Extinction After. Formed and fronted by Rage Sadler, the Bruce Banner of metal,"Don't make him angry, you won't like him when he's angry!"
Opening track 'Evil I (All Hail The Evil One)' is an eight minute epic to end all epics as a seismic intro heads off into skin flaying, thrilling pit opening thrash propelled by an inhuman drum gallop backed by a lead vocal of total conviction by Rage. A midpaced thrash instrumental piece sees bass guitar add bludgeon to raging lead guitar and slamming outro.
There's no pause for breath as 'Evil II (Evil Too)' is a raised fist in the air intro that accelerates for an all consuming warp speed metal tirade of razor sharp riffs and a piss and vinegar vocal, but the spotlight is stolen by tectonic plate shifting blast beat drumming assaults, ending on air guitar inducing mayhem.
Just when you think they can't play any faster, they unleash 'Dragonlord'. An overwhelming light speed intro gains more pace to keep up with fast footed blast beats and ridiculously unrelenting time changes and when it's over, the silence is deafening!
The pace abates for 'Birmingham Blues', a tribute to Black Sabbath. Grinding grooves, snappy snare work and a gritted teeth lead vocal par excellence heads to a brief, quirky midsection that herald lead guitar overload.
This highly impressive release ends on the short, sharp rant 'On Repeat' that seems to berate radio airplay, or lack of it, ending on a full on freak out of finger blistering guitar fury and cataclysmic kick drums.
Kaine band info is here :- https://kaine.bandcamp.com/ I https://www.facebook.com/kaineband I https://www.youtube.com/results?search_query=kaine+band+
Extinction After EP track listing :-
Evil I (All Hail The Evil One).
Evil II (Evil Too).
Dragonlord.
Birmingham Blues.
On Repeat.
Kaine band personnel :-
Rage Sadler – Lead Vocals/Rhythm Guitar.
Liam Etheridge – Drums/Backing Vocals.
Isaac Healy – Bass Guitar.
Toby Woods – Lead Guitar/Rhythm Guitar.
June 2023 sees Kaine hitting the road as support to Chris Holmes ex WASP guitarist in the 1980's on his Mean Man tour after which Rage will undergo a shoulder surgery operation. A three month recovery of no guitar playing may end with him tackling lead vocals and recruiting a new guitarist as he said to me,
"I'm basically treating the tour as my last, if it's over, at least I go out on a high! Best selling/download album, tour, sold out, no complaints!"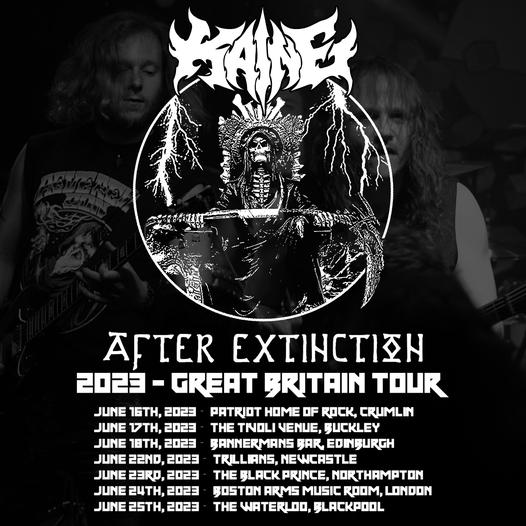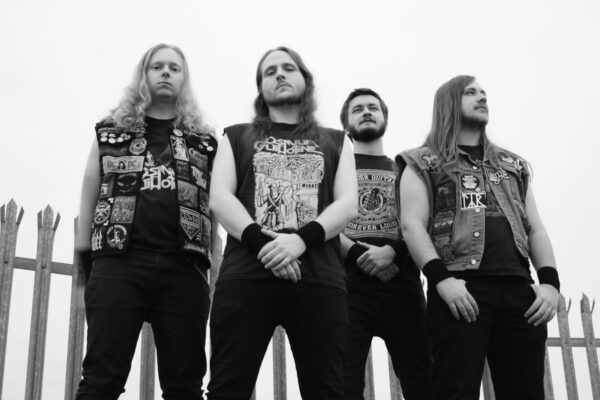 You like your thrash to melt your head? Then go no further than this five track EP Extinction After from Kaine!