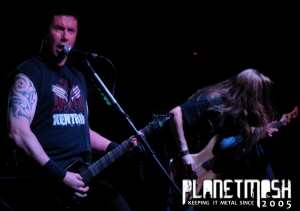 Friday, a dark December evening at The Cathouse in Glasgow and I'm surrounded by wandering metalheads, who came here to returning legends of the UK thrash scene, Xentrix. I must admit, I haven't seen them or even the supporting act before live, so it was both fun and educational evening for me.
The concert starts with Edinburgh thrashers, Black Talon . These Scots are just right for this show. Their set is rammed to bursting point with fast, energetic and groovy thrash metal and flew by far to quickly. Johnny Steele and his cohorts are the perfect  warm up for Xentrix.
Chris, Kristian, Dennis and Chris S take to the stage to a rapturous welcome.Earlier this year thrashers rejoiced when Xentrix reunited and played a selection of shows with Kreator. Following on from this they played BOA and once again were hailed as returning heroes. So it's no suprise that the solid attendees in the Cathouse are hopping with anticipation. Opening with the trilogy of 'Black Embrace', 'Balance of Power' and 'Questions', the crowd is in full voice as they scream "What you want, Ain't always good for you". Songs like these are timeless and while there is nostalgia attached for many, there is no disputing the quality of the writing and the delivery tonight. New bass guitar player, Chris Shires, who has settled into his role in band perfectly and seems at ease stage right beside Chris and Kristian. With foot rested on the monitor and hair whipping incessantly, it's like he has always been in Xentrix. As the set progresses, every song it is gets more intense, more crunching and the inevitable moshpit action ensues.
Kristian beams and jokes with the crowd as if they are old friends, and friends here tonight we are. 'For whose Advantage' is a real highlight of the evening and it brings us to the "Closer", 'Crimes'.  The guys encore with 'Ghostbusters' before tearing into the thrashy as fuck "No Compromise". No quarter is given on stage and the crowd take the lead on the floor. Tonight was my first time seeing Xentrix and I guarantee that it will not be my last.
No more the prodigal sons, Xentrix are back and with dates already scheduled alongside Overkill in the new year, their fans yearn a new album!!!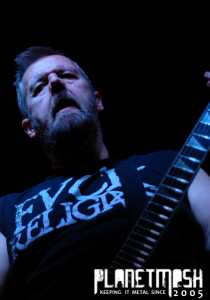 Setlist:
1. Black Embrace
2. Balance of Power
3. Questions
4. Reasons for Destruction
5. Another Day
6. Shadows of Doubt
7. Back in the Real World
8. The Human Condition
9. Come Tomorrow
10. For Whose Advantage?
11. Crimes
Encore:
12. Ghostbusters
13. No Compromise
All photos by Jurga Kalinauskaitė
Links: