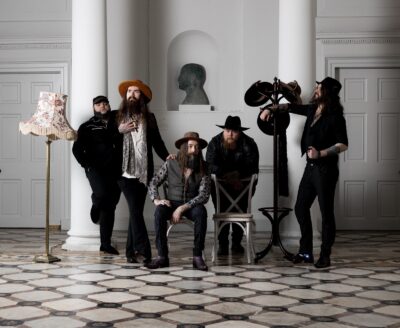 Derbyshire based blues-rockers These Wicked Rivers prove that this river is not dry as they unleash a brand new single and video 'Black Gold' to support the pre- order launch for their sophomore album Force Of Nature, due for release on March 1st 2024 via Fat Earth Records that follows their debut Eden in 2020.
Lead vocalist John Hartwell proclaims "It's a song about corruption and greed that you can sing along and move your feet to. I hope it brings some joy to everyone who hears it, especially during these times."
From the very first note it's a bonafide romper stomper. Choruses are shout em out loud and proud but still have lashings of melodies that deliver delightful earworms of "Black gold, black gold, you heard that story,but it never gets old. Black gold,black gold strike a vein boy it's bought and sold" all topped off by a raging guitar solo midway. Job well and truly done!
Pre-order links to Force Of Nature plus details of their headlining December 2023 dates and other band info are here :- http://linktr.ee/thesewickedrivers Ihttp://www.thesewickedrivers.com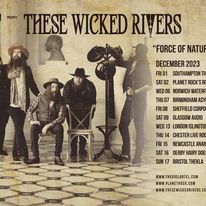 These Wicked Rivers band personnel :-
John Hartwell – Lead Vocals/Guitar.
Arran Day – Lead Guitar.
Dan Southall – Drums/Backing Vocals.
Dale Tonks – Bass Guitar/Backing Vocals.
Rich Wilson – Keyboards/Percussion/Backing Vocals/Acoustic Guitar/Harmonica.
Something wicked this way comes, courtesy of 'Black Gold', new single from These Wicked Rivers.