RadaR Festival – Day 3 – Review
The final day kicks off for me with a parking spot right outside the venue – what a result!
In previous years the festival had been located in Guildford in a venue that had incredibly elaborate chandeliers in the main room but it became obvious at RadaR 2022 that the venue was too small. Whilst they could have moved to London, taking the festival to the regions is a better move and is fairer for everyone. Originally it was announced that it would be at Bowlers Exhibition Centre down the road, a change was made and it ended up here at the O2 Victoria Warehouse. This is not everyone's favourite venue but I really like it especially the way that RadaR has utilised much of the space for chillout areas, games rooms and a music market – impressive work.
The sound in the main room is astonishingly good and the way the lights are being used is eyecatchingly amazing – just look at the photos we have attached to these reviews. And finally the way the organisers responded to the food issues on the first day shows they care about their customers and I am sure next year there will be improvements to the shed room to shut up moaning minnies like myself. We cannot recommend this festival enough. And so to the music…
Local band Where Oceans Burn are starting their 30 minute djenty metalcore journey on the main stage including a new song – it may be called Stire, it was difficult to hear – followed by another new one, Euphoria which is a certified banger. It was interesting that to my ears Alex Wilkinson's singing is very similar to John Lees from Barclay James Harvest (your mileage may vary).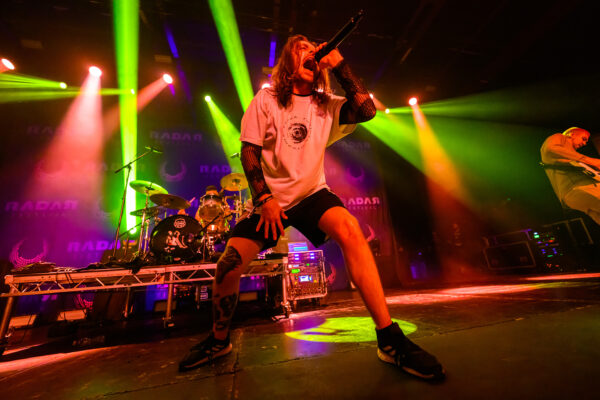 To be honest going into today I wasn't too fussed about Forlorn but watching them live the band really come alive (I know, bad pun) and I ended up really enjoying their set. Black cloaks and a crown of thorns styled headpiece on singer Megan Elliot's head really made them stand out, and Megan's ability to change from clean to gravelly singing and back again is highly impressive. Their final song, The Weight Of It All, is stunning and I will definitely be checking them out again.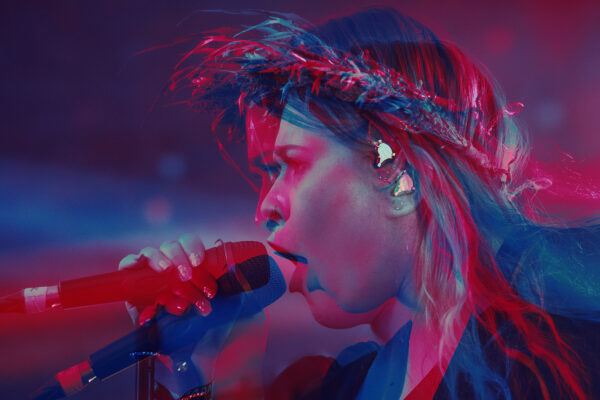 The last time I saw I Built The Sky was just down the road at Rebellion, just days before lockdown started, a brilliant show that cemented my love for the band and I have been eager to see them again since. IBTS are, essentially, Rohan 'Ro Han' Stevenson on insane guitar and he doesn't let his abilities run amok, there is a keen sense of melody which keeps the music rooted to the stage. Currently he is touring with a drummer and keyboard player, the later getting even bigger cheers than Rohan. They are joined for the last song, The Fire Inside, by Andy Cizek, the singer for Monuments.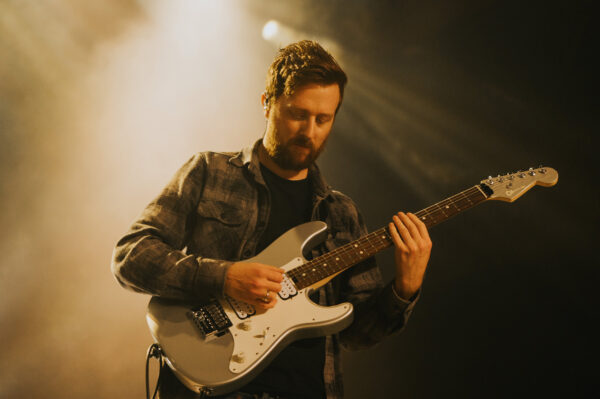 Lake Malice are tearing up the shed room with their bouncy exciting rock. Modern beats and boundless energy with interesting guitar sounds make for an impressive galvanising performance. At times they reminded me of Rage Against The Machine and everyone is going mental, unsurprisingly.
Having been here all weekend I now find the cask ale bar – another reason that makes this festival awesome, why oh why did I decide to drive? Back to the music…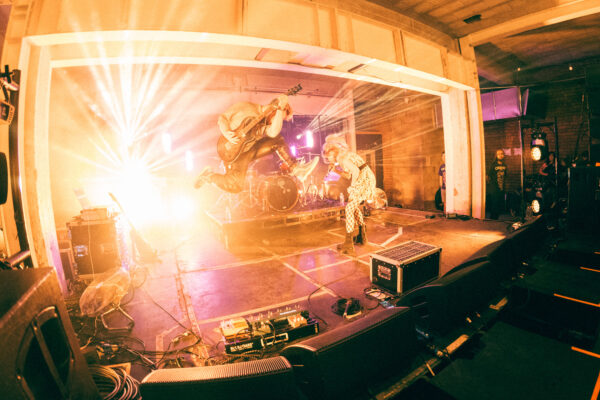 One of my most favourite bands is Germany's Long Distance Calling and at 30 minutes this is a tragically short set. I am absorbed from beginning to end with their brand of post-rock and you can feel that they are really enjoying playing here. The crowd was a tad thin, but I, and those in the room, are loving every minute of it and witness a performance of absolute quality music.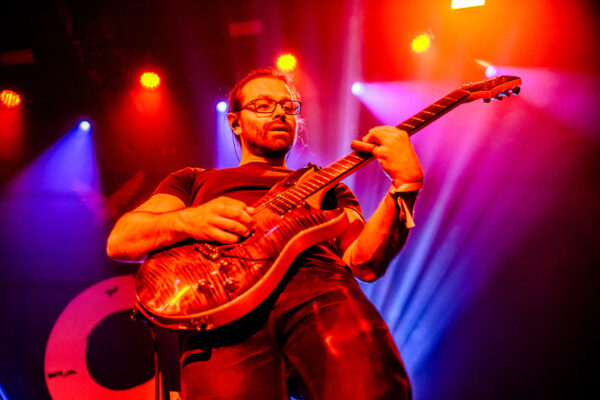 The Callas Daoboys are a must see band for me, but of course they are playing the shed room… so it's a case of hear those Daoboys, not see those Daoboys and unsurprisingly the room is already rammed. What I do hear is incendiary and interesting but it is difficult to remain engaged when their act is quite visual. Definitely need to see them next time…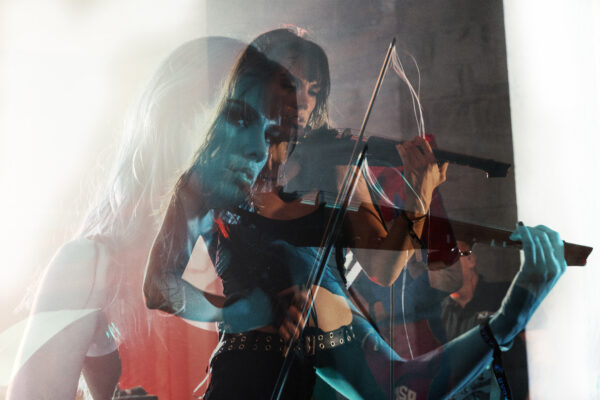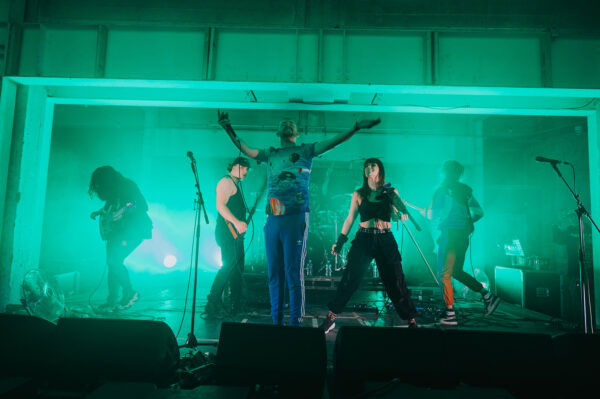 There is already a healthy crowd for Caligula's Horse and for many I've spoken to they are a big draw. What's interesting is that five years ago I saw them play at the pokey Star & Garter in Manchester with I Built The Sky supporting them. Slow Violence is brilliant and we get a mini-mosh pit for Rust which the band seem amused at. Marigold, about love and taking it with you, is stunning but the highlight of their set is Graves of which the crowd went absolutely mental during the end section. Caligula's Horse managed to squeeze 44 minutes out of their allotted 40 minute slot and we are not complaining. It's truly epic Prog metal and I need a lie down after that.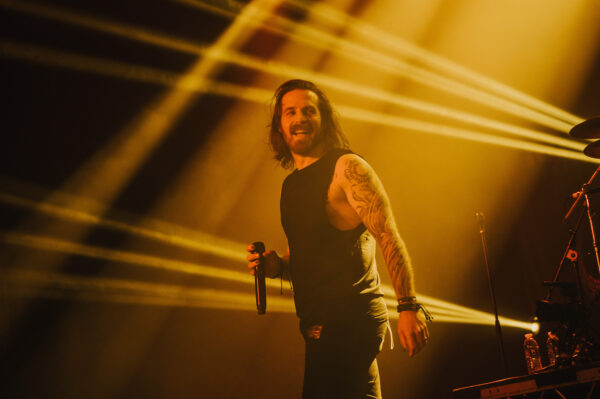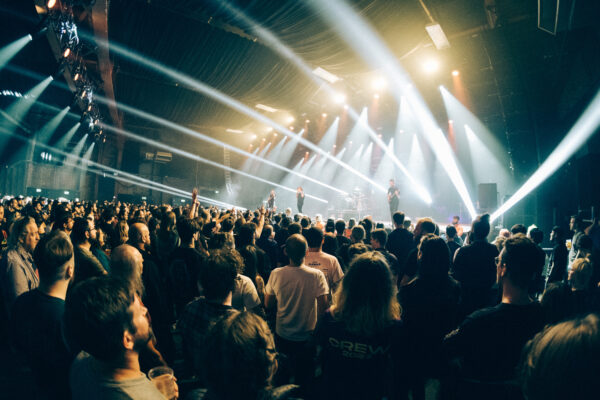 These past few days have been hard work and I was truly exhausted so decide to take a break from a few bands on a comfy seat in the chillout area with another cup of tea. Not exactly rock'n'roll but definitely needed.
Volumes are here to have a great time and have a great time they are having and let's face it, songs about partying never get old and everyone in the crowd is enjoying this too with all it's big djenty riffs. Predictably, crowd surfing goes into overdrive and it becomes chaotic. The album Happier? provided half the set and all are top tunes with the lush and wonderful Bend being the highlight of their set.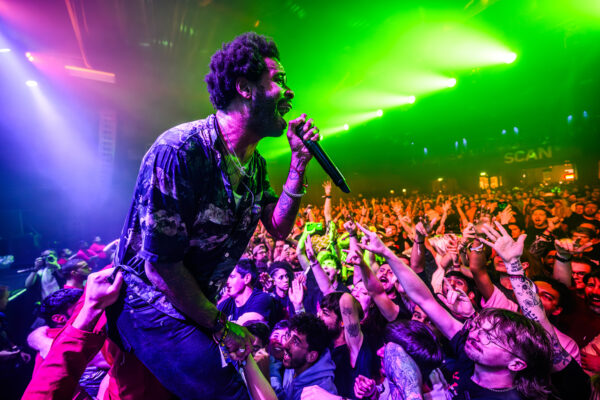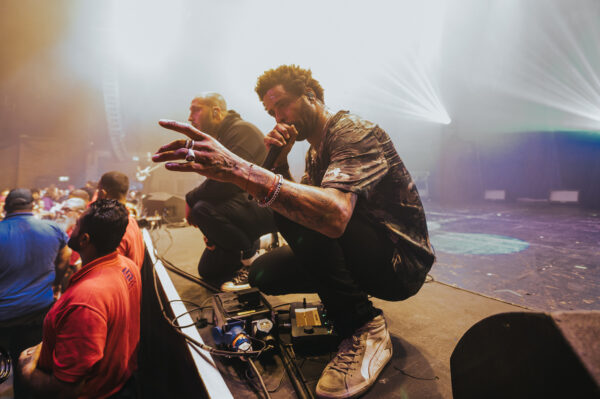 Whilst Loathe are a band I had been really looking forward to, the disappointment is real. Their album I Let It In And It Took Everything, released back in 2020, is utterly brilliant and has been regularly played at home. Although this is a truly spirited performance, the interesting details, tonality and subtle nuances are totally lost and they just become another band who rely on volume by turning everything up to 12 rather than standing out above everyone else… for me the biggest disappointment was Two-Way Mirror which I struggled to reconcile with the original. Sadly, the highlight of the set is a crowd surfer acting like a monkey attaching himself to the low flying girders and falling off to a massive cheer.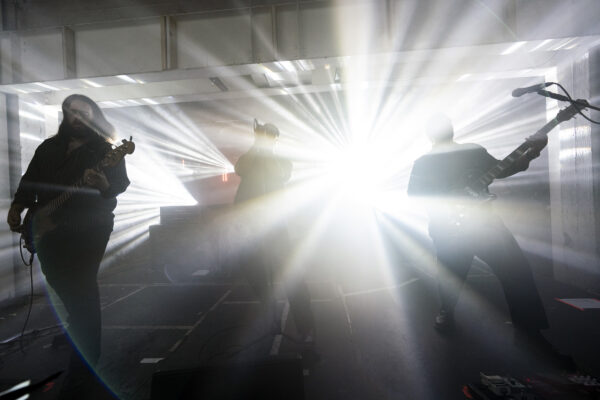 Ladies and Djentlemen, it is time for the final headliners to close out the festival. The Periphery t-shirts say "Djent is not a genre" the ironic title of their latest album from a band that only takes themselves seriously when playing music.
And the setlist is class from the start with the trilogy of Muramasa, Ragnarok, MasamuneIcarus Lives! opening proceedings. Consequently there are absolute scenes on the floor – and I mean absolute scenes – mosh pits and surfing from start to finish, as much as the music is a djentfest from beginning to end. Their bassist Mark Holcombe couldn't make the gig but whilst he is missed physically, the music is so deep, intense, djenty and heavy that he isn't missed sonically.
The lights work superbly with the music and there is some serious djenting going on proving once and for all that djent IS a genre even if they had to overrun the curfew ever so slightly to prove it.
Setlist:
Muramasa
Ragnarok
MasamuneIcarus Lives!
Wildfire
Atropos
Marigold
Reptile
Zagreus
Dracul Gras
Four Lights
Stranger Things
Same time next year for another RadaR Festival? Yes please!

No details of bands at the moment but we will let you know…
Website: https://www.radarfestival.co.uk
Tickets for 2024: https://www.eventim.co.uk/event/radar-festival-o2-victoria-warehouse-17434692/
We will see you there!