As I ventured out o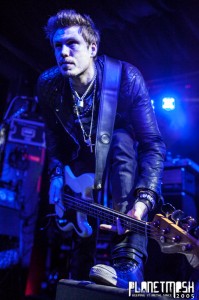 nto Brighton seafront ahead of the onset of St Jude for my fifth concert in five days, it seemed the storm would not only be brewing outside Concorde 2 but inside as well.
Local band Cage the Gods were concluding their run of support dates on this the last date of The Answer's UK leg of their tour. With new drummer Colin Jones on board they proved to be an even more formidable force than when I last saw them supporting Tracer earlier this year at Scala in London. Playing tracks from their forthcoming EP 'Favourite Skin' and album due out next year, both the new drummer and guitarist Jam were on top form and bassist Mitch Witham seemed much more relaxed on stage than when I have seen them previously, cracking out some funky bassist poses. With Peter Comerford's great vocals getting the night off to a truly rocking start, hopefully Cage the Gods will have picked up some new fans amongst tonight's audience.
Australia remains a somewhat undiscovered territory of music and every now and then a good band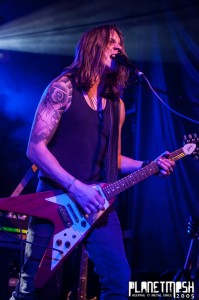 manages to follow the journey of their forefathers back to UK soil. Tracer are one of those bands who have recently appeared on our shores. They are a band who, I feel, should have received better recognition than they have done to date. It is their live show that truly encapsulates them as a terrific force in the world of rock.
Like a music laden Lancaster bomber they exploded onto the stage at Concorde 2. Early on in their set they played 'Too Much', the song that got them recognised amongst the UK's rock fraternity. A lot of tonight's set was taken from their second album, including single 'El Pistolero', 'Lady Killer' and a blinding version of 'Dead Garden'.
The stoner rock drone that Tracer exudes appeared to be trying to escape out the fire doors and compete with the sound of the increasingly rough ocean waves being churned up outside. Thankfully most of it was retained for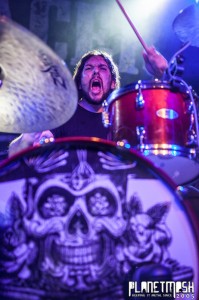 a multitude of eargasms for the crowd.
Tracer's set lasted to my surprise for the better part of an hour, which was a real treat, as I was only expecting a support slot of 30-40 minutes and it was great to have drummer Andre Wise at the forefront more than normal due to the size of the stage, giving us a better opportunity to see his thunderous drumming close at hand. Bassist Jett has proven his worth with his powerful, loud bass lines and Michael Brown proves to be a ceaseless power, driving the set with his strong down-tuned collection of riffage and aural grit.
I truly hope they are back over here again very soon, as tonight's set was musically destructive in a good way.
Our Belfast correspondent Mark Ashby set the stakes very high for The Answer at the start of the tour, describing their hometown performance as "…one of the best – if not THE best – live performance by a local band in front of a local crowd that I have seen…"
Opening with the title track from their latest album 'New Horizon', we can only hope that this album spells exactly that for The Answer.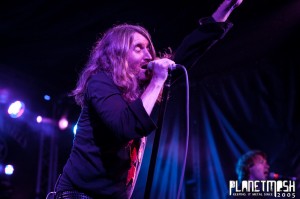 Whilst it is great to see such a fantastic band in such a small and intimate venue, they really do deserve to be playing larger venues, I just don't understand why things are not working as well as they should for this band. Their live show is nothing but immense. From the start, Cormac Neeson combined his gravelly tone, with rock screams and delicate vibrato and that was just in the opening song. They are loving performing from the get go, as they continued into 'Speak Now' with fantastic  guitar work from Paul Mahon ranging from the delicate opening lines to the raging chorus and bridge.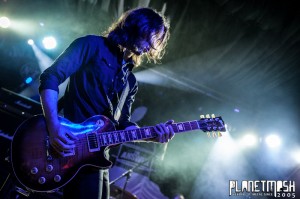 Cormac Neeson keeps any on stage conversation to a minimum, allowing the band to do what the fans want, play as many songs as possible in their allotted time. He mentions with trepidation the fact that they are supposed to be catching a ferry to Europe in the early hours and as they set up for the next song, cries of "Cormac, Cormac give us a wave" emerge from the crowd. Brighton was clearly happy to have them in their midst and turned out in force.
Classic track 'Under the Sky' is a big favourite with the audience and includes a great solo played with ease by Paul Mahon, underwritten with some big bass lines by Micky Waters.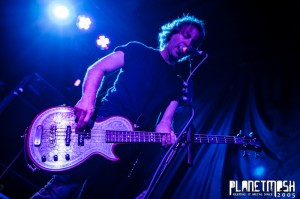 They then break back for a drum solo, which builds with the addition of bass and then guitar, for some very heavy stoner-esque droning, akin to what we had heard from main support band Tracer earlier.
'Concrete' taken from their new album was my highlight, a noticeably heavier track with a great bass line at the start of the first verse and with great lyrics "going to heaven for sure and I can't find the tux I need". James Heatley does an awesome job driving this track along a great track which I thoroughly enjoyed.
The more light hearted '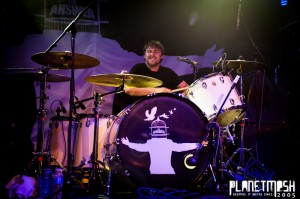 Nowhere Freeway' was next on the set list, sadly for me it was the last track I was able to hear, the St Jude storm had other ideas and my desired train back to London had been cancelled forcing me to take early leave of what was a great night of rock.
Vivian Greene once said "Life isn't about waiting for the storm to pass, it is about learning to dance in the rain" and as I trudged to the train station in my soggy suede shoes nothing could sum up the night better, I only wish I could have danced until the end.
www.theanswer.ie
www.tracer-band.com
www.cagethegods.com