THE ANSWER are excited to announce a new video for their Nov 17th single "Wild Heart". Directed by British director JJ Eringa, the video delves into a number of retro 70's clips from the daredevil biker era when wild-hearted stuntmen risked limb and life to go faster, higher and for longer! The video channels the essence and vibe of the track which is a self proclaimed bit of pure rock 'n' roll magic, a dirty, grotesquely awesome and hypnotic groove that oozes confidence and class!

In addition, the band are also excited to announce that for the very first time, they will have a female keyboardist join them on their UK November and December shows. Cara Bruns, from Essex, is a pianist and keyboardist who is a huge fan of John Lord and Deep Purple and has toured the UK & Europe with groups such as Diva Purple, Surfquake (former New Model Army bassist), songwriter Martin Newell and poet Blake Morrison.

Says frontman Cormac Neeson; "Finally we've taken a long-awaited ambition to introduce a bit more of a keyboard flavour into our recent material and are thrilled to say that we'll be bringing Cara Bruns out on the road in November & December as our live session keyboardist! The set list is going to be something very different to the last tour so we can't wait to dip into more of the catalogue as well as some of the Sundowners album which we have yet to play live – we can't wait!!"
Following the success of their recently released and highly acclaimed Sundowners album, The Answer are looking forward to these upcoming 5 new UK dates in November and December with support from special guests Kira Mac. Manchester, London, Wolverhampton, Glasgow and Belfast will get to see the band perform their latest stunning new show, peppered with hits and loads of previously unheard live versions from the much-heralded new record.
VIDEO FOR "WILD HEART" SINGLE
Sundowners was released on March 17th and achieved top 40 album chart positions in UK, Germany and Switzerland including number 1 in the UK national rock album chart. Produced by rising British producer Dan Weller, the album has received rave reviews across the board.
Tickets ON SALE NOW!
UK TOUR DATES
Nov 15th                Manchester Academy 2
Nov 16th                London Islington Assembly Hall
Nov 17th                Wolverhampton KK's Steel Mill
Nov 18th                Glasgow King Tuts
Dec 9th                  Belfast Limelight 1 (www.ticketmaster.ie)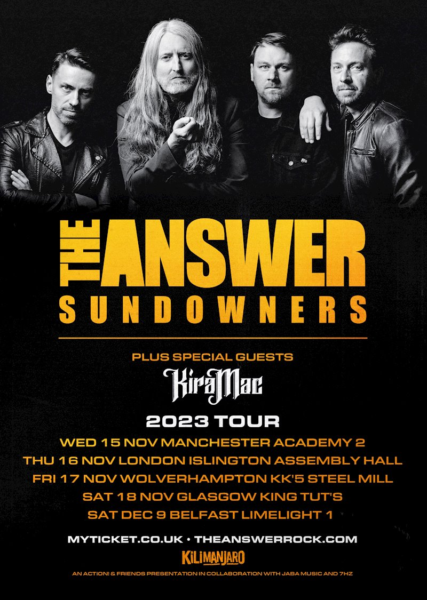 All UK shows.
http://www.myticket.co.uk/artists/the-answer
Tickets on www.theanswerrock.com
"A serious challenger for album of the year" (Get Ready To Rock) *****

"Don't accept imitations, The Answer are truly showing everybody how this s**t is done. The kind of album truly great bands make" (Blabbermouth) ****

"This album is the sound of a band with nothing to prove to themselves or anyone else. They slot so neatly alongside the blues-rock giants that came before them." (Classic Rock Magazine UK) ****
"Challenging the boundaries of rock music, a ballsy mammoth 8 tracks from the new album peppered with some of their hits, everything about their comeback feels a little more deliberate, a reminder of how powerful this bands live performance can be" (Moshville Times, Mar '23)
"This show is fresh – good time positive feel, unapologetic rock 'n' roll (Rock 'N' Load Magazine, Mar '23)
"An evening of pure rock fury that no one will forget anytime soon" (The Razors Edge, March '23).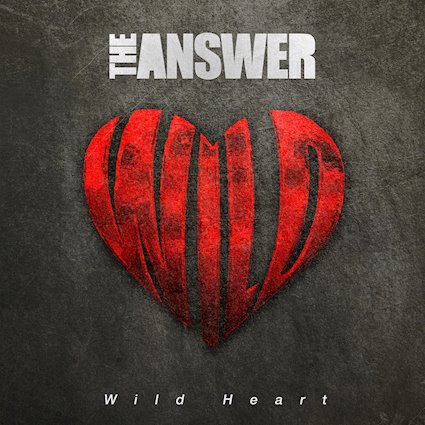 Pre-save here: https://ada.lnk.to/Wild-Heart
Album sales links: https://ada.lnk.to/Sundowners
Spotify: http://open.spotify.com/album/5c90Qv0wkAfHFu243e7qxX
Apple: https://music.apple.com/us/album/blood-brother/1640395077?ls=1
Deezer: www.deezer.com/album/347612407
https://www.theanswerrock.com
https://www.facebook.com/theanswerrock
https://twitter.com/theanswerrocks
https://www.instagram.com/theanswerrock/?hl=en
SPOTIFY