Knighthood are a new group formed by Frank Knight and Paul Curtis, "purely by accident" they say! "Thank god for accidents I say!!" They're now a four member strong band of like minded guys looking for a new edge and fresh sound in the old school style. This debut EP is a brilliant showcase for their combined talents, a four track CD just absolutely loaded with pure rock genius.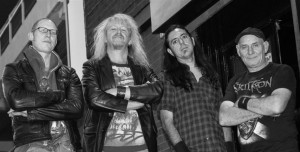 The first song 'Too Much Too Soon ' is a powerful track which show cases Frank Knights fantastic rock singing style. There's not too many guy's who have a true hard rock singing voice that can cover just about every aspect of rock singing but Frank is well up there with the likes of Paul Rogers, Lemmy, Brian Johnson and Robert Plant etc. It's a great song to start with and has lots of nifty riff's, a thumping beat with a nice bass line and not over played with lots of lead guitar fiddling, just pure ROCK!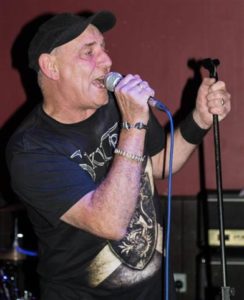 Track two is called 'Crying To The Moon'. Just a great strong emotional song, an epic anthem track which starts off a little quite at first then it bursts into life culminating into a brilliant rock ballad full of mysticism and heart break. Classic stuff done with style.
'Permission To Ride', the title track off this EP. You can hear where these guy's slot in along side such groups as ZZTop, AC/DC, Deff Leppard and the likes. It's got to be another winning score from this band, you can tell right from the very first song that these chaps know their stuff and work really well together, a hard act to achieve for a lot of bands. Last on the EP is a live recorded track called 'Vegas'. Here again their professional experience shows through as this live version is as good as any studio recorded song could be. The song is all about a friend of the band having a blast in the bright light city in the middle of the Nevada desert, living it up with and partying it to the max with some good mates, ( nice thought! )
For lovers of 'old school', this CD will be right up your street. Don't take my word for it go to their website and rock out to a great band.
Track List
Too Much Too Soon
Crying To The Moon
Permission To Ride
Vegas
Band Members
Frank Knight – Vocals
Paul Curtis – Guitars
Luis Antonio Gutarra – Bass
John Powney– Drums
https://www.facebook.com/Knighthoodrock
The GOOD: Too much to mention! The BAD: Absolutely nothing bad about this group or album. Knighthood are a new group formed by Frank Knight and Paul Curtis purely by accident! "Thank god for accidents I say!!"