On a wet and miserable midweek November evening, there is probably no better cure to any hump day blues than going to see The Answer. Continuing the live support of their latest album "Sundowners", with their Wild Heart Tour, tonight is Manchester's turn to see the Northern Irish band perform, along with support from the up-and-coming Kira Mac.
Before we get started, there has been a slight change of venue from the Academy 2 (MDH), to the smaller downstairs venue of Club Academy. There looks to be a good turnout though, so I've no idea for the change! Ah well… ON WITH THE SHOW!!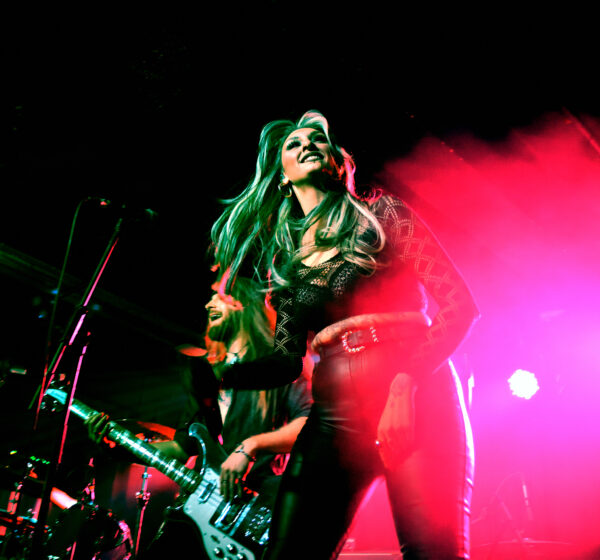 Kira Mac
Bang to time at 8 pm Kira Mac takes to the stage. It's my first time seeing or hearing them, so I'm not sure what to expect other than it'll be rocking. Kicking off with a big fat balls-to-the-wall riff, Save Your Whiskey is hard-hitting blues rock. A Cracking start! Kira has appropriately one of those whiskey-soaked voices that belies her Potteries origins, sounding more like she's just ridden in from Texas astride a big Harley. The band show they are a tight musical unit from the start, especially Brett with his Rickenbacker bass – that wins points from me for sure – being very energetic. Turns out I'm standing next to his mum Liz, whom he gets his rock star good looks from!
Next up we have Dead Man Walking followed by Play The Game, both underpinned by the bass & drums giving a V-Twin burble like that metaphoric Harley I mentioned at the start! Quality biker rock here that gets my feet tapping along The now very respectably sized audience are loving it.
Latest single Scorned, continues the hard rocking songs after Kira has told us that the band do play heavy rock and more country rock songs. The latter is displayed with Mississippi Swingin', a proper cowboy rocker that suffers a technical issue that is dealt with in good humour by the band, and the crowd who start an acapella of the song's chorus! With a chuckle, Kira asks "Shall we start from the top again?", which of course we all agree on and hear the song in full – still with lots of singing along!
Kira lets us know that the next two songs are new ones for a forthcoming album they hope to start recording in January. Farewell is much heavier and with a slightly darker tone. A bloody good tune with a cracking groove section halfway through and towards the end. My favourite of the night! The other newbie Climbing is another damned fine tune really showcasing Kira's vocals.
Finishing off with One Way Ticket with a FILTHY blues-soaked riff, this has been a great set and a pleasure to watch and hear. Kira reminds us (she did mention it earlier in the set) that the band will be playing the Academy 3 (Hope & Grope) in May on their first headline tour. A rousing and very appreciative send-off from the crowd bids them, Au Revoir, from the stage.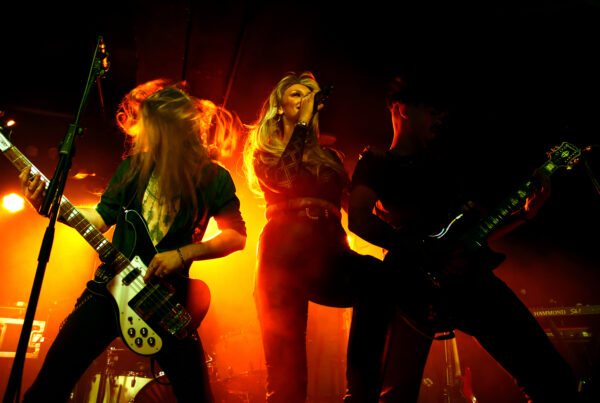 More photos here –https://flic.kr/s/aHBqjB3TN5
The Answer 'Wild Heart Tour'
County Down 4 piece The Answer starts off with an extended intro to Blood Brother from the Sundowners album before Cormac Neesom hits the stage in his trademark hat, tambourine a rattling, and asking "How The Hell Are Ye Manchester?!". Hangfire… Four has become Five!!! Yes, tonight sees the debut of keyboard player Cara Bruns. More about her later… The infectious blues boogie of this song has the crowd, already well fired up after the support bouncing from the word go!
Full of lively energy as per any other Answer gig, Cormac gets us to shout at guitarist Paul Mahon "Paul, what you got?!" before kicking off the riff to Nowhere Freeway, a really melodic number from the Revival album. Strong vocals here are the highlight!
Next up we get the title track of the 2013 album New Horizon. Cormac is his usual high-energy self belting out the lyrics whilst keeping up his hard-rock dad dancing throughout! A jam-style centre to this song has Cormac introducing us to Cara on the keys, then having a duel – Neeson on his harmonica vs Cara on her keys. The rest of the band keeps up a perfect backbeat until we kick off properly again! Superb Stuff!
Relating an amusing tale to us of how an American woman told Cormac to "Smarten up" (I only caught half of this as nature called, and when you gotta go…..) the crowd are having a good chuckle as Under The Sky continues the musical proceedings, dripping with a rain of heavy blues riffs and rhythms..
Time for Cormac to ask us to let go of any negativity "Are ye ready to shake out any bad karma with The Answer tonight?!", Too right we are, as Harmonica, a pulsing bassline, and slide guitar – a metal dobra at this point – start off the tour and latest album title song Sundowners. A relatively slow song that builds up as it goes culminating in a glorious slide-driven groove, leading to rapturous applause.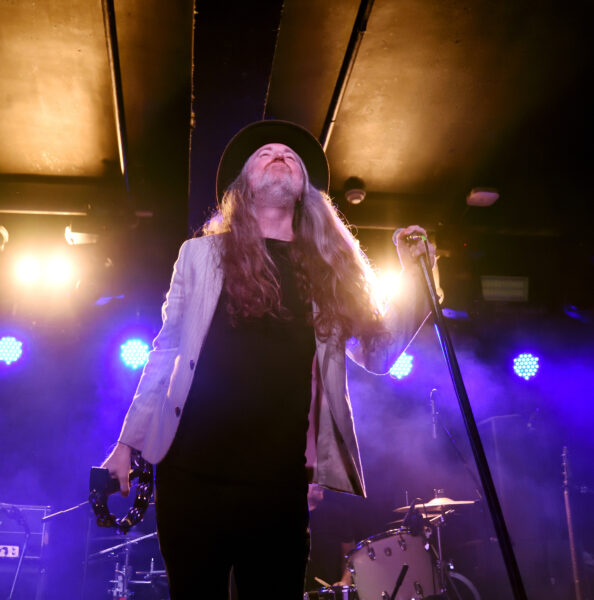 Keep Believin' that this band are going to keep on hitting your happy spots. I always feel this track has a very Aerosmith-style groove and delivery to it. Fucking awesome!
Want You To Love Me's staccato blues chops follow Cormac's asking if anyone had been at their first-ever Manchester gig at Band On The Wall, and that he and those folk have a "Special Connection". Those chops lead into some proper uplifting stuff that gets us dancing – even me, which is unheard of! New member Cara's keys shine on this one, giving a cool Hammond Organ groove.
A great guitar tone with lots of choruses and wah takes us into the Comfort Zone, leading into plaintive singing with just guitar and Cormac for several bars before the rest of the band kicks in. It's a slower-paced number, that delivers on the emotional side.
A slower burning number, with a slightly darker tone than previous songs, Solas builds with tension. And you know that at some point, that tension is going to snap…. And it does just that, segueing into an anthemic final quarter – Fantastic!
A Spectacular set so far is hit up with the infectious energy of this particular track. It looks like it's not just we the audience enjoying ourselves – the band also look like they're having a great time too! And as Cormac implores us to make some noise, we shake the foundations of the Students Union building!
A new song and latest single up next with Wild Heart. A synth and bass-led intro before a funky guitar cuts in like a knife, followed by Cormac's laser-sharp vocals. This is a groovy beast, slithering like a big fat Sidewinder snake – It's a winner!
Guitarist Paul takes centre stage to shred out some tasty solo work, before heading into the muscle car groove of Come Follow Me. I could easily imagine me thrashing the bollocks off a '73 Jensen Interceptor down the M6 whilst listening to this on the stereo. And then I'd have to say "I'm sorry Officer – The Answer made me do it!"
"You guys want to hear some more rock 'n' roll?" Yes, Mr Neeson of course we do!! And we get it in a pure rock 'n' roller Livin' On The Line. It's a timeless track that could easily have been from the 60s or 70s. With its pure feel-good factor, we all love it!
Preachin' has us all singing "Yes I do" to having the blues. A slide-driven riff kicks things off for us before Cormac gets in amongst the crowd. This is proper old-school blues from the Louisiana swamps – very simple and effective. Everyone gets onto their knees as Cormac orchestrates proceedings from the centre of the crowd, leading us all to sing "Whoooaa whoooaa whoooa!" as the rest of the band kick in with their instruments. Gotta love this kind of audience participation, especially as it's the end of the main set!
Encore time!! And it's a slow burner in the form of Always Alright. This one keeps moving up through the gears into another great tune that leaves a big smile across thy mush! Unfortunately, though, the next song is going to be the last.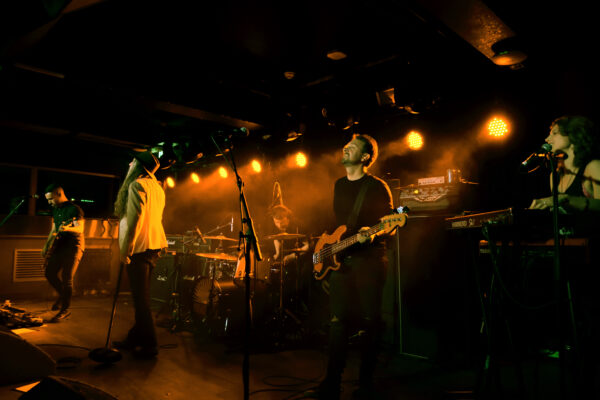 But The Answer leaves the best until last! Cormac starts proceedings with an acapella song (I think maybe a traditional Irish drinking song?!), before the heaviest and grooviest track of the evening boxes my ears. From the Everyday Demons album, we get the Demon Eyes to round things out. No song has been unenjoyable – far from it – but this one is bang on the money for me and a fantastic way to finish off the set!
The moral of the story dear hearts is this: If you're feeling down, and The Answer is in town, then go see them and get your endorphins and smile jacked up a ton! A brilliant gig from two brilliant bands. I can see Kira Mac becoming a big name very soon, and The Answer keeping up being one of the most uplifting bands you can go and see.
More photos here – https://flic.kr/s/aHBqjB3QBt
Setlist: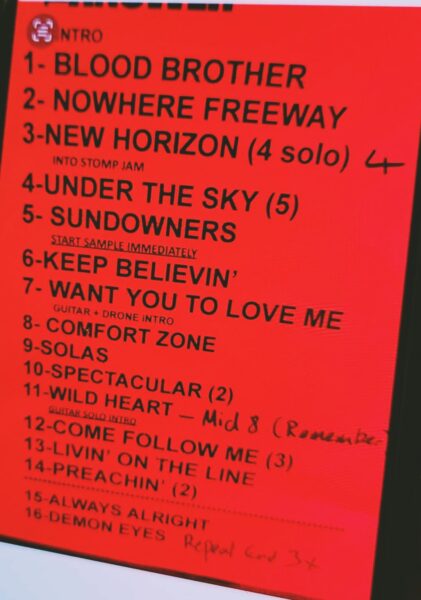 Album sales links: https://ada.lnk.to/Sundowners
Spotify: http://open.spotify.com/album/5c90Qv0wkAfHFu243e7qxX
Apple: https://music.apple.com/us/album/blood-brother/1640395077?ls=1
Deezer: www.deezer.com/album/347612407
https://www.theanswerrock.com
https://www.facebook.com/theanswerrock
https://twitter.com/theanswerrocks
https://www.instagram.com/theanswerrock/?hl=en
SPOTIFY