Beautifully designed by a crack whore from Betws Garmon, this album will nestle into your record collection between Spacemen 3 and Spandau Ballet, states Bandcamp. Never a truer word printed.
Neil Crud never holds back if he has something to say, and why should he. He's been a pioneer of welsh music for over thirty years. If he's pissed off, he'll tell you, and even better he'll write about it, just as he has with this stunning collection of songs which forms Spam Javelin's debut full length album.
Formed in 2015 this sub-hardcore band from North Wales have played across the UK and Europe and have further UK gigs lined up plus Belfast, Dublin and a 5 date tour of the States in August (see all dates below).
So, to the album. If ever a piece of music was going to rekindle your love for sub-hardcore / punk and similar genres then 'The Crack Whores Of Betws Garmon'  is that album. The opener and title track punches like a steam train through your chest as does 'Paedo Death Church'.  Very similar to M.O.D from the late 80's if you ask me. Full of speed, anger, and a statement.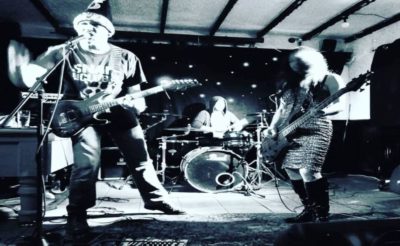 'Service Resumed'  follows in similar fashion, but what's stunning about this track is Neil's lyrics. A tirade of microphone abuse. Never short on a word to say is Neil. Next comes the first single from the album 'Fake News'  (see video link above). It's a strange song is this as it's in the same key all the way through, but it works a treat.
As the band batter through 'Never Work'  and 'Pen Clicker',  with the latter having one of the best lines in a song I've heard for years (Pen Clicker In My F*****g Face, Disgrace To the Human Race), I can sense my mind starting to think the way Neil does. I'm a right one for clicking pens at work. I'll think again after this!! 'How Can You Die When You're Already Dead'  demonstrates Spam Javelin's true potential as a band. It has everything in regards to power, speed changes and crunching riffs.
The 30 second 'Joy Division Tea Room'  leads nicely into 'Video Party'.  Another track using this successful formula. I must say Tracey Howarth's bass is sounding very nice indeed on this album.
As far as albums go, this is up there with the best of them in this genre. Even the shorter tracks seems to have enough in them to fulfil what they have to say as a statement. Time doesn't seem to be an issue with Spam Javelin. The production also needs a mention. It's good enough to sound recorded, but then not good enough to give us that raw, live sound which I love on albums.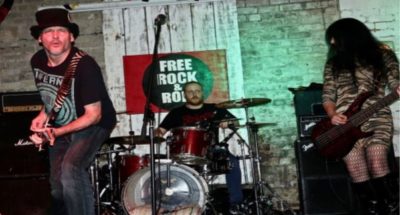 I've seen Spam Javelin live once before, but it wont be the last time. They are magnificent. And to transfer that live sound onto 'The Crack Whores Of Betws Garmon' is a job well done. Go and buy this album.
You can watch my brilliant interview with Neil Crud from a few weeks ago HERE.
The band are currently touring and you can catch them at the following venues:
6th July – Black Box, Belfast
7th July – Drop Dead Twice, Dublin
28th July – Live Rooms, Chester
15th Aug – Mortimers, Minneapolis
16th Aug – Reptile Palace, Oshkosh
17th Aug – Trumpet Blossom, Iowa City
18th Aug – Just Jules, Cedar Falls
25th Aug – Phase One, Liverpool (Crapfest)
14th Sept – Free Rock'n'Roll Fest, Liverpool
16th Oct – The Salty Dog, Northwich
Line-up:
Neil Crud – Vocals / Guitar   /   Tracey Howarth – Bass / Llion Broadbent – Drums
Links:
Release date: 08/07/19 Length: 24mins. Putting the Spunk back into Punk. A perfectly executed display of Sub-Hardcore.
£3 (Download) / £10 (Vinyl) / £3 (CD)

editor rating