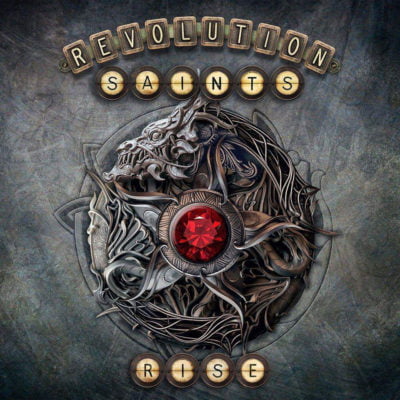 2020 will start off strongly for fans of melodic rock as Revolution Saints release their third studio album Rise via Frontiers Music S.R.L on January 24th. The supergroup trio of Deen Castronovo on drums/lead vocals, Jack Blades on bass guitar/vocals and Doug Aldrich on guitar have strengthened the promise shown of their 2015 released self titled debut and Light In The Dark in 2017 with eleven prime cuts of stadium filling songs.
First track and first single from the album 'When The Heartache Has Gone' is muscular AOR full of driving riffing, snapping snare work, jabbing synths and a spotlight stealing lead vocal. Powerful backing vocals make it a strong opener. They hit their stride in the choruses and air guitars should be at the ready when Doug steps up for his solo. 'Price We Pay' is a captivating power ballad. As if the lyrics don't tug at the heart strings then wait until the huge choruses kick in! Tempos are back to business as 'Rise' is a hefty riffer and over the top fancy fretboard licks.
A pulsating piano intro to 'Coming Home' sees the song kick into gear with feelgood lyrics dominating as a fiery guitar solo arrives midway. 'Closer', a ballad bound to light up any crowd wherever they play it brings to mind the lighter side of Damn Yankees which is no bad thing and a tasty guitar solo is the icing on the cake. 'Higher' is a perfect song for the summer. Foot down on the gas and all the windows wound down so as to share this top class heavy rocker with the passers by. 'Talk To Me' is a shimmering ballad given extra emotion with a guest vocal from Lunakaire. A joyous vocal delivery for 'It's Not The End (It's Just The Beginning)' gives a message of hope in this punchy AOR number as Doug blazes out a wah wah drenched solo.
'Million Miles' is an adrenaline rush of rhythms that carry the helium fueled vocals to the three minute mark finish line. 'Win Or Lose' is a sugar sweet vocal tour de force and heavy rhythms hold the fort until the finger blistering guitar solo kicks in. My favourite song on the album ends it on a whisper as 'Eyes Of A Child', written by Jack Blades and Tommy Shaw is sheer bliss. Sparse piano, orchestral strings and acoustic guitar are the palette for which the heart melting lyrics can paint their message on.
Rise album track listing :-
When The Heartache Has Gone.
Price We Pay.
Rise.
Coming Home.
Closer.
Higher.
Talk To Me.
It's Not The End (It's Just The Beginning).
Million Miles.
Win Or Lose.
Eyes Of A Child.
 Revolution Saints band line up :-
Deen Castronovo – Lead vocals/drums.
Jack Blades – Bass guitar/vocals.
Doug Aldrich – Guitars.
Guest appearances :-
Lunakaire – Vocals on 'Talk To Me'.
Alessandro Del Vechio – Keyboards/backing vocals.
The 2020 rock revolution starts early as Revolution Saints rise to the occasion.