Since their formation in Brugg, Switzerland 2015, all female band Burning Witches have wasted no time in getting their music out to the masses with their self titled debut in 2017 and two albums in 2018, the Burning Alive live album and Hexenhammer studio album. They end 2019 with the Wings Of Steel EP, released via Nuclear Blast Records.
It consists of one studio track, 'Wings Of Steel' and three tracks taken from their appearance at Wacken Open Air Festival 2019. The title track is all full blooded power metal with the emphasis firmly based on POWER! The riffs rage hard over waves of furious kick drums and shimmering twin lead guitar work make for a strong opener. 'Executed', their Wacken set opener is a whammy bar overload intro and a mighty shriek from lead vocalist Laura Guldemond gets this molten metal flowing off the stage onto the Wacken crowd.
'Open Your Mind' is a touch more melodic but thunderous drumming keep it in headbanging territory, especially in the seismic instrumental all guns blazing guitar midsection. The EP ends all too soon but the seven minute duration of 'Hexenhammer' is a fine way to finish. It's a smouldering slow burner that kicks in midway into a slaying slammer and the two minute outro is a histrionic vocalled tour de force dominated heavy metal heaven. 2020 looks busy to. As well as releasing a brand new studio album Dance With The Devil in March, they will be touring with Korpiklaani, Ross The Boss and headlining dates of their own.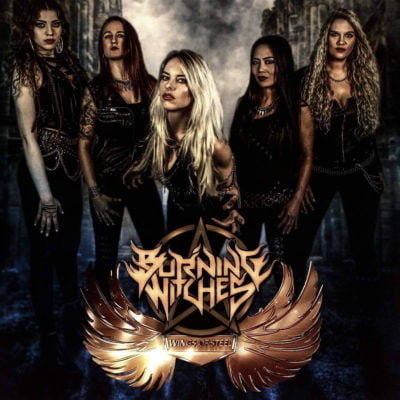 Burning Witches band line up :-
Laura Guldemond – Lead vocals.
Romana Kalkuhl – Guitar.
Sonia Nusselder – Guitar.
Jeanine (Jay) Grob – Bass guitar.
Lala Frischknecht – Drums.
Wings Of Steel EP track listing :-
Wings Of Steel.
Executed (Live from Wacken 2019).
Open Your Mind (Live from Wacken 2019).
Hexenhammer – (Live from Wacken 2019).
These witches will certainly burn your ears with spellbinding heavy metal.