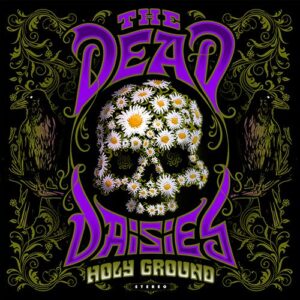 So the ever spinning wheel in The Dead Daisies personnel see the departure of Jon Corabi on lead vocals and Marco Mendoza on bass guitar replaced by the legendary Glenn Hughes and he has added a whole new dimension to the band, point proven by their recently released studio album Holy Ground.
It contains some of the heaviest material I've heard from them as the title track 'Holy Ground (Shake The Memory)' had me shouting "Holy Moly" as it shook my speakers for a frantic five minutes of bludgeoning hard rock as Glenn delivers his first vocal with so much soul and power and a wah-wah drenched solo will keep the air guitarists busy! Choruses are all melody with muscle and a drum driven outro makes the song a statement of intent.
'Like No Other (Bassline)' is summed up by its title as Glenn steals the spotlight with a histrionic vocal and bullish bass guitar assault. A tight rhythm section pins everything down as the guitars blaze away for a full on riffathon.
'Come Alive' is all funkadelic funk. Come alive? Yeah they do as they are a force of nature with no holds barred as it stomps along towards an adrenaline fuelled outro.
'Bustle And Flow' is a sassy and classy strut of put up or shut up bravado full of blazing guitar solos.
'My Fate' is a blustering grind of hefty riffs that leave gaps for Glenn to soar up to the heavens.
'Chosen And Justified' is a full on seismic tub thumper that resonates hard and heavy as an extra edge comes from a menacing vocal.
It's all about the drums throughout 'Saving Grace' that sees Deen Castronovo tests the metal mettle of his kit throughout this slice of heavy blues.
I had 'Unspoken' on repeat play purely for the sheer exhuberance of the guitar work that makes it a bonafide ear melter. Laid back vibes pave the way for raging choruses and a drum battery brings it to a devastating end.
They put their stamp on a cover of 'Thirty Days In The Hole' as the Humble Pie classic is all lowdown dirty rock and roll played as it should be and a real feel good vibe is bolstered down by monstrous choruses.
The main riff for 'Righteous Days' could shake your foundations that make it the heaviest track here. The guitars of Doug Aldrich and David Lowy weave around the vocals but are let off the leash to melt their fretboards.
This all killer and no filler album ends with the seven minute epic 'Far Away' that will blow you away! Soul searching lyrics are heartbreakingly poured out along with a sparse musical backdrop until the last two minutes as it takes on a new lease of life for a race to the finish line bass guitar heavy juggernaut offset by sweeping orchestral strings.
The Dead Daisies band links :- http://thedeaddaisies.com/
Holy Ground album track listing :-
Holy Ground (Shake The Memory).
Like No Other (Bassline).
Come Alive.
Bustle And Flow.
My Fate.
Chosen And Justified.
Saving Grace.
Unspoken.
Thirty Days In The Hole.
Righteous Days.
Far Away.
The Dead Daisies band line up :-
Glenn Hughes – Lead Vocals/Bass Guitar.
Deen Castronovo – Drums.
Doug Aldrich – Guitar.
David Lowy – Guitar.
The Dead Daisies kick out the jams!