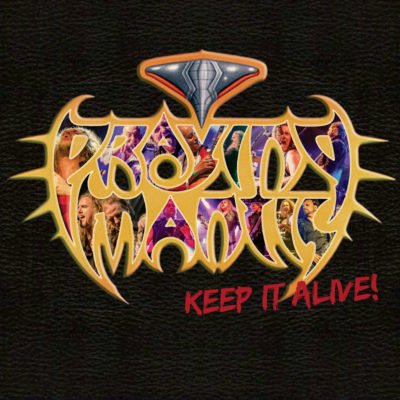 Only a few years from their 50th anniversary since forming in London 1973 by brothers Chris and Tino Troy, melodic hard rockers Praying Mantis prove they are still a force to be reckoned with judging by this performance for the Keep It Alive album, due for release on Dec.6th 2019 via Frontiers Music SRL. Recorded at the Frontiers Rock Festival V on April 28th 2018 on their Gravity tour and it kicks off strongly as it heads way back to 1979 for 'Captured City'. The riffs still enthrall after all these years since I first bought it as a 45rpm single. 'Panic In The Streets' from their 1981 debut album Time Tells No Lies that influenced the NWOBHM genre is another age defying blast from the past with gritty riffs and luxurious backing vocals as all of the band have fine voices. A neat twin guitar/vocal interplay and pounding drum outro make it an early highlight.
'Highway' has a touch of 'Hysteria' in the melodies and this number is a sumptuous slice of AOR at its very best. 'Believable', my favourite track from the 2015 The Legacy album see massive verses and choruses belted out by the band. It's an emotional tour de force of a number that I didn't want to end. A brace from the Gravity album sees 'Keep It Alive' being a full blooded foot to the floor headbanger and 'Mantis Anthem' is all slow, pounding grooves with stadium filling choruses and a majestic lead guitar solo midway. 'Dream On' is a spine tingling ballad with backing vocals that flew around my headphones as lead singer John 'Jaycee' Cuipers soars with aplomb. 'Fight For Your Honour', another big song from the Legacy album has call to arms lyrics in this heavy rocker and once again the backing vocals are breathtaking. The heaviness ante is upped by 'Predator In Disguise' as the band lock in hungrily for some destructive dynamics and their set closes all too soon with a welcome return to the Time Tells No Lies album for 'Children Of The Earth'. It's a one last blast from the past of bruising riffs that add muscle as it gradually builds to a guitar laden outro.
Keep It Alive! album track listing :-
Captured City.
Panic In The Streets.
Highway.
Believable.
Keep It Alive.
Mantis Anthem.
Dream On.
Fight For Your Honour.
Time Slipping Away.
Children Of The Earth.
Praying Mantis band line up :-
Hans In 'tZandt – Drums/vocals.
Tino Troy – Guitar/vocals.
Chris Troy – Bass guitar/vocals.
Andy Burgess – Guitar/vocals.
John 'Jaycee' Cuipers – Lead vocals.
Praying Mantis make easy prey of the crowd on this killer album!