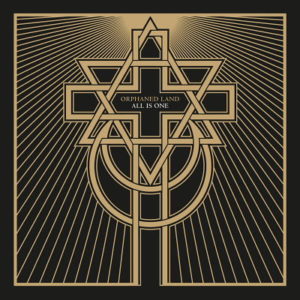 Once upon a time I was roaming through Youtube  and I stumbled upon Orphaned Land with their song "Sapari" from the album "The Never Ending Way of Orwarrior, 2010". I loved it and put it on repeat and listened it 30 more times in a row. I was always fond of Middle Eastern sounds and music. The first thing I did was cycle to the local music store to buy their album. I was not disappointed, and again I am not disappointed with their new album "All is One". It is hard not to sound to euphoric about this album. It is renewing, refreshing and gives you a punch in the face with reality. They even were nominated to win the Nobel Prize. If that doesn't say enough, nothing does.
Now I really am going to talk about their new album "All is One". You cannot deny that this new album is very approachable. Some will see this as a step back and see this as a band becoming too popular which results in quality loss. With Orphaned Land this is not the case.Yes, maybe this album contains songs that are really nice to hear for everyone. But it is the message that the band spreads that really speaks to me and the composing qualities of the band. They have accomplished  a perfect mix between progressive metal, Middle Eastern folk music, Jewish poetry and some other styles and influences. It is evident on the album cover: A Christian cross, the Star of David and the Islamic crescent. That is quite daring for a band living in Israel with their conflicts I am not going to mention here.
Okay, back to the album. The album starts with the song "All is One", very catchy and it sounds epic. It even contains a choir! This band really does it again; they made a song that will stay around in your head for quite a while. With the use of traditional instruments,  Turkish violins and strong lyrics they create a feeling of unity. This comes back in almost every part of the album. Even in the song "Fail", lead singer Kobi Farhi, throws in some really nice growls which is a very refreshing surprise.  He really pours his soul into every song on this album.
Though when I listened to the album the second time I noticed that the contrast between very crushing metal riffs and folk metal isn't that prominent as previous albums. And the lack of growls was a bit of a downer. And sometimes the conflicts they bring forth turn your head away from the music. But that is quite negligible, they merged all their influences together and they did it with their souls. They bring a message to you, and this message is reality and not a fable or a myth. The album is catchy, approachable and very well composed. It comes with a perfect mix of sounds. This album will give people hope in many areas of conflict around the globe.
Tracklist:
All is One
The Simple Man
Brother
Let the Truce be Known
Through Fire and Water
Fail
Freedom
Shama Im
Ya Benaye
Our Own Messiah
Children
Band Members:
Kobi Farhi – Vocals
Uri Zelha – Bass
Yossi Sassi – Electric Guitars, Bouzouki, Cumbus, Acoustic & Nylon-strings, Guitars
Chen Balbus – Electric Guitars, Glockenspiel, Keyboards, Programming
Matan Shmuely – Drums
Links