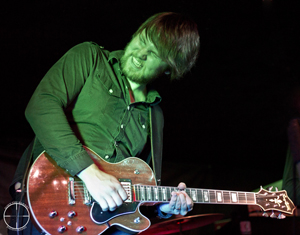 It's thirty minutes shy of midnight on a Wednesday evening in Stockholm's Pub Anchor and the crowd has only begun to gather as Dala-Järna's Benesser begin their show. The trio of David Olsson, Henric Hermansson and Rob Olsson are a likeable group of young guys who play a deceptively heavy style of rock.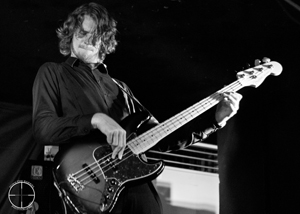 As soon as they commence, you get drawn into their performance. As is the want of Progressive Rock, there are solemn soul searching gentle passages but these are gloriously offset with some absolutely blistering grooves that could bulldoze mass concrete. Sounding like a cross between Lauri  Ylönen and Matt Bellamy, bassist and lead singer Rob, takes his duties very seriously and gets lost in the music with his eyes closed as if he is reliving the lyrics he sings. His complex bass lines match David's relentless percussion. Benesser nod their creative caps more in the direction of early Muse and dare I say it, Rush.  Tonight's set is predominantly drawn from their debut release, "The Start of Something New".
The twin vocal harmonies between Rob and Henric complement each other and add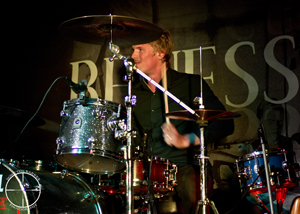 an extra dynamic to their compositions, especially on "Babyface". Henric's guitar work is scintillating. He uses effects to maximum benefit for the songs but it's his riffing that really gives this band the kick in the right direction. When Benesser rock they really let go with an onstage chemistry that comes from incessant practice and touring.
Highlights of the evening are the crushing "Colors", the intense "Where O Death", the astral "Signs Of Time" and the inspiring "For The Eyes Of The Lost".
Benesser may not yet be known outside of Sweden, but as the new album suggests, this IS the start of something new. Benesser has all the right ingredients to succeed.
Setlist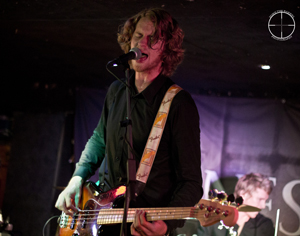 Where Silence Prevails
Babyface
Is It You?
Colors
Where O Death
Purpose and Cause
Signs of Time
Patience
For the Eyes of the Lord
The Start Of Something New
Benesser is:
Robert Olsson
Henric Hermansson
David Olsson
Band Links
https://www.facebook.com/benessermusic
Management
Press Contact
group@doolittle.se
Photos by Down The Barrel Photography