Sadly due to unforeseen transport issues due to idiotic protesters blocking railway lines, I got to the venue just as the first band, Bad Touch, were finishing their set. A shame as I was looking forward to seeing them.
Toseland were up first. They're a good solid band, and former Motorbike racer James Toseland is a good frontman. It's a good and enjoyable set, but to be honest I'd have preferred the lineup to just be the two headliners so they could have had longer sets. Both support acts are good bands, but with the fans tonight being here for the two headliners it would have been nice to have them each do a 90 minute set rather than the 60 minutes they got.
Night ranger were next, the first of the two headliners in this co-headline show. Tonight is one of just 2 UK dates (the other being HRH AOR festival in Pwllheli), and since they don't play the UK that often (2015 being their last time) then it's no surprise that there are lots of fans in Night Ranger T-shirts here to see them. Sadly whereas in 2015 we got a two hour headline set from them, with tonight being a co-headliner then they only have a one hour set.
Their many years as a band really show as they put in an incredibly good performance that looked and sounded great. They all look to be having a lot of fun as they move around the stage and play. It's the sort of show you only get from a band that tours a lot and has years of experience and critically – still enjoy what they do.
They've got a large back catalogue to choose songs from, and with this hour-long set they cut back on the new material, playing just a couple of songs from their latest album and making the rest of the set a "best of" type set which makes a lot of sense since there will be plenty of people there who are Skid Row fans rather than Night Ranger fans, so a set packed with their hits is most likely to go down well. They certainly succeed as they go down a storm – it's a fantastic set that ends with "Sister Christian" and "(You can still) Rock in America". One nice bit I wasn't expecting was that as well as including a couple of songs from one of Jack Blades other bands – Damn Yankees, they also threw in a bit of Deep Purple, with them including a bit of "Highway star" in the set. Considering that is a much heavier song than their own material I was pleasantly surprised to hear it played and done justice as it sounded great – loud and heavy.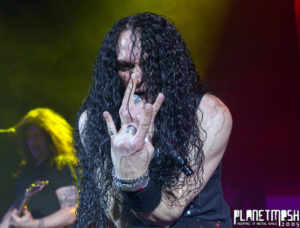 Closing the show tonight were Skid Row. It's my first time seeing them with former Dragonforce frontman ZP Theart on vocals, so I was curious to see how they'd sound these days. Listening to him, I'd say he's not quite up to the standard of classic Seb Bach (i.e. Seb Bach at his peak in the late 80s/early 90s), but he's way above how Seb Bach sounds these days. He can certainly reach the high notes and has plenty of power in his voice, so he's able to do justice to the songs.
It's a set that can be described in one of two ways – either "Skid row have nothing new to offer" or "Skid row give the fans what they want to hear". The reason for that is that the set is based entirely around the first two albums from 1989 and 1991. Yes those are their albums that were massively popular and contain their classics, but equally by ignoring all their more recent releases they're almost admitting they're just not as good and that they're happy to be a nostalgia band. It's a shame as with Johnny Solinger on vocals they had been playing the new EPs and they were good. We'll have to wait and see if this retreat to the past is temporary or permanent.
Setlist discussion aside, it was a great show from Skid Row. As well as being a great vocalist, ZP is a great frontman, and combined with a great and experienced band like Skid Row then you're guaranteed a great show. It was good to see them clearly having fun and interacting with each other on stage, clearly still enjoying themselves playing gigs even 30 years on.
A great night. Skid Row and Night Ranger were both fantastic. Sadly I missed the opening act (Bad touch) but enjoyed Toseland's set. A co-headline show with 2 support acts on top is great value for the fans.
[flickrapi user="planet mosh" get="photoset" id="72157694521855905″ size="z" count="100″]