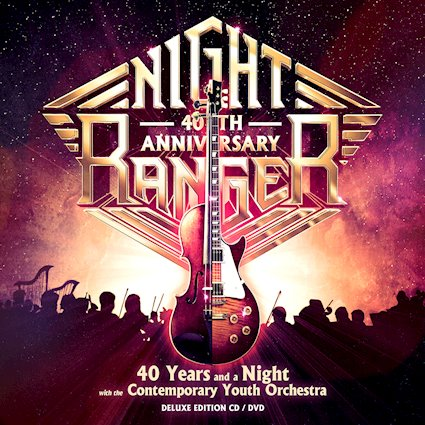 This is close to being one of my favourite live albums of all time as Night Ranger celebrate their 40th anniversary with '40 Years And A Night With Contemporary Youth Orchestra', due for release on October 20th 2023 via Frontiers Music SRL on CD/Vinyl (inc. ltd editions), DVD, Blu-Ray and digitally on all streaming platforms Worldwide.
Recorded at Key Bank State Theatre, Cleveland, Ohio on November 9th 2022, 80+musicians 12-18 years old from more than 40 schools in Ohio performed alongside Night Ranger.
"It was a dream come true to have Night Ranger music accompanied by an entire symphonic band …..in our own. Although now, we're spoiled and we want to carry the orchestra with us wherever we go" said lead vocalist/bassist Jack Blades.
The album opens up strongly with a gripping orchestral intro to 'You Can Still Rock In America' and they fire on all cylinders locking in tight with a powerhouse vocal, twin lead solos and crowd fuelled choruses.
Swathes of strings add beauty to 'Four In The Morning'. This power ballad par excellence elevates when the choruses arrive and more twin lead overload.
The crowd roar when Jack announces 'Sing Me Away', it's rifftastic with a hard edged vocal over soothing keys until twin leads and whammy bar frenzy beef it up.
'Call My Name' is not one of my favourites but now it impresses with a full on orchestral backing and a spotlight stealing lead vocal.
Another big hitter sees 'Sentimental Street' sung by drummer Kelly Keagy, an emotional song as he croons over strong keyboards and full on band backing vocals.
A lengthy intro from Jack gets some crowd participation for 'High Road' and they almost raise the roof doing so for this gritty rocker that ticks all the right boxes especially from a fretboard burning solo midway, ending on an adrenaline rushed choruses and crowd fuelled "yeah yeahs".
Jack gets the parents of the orchestra to stand up to say "You have some kick ass musicians here" as strings add extra power to their signature song 'Night Ranger'. It soars skywards and a midway drum off precedes a full on metal outro.
A poignant 'Goodbye' is introduced by Jack as " I wrote this song about a brother who died of a drug overdose". It's an acoustic performance to melt the coldest heart, closing on a huge vocal, air guitar inducing solos and sweeping orchestral strings.
Another certified crowd pleaser comes from 'When You Close Your Eyes'. Poignant choruses lead to joyous ones and those twin leads are never far away for a huge crowd participation.
The heaviest track here sees 'Don't Tell Me You Love Me' riff with aplomb, driving this headbanger towards shuddering choruses, stretching the song out to over nine minutes, giving time for added guitar solos and orchestral wizardry.
This highly impressive live album ends on another nine minute epic to drain every last drop of emotion from their best ever ballad 'Sister Christian', sung once again by Kelly Keagy and nirvana is reached by the spine tingling choruses. What a way to close the show!
A pre-release link to the album plus other band info is here :- https://nightranger.com/ /https://www.facebook.com/nightranger / https://orcd.co/40years /
Album track listing :-
Intro.
You Can Still Rock In America.
Four In The Morning.
Sing Me Away.
Call My Name.
Sentimental Street.
High Road.
Night Ranger.
Goodbye.
When You Close Your Eyes.
Don't Tell Me You Love Me.
Sister Christian.
High Enough. (Bonus Track – Japan Only).
Night Ranger band personnel :-
Jack Blades – Lead Vocals/Bass Guitar.
Kelly Keagy – Drums/Vocals.
Eric Levy – Keyboards.
Brad Gillis – Lead Guitar/Rhythm Guitar.
Keri Kelli – Lead Guitar/Rhythm Guitar.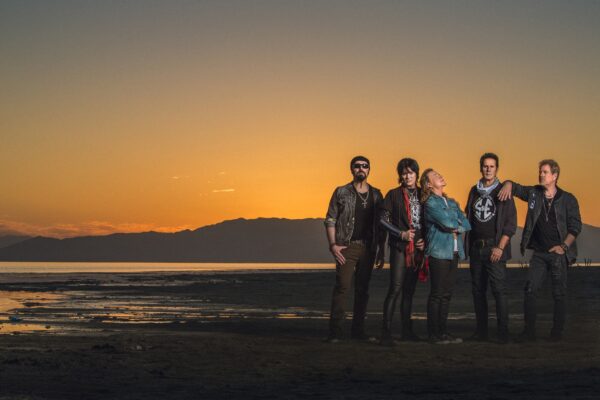 Rejoice in Night Ranger '40 Years And A Night With Contemporary Youth Orchestra',new live album from Night Ranger!