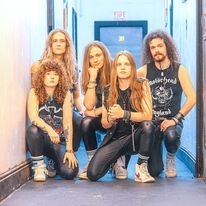 For a debut album this is very, very impressive as Tailgunner unleash Guns For Hire via Fireflash Records. The five piece band have British heavy metal flowing through their veins for ten potent songs, opening up with 'Shadows Of War'. It slams in full force from the off with earworm guitar lines towards majestic heads held high into a battle heavy metal monster. An early sign of the vocal prowess of Craig Cairns sweeps into the crushing but also melodic choruses, veering off for an air guitar heaven outro.
'Guns For Hire' is a drum driven turbocharger of snare and kick drum overload to rattle your headphones as once again, an already powerful song is peppered by stadium filling choruses and twin lead fury.
'White Death' makes for a death defying proto thrash thrilling white knuckle ride that burns up the tarmac so fast that not even the Millenium Falcon could keep up with it, hitting light speed midway for a jaw dropping instrumental piece.
A certified pit opener par excellence comes from 'Revolution Scream' with choruses that are mandatory to be sung loud and proud to. A bass heavy midsection pins down fretboard burning solos.
'Futures Lost' proves their future is far from lost as they plug in and let rip for four frantic minutes of mind boggling guitar frenzy, especially when they up the heaviness ante midway.
All aboard for 'New Horizons', a hot rails to hell journey and back of buzzsaw riffing that steal the spotlight from a lung busting lead vocal.
'Warhead' lives up to its title as the fuse is lit for another four minute major rager of finger bleeding guitar bombs!
'Crashdive' channels the early vibe of NWOBHM (New Wave Of British Heavy Metal) as they chug along vehemently until the guitar solos fly off the fretbaoards like angry wasps.
'Blood For Blood' is an anthem in the making and when played live should make for a certified crowd pleaser.
My favourite track comes from the album ending 'Rebirth', nine minutes of mind boggling 24 carat heavy metal, point proven by a hypnotizing minute long riff that could move mountains effortlessly! Off kilter time changes caught me off guard and this pattern rallies throughout. What a way to finish a dizbusting debut album!
Purchase links to the album and for the Guns For Hire tour are here :- https://linktr.ee/tailgunnerhq
Other band info is here :- https://www.facebook.com/tailgunnerhq / https://www.youtube.com/tailgunnerhq
Guns For Hire album track listing :-
Shadows Of War.
Guns For Hire.
White Death.
Revolution Scream.
Futures Lost.
New Horizons.
Warhead.
Crashdive.
Blood For Blood.
Rebirth.
Tailgunner band personnel :-
Craig Cairns – Lead Vocals.
Thomas Hewson – Bass Guitar.
Sam Caldwell – Drums.
Zach Salvini – Guitar.
Rhea Thompson – Guitar.
Tailgunner are already making waves early on in their career as they undertook two UK headline tours with multiple sold-out dates, are currently on their Guns For Hire tour and have just been added to the Stonedead festival on August 24th 2024!
An adrenaline rush of pure heavy metal is unleashed by Tailgunner for their debut album Guns For Hire.