Skid Row – 'The Gangs All Here Tour' with support from Enuff Z Nuff and The Treatment – live review live at the O2 Sheffield, 28 October 2022
Enuff Z'Nuff
Has the circus come to town, no not really, but that's the intro tape that welcomes you to the greatest show on earth. Taking you on a magical nostalgia trip. Mid-80s American rock band Enuff Z'Nuff, now fronted by their bassist Chip Z'Nuff give you one hell of a ride playing their greatest hits and more.
Chip welcomes us to 'kiss this!' as they kick off with the raucous Kiss The Clown. The crowd are semi enthused by the songs so far but Chip is welcoming to his audience and tells them 'your gonna love what we have to play and did you know we have 20-plus records', 'but I'm sure you're gonna remember this one from our the second album, Strength. They play a warped unfamiliar intro, and I think I don't know this until the unmistakable riff of Baby Loves You hits!! Of course, pretty darling we remember this one!!
Did you know Enuff Z'nuff has a record of the Beatles' songs called 'Hardrock Nite' playing their version of Jet, the fans seem a bit discombobulated by this cover. But you should know Chip is a massive Beatles fan.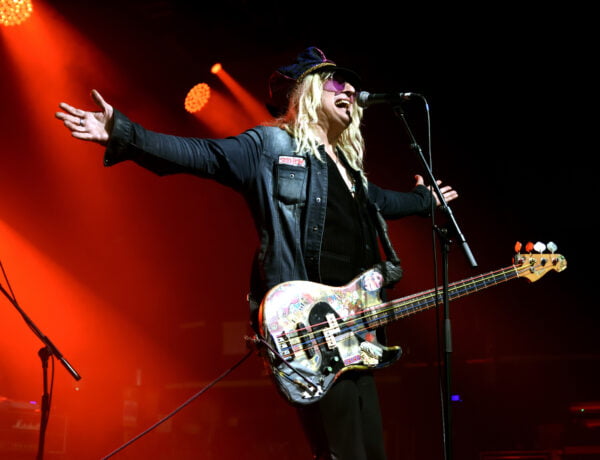 A ride down nostalgia lane
Saving their best and most well-known songs for last. Enuff Z'Nuff launch into their classic hit Fly High Michelle, a great dancefloor classic back in the day! We all get high on the now-old New Thing.
We love you all and god bless you all, have a wonderful evening folks!!
Setlist Intro: The Greatest Show on Earth – Magical Mystery Tour (Cover) – Kiss the Clown – The Love Train – Baby Loves You – Jet (Beatles cover) – Fly High Michelle – New Thing
Missed them, you can still catch Enuff Z'Nuff in November, on their headline shows in support of their Glam Slam Tour!
The Treatment
The Treatment, I thought they'd hung up their guitars for a bit after touring and supporting Reckless Love earlier this year but they were soon called out to support H.E.A.T last month. You can't stop this runaway train as the Cambridge rockers are back providing support to Skid Row. Showcasing their classic rock and roll music to an even wider audience, it's great to see the band on a larger stage and in a bigger venue. They are just the right balance to bring up the pace before the main act Skid Row.
Ramping up the energy, the AC/DC backing track gets the crowd's juices flowing, as The Treatment takes to stage from the shadows. Boom! They storm into the gritty Get Dirty. Not easing up, the power riffing continues on the blues-rocker Let It Begin. Singer Tom Rampton's voice is in fine form, hitting those high notes with ease on the playful lyrics.
There's a tonne of 'thank you' from Rampton through their set, as he 'thanks' everyone for being here and making tonight possible. Coaxing his audience, Tom asks 'who's ready to sing with me, it's easy, I say one and you repeat back,' a back-and-forth of varying 'whoa's' purr from the audience. As the band begins to play the classic rock-styled Bite Back.
With hands in the air, the crowd are with it On The Money. Heading to the final song of the set. The intro of Rat Race comes to a stop as quickly as it started, a whistle blows then they are back in action ( I don't know what caused it). Ending with a cheeky Rampton, tongue stuck out and knees bent and arms out to his sides, he looks like he's just done the rock version of the 'Haka'.
Line-up: Tom Rampton – Vocals, Dhani Mansworth – Drums, Tagore Grey – Guitars/backing vocals, Tao Grey – Guitar and Andy Milburn, Bass Guitar.
Setlist: Highway to Hell (Intro tape) – Let's Get Dirty – Let It Begin – Eyes on You – Vampress – Wrong Way – Bite Back – On the Money – Shake the Mountain – Rat Race
https://www.facebook.com/TheTreatmentOfficial
https://www.instagram.com/thetreatmentofficial/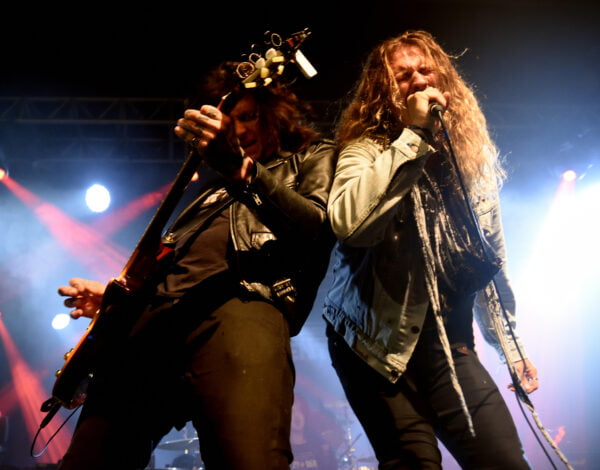 SKID ROW
The Gang is not quite all here tonight as Dave 'The Snake' Sabo is holed up in a room in Manchester with the dreaded covid but he's apparently alright, just not right enough to play his guitar. So stepping in is guitar tech Casey Sproatt.
The menacing guitar riffs and throbbing bass lines grab you instantly, as the familiar Skid Row classic Slave To The Grind from their second album of the same name, seizes you with its full throttle.
Like them or not. Skid Row has been in it for the long haul and it's great after 16 years they have a new wrecking ball with their newly released sixth studio album The Gangs All Here.
A new beast is unleashed…
Erik Grönwall makes his debut as the new frontman of Skid Row. Having seen Erik in his previous band H.E.A.T, there's something wilder about the man on stage tonight. Letting loose and unleashing his inner beast on Big Guns and Piece of Me. Erik tells us later in the night, it's a teenage dream come true to be playing with the other stalwarts and founders of the band!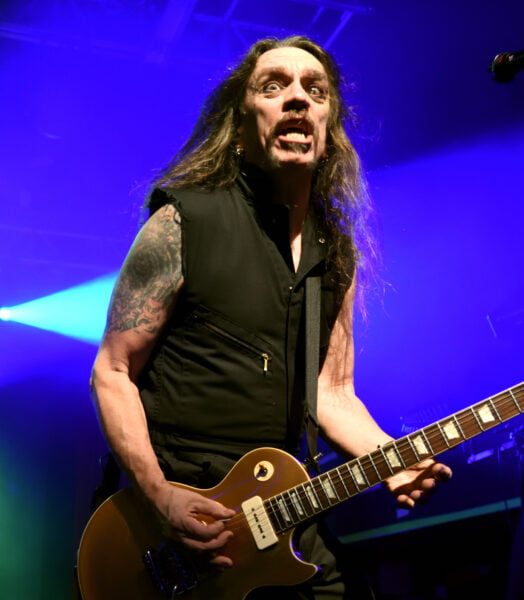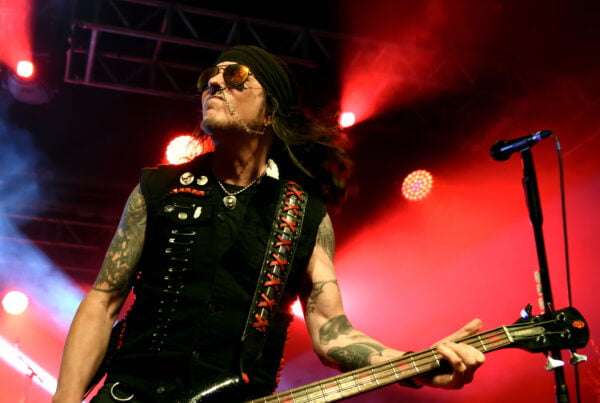 If you're not already fired up, you might need a dose of Ramones 'Psycho Therapy'. Rachel Bolan leads the way on this schizoid frenzy. If you are here for the ritualistic numbers, then Making a Mess of Me is for you as Grönwall fires on all cylinders! Erik makes a good impact on the fans, the songs sound fresh and the new ones blend into existing the catalogue well.
You Can't Tear it Down
The Gangs All Here starts to pound its hearty beat and the fierce, high-octane vocals of Grönwall lead the gang, as the crash-thump hooks pull you in. Skid Row showcases they've still got it, and more on Tear It Down another smasher from The Gangs All Here album. Like preaching to the choir, and, to coin their own words 'you can't tear it (Skid Row) down' !!
What's that sound, it's the sound of Monkey Business, with Bolan and Hill paring up for some side-by-side riffage! An un-tamed Grönwall shows his passion and love for his new band by dancing around the stage and exclaiming his joy to his revved-up audience.
Encore
As the band exit the stage. An acoustic guitar is placed on its stand on stage, it looks like it's been held by an invisible person. If you've seen Skid Row before, then you will know that they will be back to play more songs, especially the next one!
The sound of thunder rumbles from the speakers, this is where Dave Sabo would've taken the lead, playing the renowned acoustic number I Remember You. Tech, Casey does a brilliant job and if were not for him, we wouldn't have a show to enjoy tonight.
Tick tick tick… comes the echo as the new single Time Bomb explodes in your ears. Closing their 15-song-strong set with Youth Gone Wild. The crowd goes nuts as giant inflatable balloons bounce from stage, atop the crowd.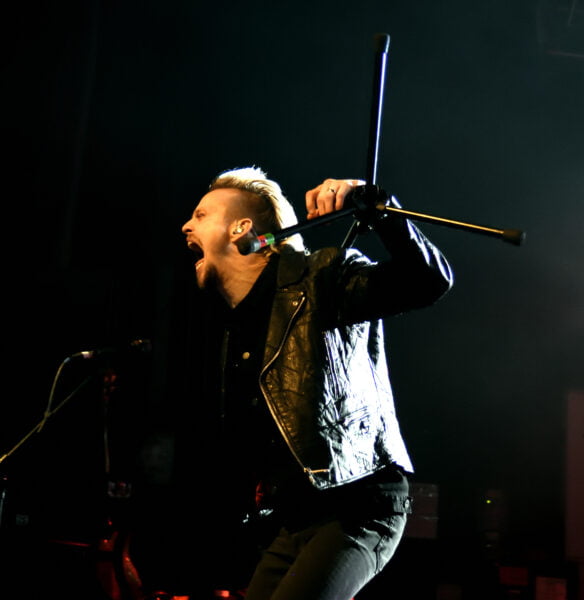 Skid Row Setlist: Intro Blitzkrieg Bop (Tape) – Slave to the Grind – The Threat – Big Guns – 18 & Life – Piece of Me – Living on a Chain Gang – Psycho Therapy  (Ramones cover) – Makin' A Mess –  The Gang's All Here – Riot Act – Tear It Down – Monkey Business
Encore — I Remember You – Time Bomb – Youth Gone Wild
Skid Row band – Dave "The Snake" Sabo – lead and rhythm guitar – Rachel Bolan – bass –
Scotti Hill – rhythm and lead guitar – Rob Hammersmith – drums – Erik Grönwall – lead vocals
SKID ROW online:
Website
Facebook
Instagram
Twitter
YouTube
Words and photos by Alex English
More photos here: https://flic.kr/s/aHBqjAdU33