Bring Me The Horizon have a lot to answer for. In the years since 'There is a Hell…' and 'Sempiternal', hundreds of bands have merged elements of electronica into their metal in order to emulate their success, to varying levels of quality. To be a trailblazer in a genre is to create waves of paltry imitators in your wake.
Italy's Forbidden Seasons can be accused of hero worship on their debut album 'Promise'. They combine high-pitched clean singing with a variety of screams, backed up by a variety of standard metalcore riffs and a tight production. While it's technically proficient enough to hold your interest, the whole album constantly falls back onto genre cliches that brings absolutely nothing new to the table.
When they eschew the drop-tuned chug in favour of more technical djent-style riffs, the band really flourish. In many ways, they share more in common with bands such as Periphery than they do with say, Asking Alexandria. However, there is a distinct lack of personality throughout the record that on first listen would struggle to differentiate them from their peers. The bands who have set themselves ahead of their counterparts are the ones with charismatic vocalists, such as Danny Worsnop or Sam Carter.
Singer, Mark Seasons, spearheads the three way vocal assault by providing the dog bothering, late noughties metalcore cleans. His interesting use of melody is easily the band's strongest asset, and on opening tracks 'Atlantis' and 'Thank You For The Venom' he displays a clear talent for writing catchy choruses. The opening mosh call on 'Sorrow Won't End' leads into one of the album's heavier riffs, and is followed by some of it's strongest vocal hooks, but quickly descends into another set of juddering breakdowns that seem to litter the entire record.
Forbidden Seasons certainly show potential on their debut album. If they can play to their strengths by showcasing their technical prowess, and evolving their sound beyond by-the-numbers metalcore, they may well have a shot of breaking out of their scene. Until then, 'Promise' remains an example of how to replicate, not to originate.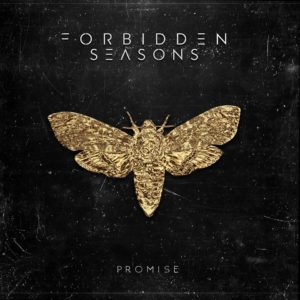 Track listing:
1. Atlantis
2. Thank You For The Venom
3. Keys and Locks
4. Gravity Fall
5. Wormhole
6. The Human
7. Sorrow Won't End
8. I've Seen The End In Your Eyes
9. The Rejected
10. Promise
Review by Sam Craddock-camp
Forbidden Seasons certainly show potential on their debut album