Following on from the 2018 E.P release of How Does It Feel To Be Alive, Luke Appleton has carried on with his wealth of songwriting on his full length album titled Snake Eyes, currently available via Rocksector Records.
He has a few guest appearances that include his brother Chris who not only adds a guitar solo but also engineered and produced the album. Original Iced Earth (who Luke Plays bass guitar with) vocalist Gene Adam adds vocals as does Theresa Smith from Metaprism and Babylon Fire guitarist Rishi Meta adds solos and melodies. The album opens with the upbeat 'Inside Out', all in your face chords with lyrics delivering a powerful message. 'Medusa' has a jaunty folk rock vibe as layered vocals enchant. The title track strangely gave me a Paul Weller influence as the lyrics flow alongside orchestral strings that sweep along and it muscles up midway towards a captivating outro.
'First Star', featuring Theresa Smith sees the dual vocals give off Medieval nuances and if the chords could speak they would be of a soothing whisper. 'Heart Returns' is a vehement vocal tour de force delivered over nimbly picked guitar lines. 'Crocodile Tears', featuring a guitar solo from Chris Appleton is the perfect example of how a song does not need electric bombast as a haunting vocal and heart tugging acoustic guitar lines lead to a pleading outro vocal. 'Stone Broke From My Heart' sees Rishi Meta adding some tasty guitar parts and wah-wah solos to this dreamy opus. He also weaves his magic with meandering guitar work on 'Walkers', a quirky number of eerie vocals in the verses that power up in the choruses.
The gently picked chords in 'The Other Side' give it an almost ethereal mood until it heavies up midway as it returns to a smooth ending. 'Slay The Hydra' is the most powerful song on Snake Eyes as Luke bellows alongside the power packed lungs of Gene Adam and that power carries over for 'A Man Of A 1000 Words' as Luke wears his heart on his sleeve here. A live bonus track of 'How Does It Feel To Be Alive' sees Luke belting it out with aplomb with just himself and an acoustic guitar. I'm not sure when it was recorded but I caught one of his solo gigs in 2018 when he drew a large crowd to the Jagermeister Stage at Bloodstock Open Air Festival and he is currently trailblazing a tour across Europe promoting Snake Eyes.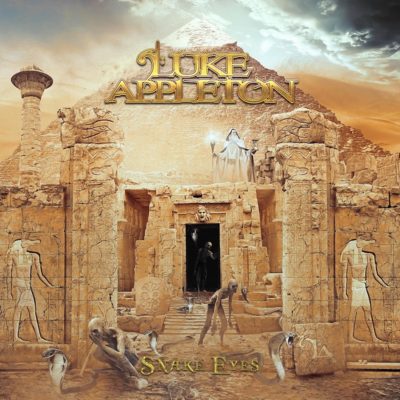 Snake Eyes album track listing :-
Inside Out.
Medusa.
Snake Eyes.
First Star.
Heart Returns.
Crocodile Tears.
Stone Broke From My Heart.
Walkers.
The Other Side.
Slay The Hydra.
A Man Of A 1000 Words.
How Does It Feel To Be Alive (live bonus track).
Another rollercoaster ride of emotions on the second solo release from Luke Appleton.