I don't normally take too kindly to seagulls landing on my desk, but with these North Wales kickers I'll make an exception, and a very big one at that. Hailing from sunny North Wales, just a stone's throw from my gaff, it's always nice to review a local band's efforts.
Kicking Seagulls punch their weight perfectly with this, their debut EP, bringing Ska to the fore with opening track 'Elenor's Song'.  The finally balanced mixture of Ska and Rock'n'Roll works perfectly. The opening line is just genius: ' I know a girl who spilt her milk, she won't stop crying about it.'  And that's one of the things that stands out for me straight away here is how anyone who listens to these guys will easily relate to their lyrics.
'All Aboard'  epitomises how these guys have mastered the Ska / Rock juggling act to perfection. But let's not venture too far away here from the punk genre either, more evident in the chorus. 'Revolver'  reminds me of 'Happy Hour'  by the House Martins. Another song full of fun and frolics which slaps you right in the face and makes it smile.
Now, every album and EP gets to a certain point within it where you go either one way or the other. You think either 'This is ok',  or 'This is amazing'.  'Regards Ray'  has sent me to the latter. I was heading that way anyway, but this track has stood behind me and pushed me over the edge. The best song by far. Lot's of The Jam floating around here. My only gripe is that the song is too short!! The chorus has a stunningly feel good factor to it that can't be beaten, and lyrically perfect. Well done guys.
Well, how do you follow that? 'The Public At Large'  offers more of this brilliant formula. Another band that comes to mind while listening to Kicking Seagulls is Welsh legends Yr Anrhefn. Some of the similarities are uncanny, but that's perfect because I grew up listening to them, and I'm friends with one of them now, but that's another story!
'The Hard Way'   closes this stunning EP. More fun, more happiness. Perfect. One thing to mention here is the rawness in the EP's recording. It has that 'Live'  feel, and If you have read any of my reviews then you will know how I feel about producing a recording like this. 'Demonstration'  sends us back to the mid 80's when it comes to the production. Raw with clarity being key. An amazing EP, it really is.
Kicking Seagulls are now another band on my hit list to see live. If you are into Ska/punk/rock go buy this EP. I promise you, you will not be disappointed.
Track Listing: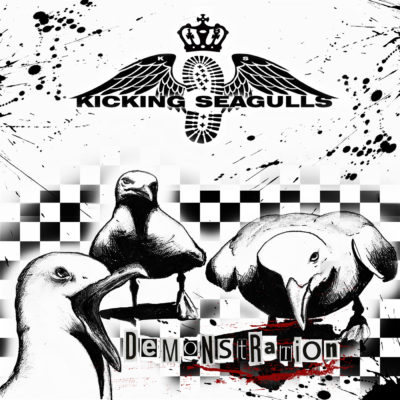 1 – Elenor's Song
2 – All Aboard
3 – Revolver
4 – Regards, Ray
5 – The Public At Large
6 – The Hard Way
Line-up:   Terry Seagull / Andy Seagull / Tony Seagull

Links:
Release date: 01/04/19. Length: 17mins 27secs. A perfectly complete mixture of fun, happiness and musical genius.