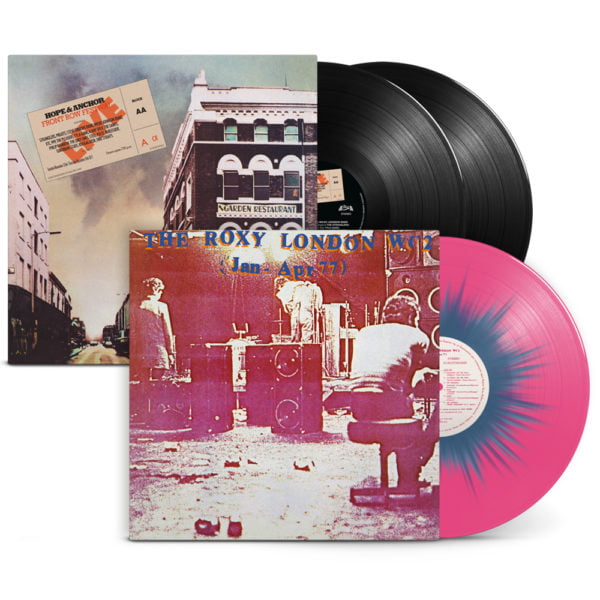 Live At The Roxy London WC2 (Jan – Apr 77)
re-pressed from the original 1977 release
Hope & Anchor Front Row Festival
re-pressed from the original 1978 release
Released on 6 December exclusively at Rhino.co.uk
A brace of live limited edition vinyl albums from two of London's most historic and legendary live music venues – The Roxy and Hope & Anchor – are to be re-pressed and will be released on 6 December. Pre-order is available now at www.RhinoUK.lnk.to/LiveAtRoxy-HopeAnchor
Live At The Roxy London WC2 (Jan – Apr 77)
Capturing the full force of the first wave head-on, The Roxy is an essential historical reminder of the power and the glory of punk rock. Originally released on Harvest Records, 'Live At The Roxy London WC2 (Jan – Apr 77)' features a number of emerging acts from the punk rock scene at the time. Capturing the club's famous atmosphere, the release features many artists including Wire and Buzzcocks who went on to great success.
For a limited one-time run, this release is pressed on special pink and blue splattered vinyl.
Live At The Roxy London WC2 (Jan – Apr 77) Track List:
Side One
Slaughter And The Dogs – Runaway
Slaughter And The Dogs – Boston Babies
The Unwanted – Freedom
Wire – Lowdown
Wire – 1,2,X,U
The Adverts – Bored Teenagers
Side Two
Johnny Moped – Hard Loving Man
Eater – Don't Need It
Eater – 15
X-Ray Specs – Oh Bondage! Up Yours
Buzzcocks – Breakdown
Buzzcocks – Love Battery
Hope & Anchor Front Row Festival
A live recording from the famous Hope & Anchor venue in London. As performed at The Front Row Festival from 22 November to 15 December 1977, this album features The Stranglers, XTC, Wilko Johnson, Dire Straits and more – re-pressed on 2LP black vinyl for the first time since 1978.
Hope & Anchor Front Row Festival Track List:
Side One
Wilko Johnson Band – Dr. Feelgood
The Stranglers – Straighten Out
Tyla Gang – Styrofoam
The Pirates – Don't Munchen It
The Steve Gibbons Band – Speed Kills
XTC – I'm Bugged
Suburban Studs – I Hate School
Side Two
The Pleasers – Billy
XTC – Science Friction
Dire Straits – Eastbound Train
Burlesque – Bizz Fizz
X-Ray-Specs – Let's Submerge
999 – Crazy
Side Three
The Saints – Demolition Girl
999 – Quite Disappointing
The Only Ones – Creatures Of Doom
The Pirates – Gibson Martin Fender
Steel Pulse – Sound Check
Roogalator – Zero Hero
Side Four
Philip Rambow – Underground Romance
The Pleasers – Rock & Roll Radio
Tyla Gang – On The Street
The Steve Gibbons Band – Johnny Cool
Wilko Johnson Band  – Twenty Yards Behind
The Stranglers – Hanging Around