Legend of the Seagullmen To Release Self-Titled Debut on February 9th via Dine Alone Records
First Single "Shipswreck" Streaming Now via Loudwire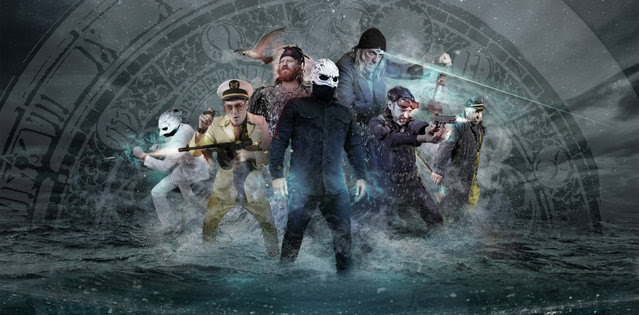 Genre destroying super-group Legend of the Seagullmen will release their self-titled debut album on February 9, 2018 via Dine Alone Records.  Head here to listen to first track 'Shipswreck' premiering on Loudwire.com, who describe the track as "an adventure-seeking track steeped in aquatic fantasy, offering up fresh sounds in today's modern rock world."
http://loudwire.com/legend-of-the-seagullmen-shipswreck-song-exclusive-premiere-interview/Legend of the Seagullmen is a genre destroying super-group featuring Tool's Danny Carey on drums, Mastodon's Brent Hinds on guitar, director Jimmy Hayward (Jonah Hex) on guitar, David 'The Doctor' Dreyer on vocals, Zappa Meets Zappa's Peter Griffin on bass, and Chris DiGiovanni on synth, alongside the help of a few more rippers!
Joining forces to make cinematic psychedelic rock, the Seagullmen sing of ship wrecks and giant mutant squid, crafting conceptual rock 'n' roll hymns of epic proportions on their full-length debut Legend of the Seagullmen.
Coming to life in February 2018, the self-titled album will be available on vinyl, CD, and digitally in a variety of packages via Dine Alone Records
The Seagullmen will take to the stage on News Year's Eve alongside Primus at the Fox Theater in Oakland, CA.  Tickets are available here:
https://www.ticketmaster.com/event/1C00534DE8A2BC7F#efeat4211
Legend of the Seagullmen Track Listing:
1. We Are the Seagullmen
2. The Fogger
3. Shipswreck
4. Curse of the Red Tide
5. Legend of the Seagullmen
6. The Orca
7. Rise of the Giant
8. Ballad of the Deep Sea Diver
For More Info Visit:
https://www.facebook.com/theseagullmen/
https://legendoftheseagullmen.bandcamp.com/
http://www.instagram.com/legendoftheseagullmen