It's been a long time coming, but Cornish crunchers Creature are finally back with their second album. Volume One was nothing short of stupendous, so this latest release is properly highly anticipated. And deservedly so.
I'll be honest, I took a gulp of unimaginable air as the opening verse to 'Desolation ' kicked in, and I suddenly had reservations about the track. But once we were through the bridge and into the chorus, everything made sense. This is typical King Creature. Chugging guitars, a powerful chorus, beautiful vocals. It's everything King Creature stand for, and a great opener to the album.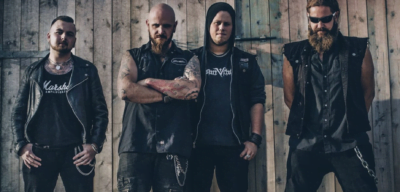 'Captives ' starts with a crunching riff, with Dave Kellaway's vocals oozing a Layne Stayley vibe. A simple, yet stunningly effective track, it continues where 'Desolation ' left off. 'Wisdom Told ' slows the pace down a notch. A ballad dedicated to all fathers. Encaptivating lyrics progress the song throughout its beauty. Obvious in parts, but, in the right time, obvious is good, and this is the time. Watch out for some exceptional guitar soloing to see the track out. Matt Karl Vincent and Dave Evans demonstrating what a tight unit they are.
'Falling Down Again ' confuses me slightly, as it's opening riff is very similar to something Exodus would play back in the late 80's, but by the time we hit the second verse, this track is steamrolling through and on fire. There's definitely a sure sign that Creature have matured massively and collectively synced together perfectly on 'Set The World On Fire '.  You can feel it in each track.
'The Storm ' calms things down once again before 'I Quit ' introduces itself with some serene guitar and vocals. There's definite signs of Alice In Chains knocking around this album. 'Demon Within ' is a more fast paced number with a peaceful mid-section prior to another crunching guitar solo, which once again demonstrates the class on show here.
It's nice to hear some lyrics in regards to Covid-19 in the aptly titled 'No Getting Out Alive ' before 'Beautiful Fatality ' hits us with a slightly darker affair. I like the way King Creature seem to keep your attention in every song, even if it means changing something slightly between verses. Works every time.
'Fear Of The Fool '  seals it for me with the Alice in Chains thing I've been banging on about. There's a 'Whale & Wasp' vibe going on here. Beautifully peaceful and dark, and when the track comes to life, it rolls along effortlessly, spawning a lazy chorus and a stunning bridge and guitar solo, once again.
This great album closes with some lovely dual guitar work at the start of 'Live Forever '. Boasting Iron Maiden style riffage from the Powerslave era, it's simple but so effective and is a great closer to this fantastic album.
King Creature are back and are setting the world on fire effortlessly and with ease. Lovely.
Track Listing:
1 – Desolation   2 – Captives   3 – Wisdom Told   4 – Falling Down Again   5 – The Storm   6 – I Quit
7 – Demon Within   8 – No Getting Out Alive   9 – Beautiful Fatality   10 – Fear Of the Fool   11 – Live Forever
Line-up:
Dave Kellaway – Vocals / Bass   /   Matt Karl Vincent – Guitar   /   Dave Evans – Guitar   /   Jack Bassett – Drums
Links:
Release date: 06/11/20. Running length: 43mins 55secs. If maturity and magic can be heard through music, then this is it.
£10 (CD) / £16 (LP)

editor rating