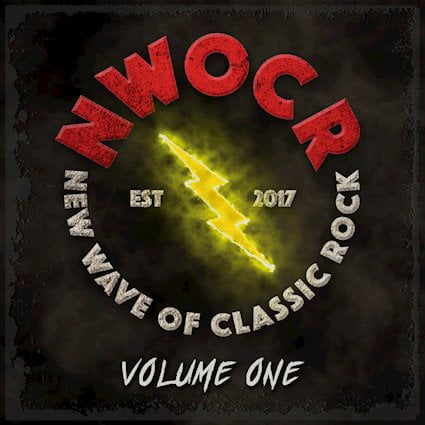 The last time I heard of a genre starting with The New Wave Of would have been in the late 70's when the NWOBHM (New Wave Of British Heavy Metal) came to be. It was a very exciting period as bands sprung up from nowhere to give it a go, so fast forward just over 40 years and that same excitement for me comes from The New Wave Of Classic Rock and 42 of these bands have been included on this soon to be released double CD, The Official New Wave Of Classic Rock – Volume 1.
Due for release on July 23rd 2021 on RPM Records at only £14.99 it's a bargain as that's about 35p per song! Most of these bands I've seen and reviewed before but there are a lot of hidden gems that I've not come across which highlights the importance of this album. My review will be just about the music so hopefully anyone reading this will search out the bands info, discover more about them, leave a like on their page and buy some merch!
CD 1 :
This magnum opus opens with 'Tokyo' from Massive Wagons, a stalwart of the NWOCR movement and the first I saw from this genre about 11 years ago supporting Dave Evans (ex ACDC) in Burnley. They showed great promise then and have flourished, point proven by power chord heaven and when the boisterous choruses arrive then you're hooked as it fades out leaving you wanting more.
'DNA' by Mason Hill is all hefty riffing and vocals belted out with 100% conviction as lashings of melody come from shout em out loud and proud choruses.
Chunky riffs hustle and bustle around the 24 carat vocals in 'All I Gotta Say' by Hollowstar. It's another tune with instantly memorable choruses to holler along to.
Lead vocals are drenched by a bluesy howl but the guitars are a force of nature in 'Shine On' by These Wicked Rivers as earworm lines sit tight to the main riff but a highlight comes from an outrageous outro solo.
'Fame Shame' by Anchor Lane is a short but sweet tirade of almost punk rock angst and gang like vocals hammer their point home with aplomb.
The heaviest track so far comes from Empyre with 'New Republic'. Bludgeoning riffs hit hard and heavy but the spotlight is stolen by the throaty lead vocals which raise the anger levels high and mighty. A serene midsection of dreamy guitar lines precede a full on drum driven outro.
Daxx And Roxanne somehow manage to create their crazy onstage performance in the studio with 'Without You' as they deliver here as if their lives depend on it. Helium fueled vocals hit stratospheric heights and air guitars are a must for the solos.
'Fire And Gasoline' by Sons Of Liberty comes over like the mean and moodier side of ACDC which is fine by me as amplifier blowing riffs and lung busting vocals will have you headbanging until your head falls off whilst screaming out the anthemic choruses.
Summer is officially here courtesy of The Hot Damn with their debut single 'Dance Around', a frantic feel good tune that rips out of your speakers on sugar sweet vocals and glorious rhythms that make for a sunshine drenched 4 minutes of joy!
A race to the finish line gallop comes from 'Rise' by Massive and they easily rise to the occasion as they barely pause for breath with some party starting, no frills rock and roll. They cram so much into 3 minutes I had it on repeat play before moving on.
The aptly titled Everyday Heroes prove their worth with 'Find My Way'. It's a ballistic bass guitar heavy bounce that adds bombast to this seismic groover. A wah-wah guitar solo is razor sharp and the riffs shake, rattle and roll.
Time seemed to stop from 'Woman Like Me' by Elles Bailey. It's a sultry tune peppered with soothing keyboards, sparse guitar lines, no frills drum patterns and the lead vocal could melt the coldest of hearts.
Scarlet Rebels are definitely not rebels without a cause with 'No One Else To Blame' as they see red with mean and moody vocals that soar amongst the attention seeking riffs.
Wolf Jaw put the power in power trio as a funky bass guitar intro is followed by killer power chords. It's a fab 4 minute slice of Hendrix like bluesy jams to make it an utterly compelling listen.
The sadly defunct Tomorrow Is Lost contribute 'Hideaway'. A touch of ire in the guitar heavy verses power up for a seismic midway breakdown backed by sublime choruses.
Godzilla stomped drumming sends 'War Machine' into battle by Dead Man's Whiskey. The riffs grind over a broken glass gargled vocal and a seriously string bending guitar solo precedes a take no prisoners over the top outro.
Dig Lazarus dig up plenty of melody and muscle in 'Tell Me Why' as it breezes along on snappy rhythms and catchy choruses. A snare driven midsection and repeated vocal will surely make for audience participation.
Rock and roll with raunch from The New Roses sees 'Whiskey Nightmare' tell of life on the road with lecherous lyrics of "Dirty minds in dirty bars, driving around in dirty cars".
A headphone shaking headbanger sees Shape Of Water dive from the high board to 'The World Is Calling Me'. A serene riffed intro heads off into a grunge like granite heavy blast. A wailing wah-wah piece cuts in sharp as the band fire up for a cataclysmic outro.
'So Alive' by Revival Black is guitar glory to say the least. There is no let up as they are high up in the mix and the wailing lead vocal should have Glenn Hughes looking over his shoulder!
Final track on CD1 : comes from Gin Annie as 'Devil In Me' is surely a stadium filling ballad with balls as they plough along through 3 minutes of raucous riffing and honey soaked vocals.
CD2 :
Phil Campbell And The Bastard Sons shoot from the hip with 'Son Of A Gun'. Of course it sounds like Motorhead as their vibe is all over this turbocharger. It steamrollers over anything that gets in its path for 3 throbbing minutes of buzzsaw rhythms and when Phil's wah-wah solo kicks in, give him a big "Hell yeah!".
A quirky little toe tapper comes from The Dust Coda as 'When The Tide Comes In' bounces along on uplifting grooves built upon glacier sized riffs and vibrato tinged vocals with loads of "Whoa oh oh's" to join in with.
Another triumphant trio sees Skam batter out 'Iron Cross' with full on belligerence as it whips up a sandstorm of fuzzed up desert rock.
'Merry Go Round' by Collateral is one of my highlights from their debut album that makes for a dizzying fairground attraction as it oozes class with hook after hook. It's almost the perfect song as a commanding lead vocal holds court over BIG guitars and choruses that will embed into your ears and stay there!
Bad Touch, another band who can bring their live exhuberance in the studio dish out the scintillating soul drenched heartbreaker 'I Get High'. If music can be called orgasmic then this song is as wiry guitar lines are the palette for the lead vocals to paint vivid musical colours.
A big fat riff that's like walking through mud in 'Still Doing Time' from Gorilla Riot is no monkey business as the gritty vocals alternate with a more serene delivery.
Get those air guitars out again as Thundermother fire up 'Driving In Style'. It's in pole position on the track for an unrelenting lap of heavy metal. Histrionic vocals vie for attention with the rollicking rhythms and red hot guitar solos.
King Creature captivate through 'Captives' as it grinds through the gears on an early Alice In Chains vibe of claustrophobic riffing and a sandpaper rubbed lead vocal.
Once again the diversity of the album comes from 'Today We're Warriors' by Rews. Earthshaking dynamics and vocals that go from a croon to going for your throat are awesome and nirvana arrives from an off the wall guitar solo.
My album of 2020 was the debut Cursed And Corrected by Twister and taken from it is the battle cry of 'Call To Arms'. It strafes along on melodic but still crushing riffs, inventive drum patterns and choruses that raise the roof!
'Dead Hearts Don't Break' by South Of Salem grabs you from the off by lairy guitar lines and snare/kick drum battery until it settles into more melodice rock and finger clicking choruses.
Another repeatedly played song is 'World On Fire' from Jack J Hutchinson. My first impression was of the eccentric grooves of early Blue Oyster Cult as it charges along on a hefty main riff and oddball lead vocal. Choruses caress but the fuse is lit for an over the top guitar solo.
It's not rocket science to work out what's in store from 'Hoedown Showdown' by Bootyard Bandits as it's all stone cold rabble rousing barroom boogie point proven by the tricky lyric of "Gonna drink and a dance and a fornicate all night".
'Killing Time' by Haxan is a full on free for all ear rattler and the trippy vocals stand tall amongst the heaviness.
'Turn Me Loose' by Doomsday Outlaw is a song to save the World from doomsday by the melodic vocal howls and Southern tinged vibes to be blasted out with all of your car windows down heading out to the highway.
Scything riffs and wrist snapping snare work shake the foundations as 'Fighting For My Life' is powered out by Ashen Reach and the finishing touch arrives from a sumptuous lead vocal.
'Bastette' another new find for me gave me a first impression of Heart and the second impression confirmed it! A super trouper spotlight shines bright on this bona fide heart melter (pardon the pun) to make this beautiful ballad sure fire rock radio airplay.
'Cut Me Down' by Ryders Creed reaches for the stars and stays there and they definitely won't be cut down due to the quality of the jabbing riffs and a lung busting lead vocal.
Rock and roll Blackpool rockers Takeaway Thieves serve up a cordon bleu feast of raw garage rock riffing held together by a watertight rhythm section and a melodic vocal snarl from Peter McLoughlin, a man who was born to be onstage who walks the walk and talks the talk!
Eclectic perfectly sums up the unhinged music from Ward XVI as 'Broken Toys' is the most weird (in a good way) band I've seen and heard in many years, point proven by this accordion driven circle/circus pit opener. Dizzying tempo changes whizz by and straitjackets are off for the kick drum driven outro and the whisper to a scream vocals.
My album highlight here comes from the final track 'Soul Revolutionaries' by Blackwater Conspiracy. They channel the power of Powerage era ACDC with the rampant side of Roger Chapman from Family into a real chest beating call to arms epic. No riff, hook and vocal is wasted in this fist clenching furore as it ends on a lengthy band fuelled mantra of "It's gonna take soul, it's gonna take soul, revolutionaries"
The album can be pre-ordered by the link below the list of bands.
Bands and artists featured on the new NWOCR album include:
Anchor Lane
Ashen Reach
Bad Touch
Bastette
Blackwater Conspiracy
Bootyard Bandits
Collateral
Daxx & Roxane
Dead Man's Whiskey
Dig Lazarus
Doomsday Outlaw
Elles Bailey
Empyre
Everyday Heroes
Gin Annie
Gorilla Riot
Häxan
Hollowstar
Jack J Hutchinson
King Creature
Mason Hill
Massive
Massive Wagons
Phil Campbell & The Bastard Sons
Revival Black
Rews
Ryders Creed
Scarlet Rebels
Shape Of Water
Skam
Sons Of Liberty
South Of Salem
Takeaway Thieves
The Dust Coda
The Hot Damn
The New Roses
These Wicked Rivers
Thundermother
Tomorrow Is Lost
Twister
Ward XVI
Wolf Jaw
'The Official New Wave Of Classic Rock – Volume 1' 2CD is available to pre-order now and will be officially released 23rd July 2021.
Pre-order the album: www.nwocr.com
The Official New Wave Of Classic Rock - Volume 1 double album is a must have for any music collection!