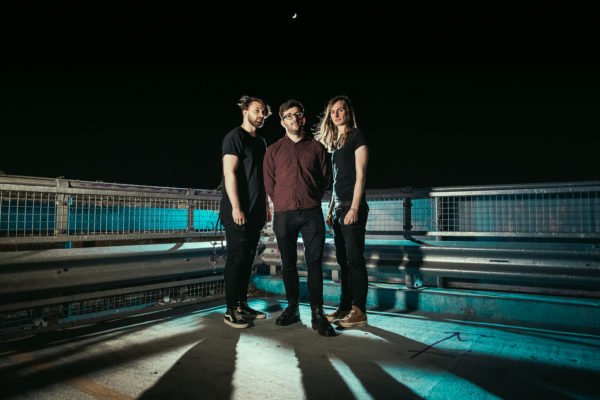 Rising UK Alt Rockers  InAir are back with a new single,  Chemicals  and forthcoming sophomore EP, Dreamful, out Friday 13th September. We asked the guys to fill us in about their background and more….
What is the full band line-up, who sings and who plays which instrument?
We are Joe Conneely (lead vocals/ bass), Aaron Iley ( guitar/ backing vocals) and Connor Shortt (drums/ backing vocals/ FX).
How and when did the band form? Tell us anything interesting about your hometown.
Aaron had just left his old band Echoic due to wanting to concentrate on the final year of his degree but wanted to play music casually. Aaron and our ex-lead vocalist started writing some songs together then when the songs were done Joe was invited to play bass and then Connor joined on drums.
Probably the most obvious cool thing about Reading would be Reading Festival. Apart from that I would say that the Purple Turtle is the second coolest thing in Reading.
When and how did the band really start gelling and solidifying?
After a year of being a four piece, we mutually departed with our original lead singer. For a couple of months, we auditioned several people, but we never felt a real spark. With the support of the other band members, Joe decided to step up and become lead vocalist as well as bassist. It was a hard time for Joe learning how to play bass and sing the songs at the same time but by the end of 2017 we felt like the fire was back in the band.
Who are your musical influences?
As a collective in InAir we have many influences including Thirty Seconds To Mars, Fightstar, Enter Shikari and A Day To Remember. However, are overall main influence is Linkin Park. The band has an incredible list of bangers and Chester Bennington's authentic performances and honest lyrics inspire us to write honest music ourselves. As individuals we have varying musical influences such as Connor and his undying love for Kayne West!
How far back does your history with each other (the band members) extend? Are you friends from school or any family relations?
Although they didn't properly meet until after school Connor and Joe used to hang out at playgroup together over twenty years ago! Connor and Aaron met each through school and through school performances. Joe met Aaron through mutual friends and watching bands at our local venue Facebar.
Where have you played or toured?
We have been up and down the UK including Glasgow, London and Manchester but are yet to play outside of the UK. Maybe next year…
We've had the pleasure of playing alongside other bands from our scene such as  Veridian, Death Remains and From Inside. Last year we had the pleasure of supporting one of our influences Arcane Roots at Sub89. The guys were all lovely, inspiring and overall it was a really special show for us.
In your opinion, how is your band different from all the other bands out there?
In InAir we don't want to be tied down to one sub-genre within rock. When we write we have so many contrasting inspirations such as A Day To Remember and Kayne West which shows on Dreamful where we have metal, pop and hip hop influences for instance. On this EP we feel we managed to refine this sound compared to the music produced on our debut EP A Different Light.
We are also three quiet people who don't fit the stereotype of rock musicians at all!
If a deaf person were to ask you to describe the sound of your music, how would you describe it?
A combination of electronic and rock sections weaved together to pack a punch. We would love to have something witty like Alexisonfire who describe their sound as "two nuns in mid knife fight".
Do you have a tour on the horizon?
We have some shows coming up in August including a headline date at The Black Heart in London. We also have a run of shows in September in support of the release for our EP "Dreamful" and a couple of all day events.
Where can we find your social media sites?
Facebook: https://www.facebook.com/inairband
Twitter: https://twitter.com/InAirUK
Instagram: https://www.instagram.com/inairband
Website: https://www.inairband.com