Hearts & Hand Grenades are an explosive American hard rock group from Buffalo, NY, bursting with an edgy sound for all generations of true rock addicts, and they just premiered a new music video and single entitled "Burn (By My Fire)". The band have also announced pre-order availability for their upcoming full-length album Where I Begin, which is scheduled to be released on January 26, 2024, via Eclipse Records. The album was engineered by Justin Rose at GCR Audio, mixed & mastered by Jeremy Tabor at Triple Zero Music, and the music video was directed by Nick Sonricker.
"With our first single off the new album being such a powerful track, we wanted the video to make an impact," says lead vocalist & bassist Stephanie Wlosinski, "so we felt what better way to launch our third full-length album than arriving back on the scene with a raging fire, which also symbolizes that the band is here to stay!" Guitarist Mike Bress continues, "This was a challenging shoot because we never shot a music video synced with another video on a giant screen before. It was a very interesting process of bringing it to life, and our director Nick Sonricker was fantastic to work with. He came up with some great ideas to make the video pop. We did the shoot at The Palace Theater in Hamburg, NY but we had numerous technical difficulties playing along with the video on the big screen. It was dark in the room, and we almost fell off the stage a couple of times. The stage lights were also very difficult to work with because they were so bright that they were blinding. This also caused the temperature in the room to increase drastically. We lost a few pounds of water weight during the shoot as a result, but Nick took extra measures to keep us safe, and despite the dangers, he was able to make sure the end result was all worth it!"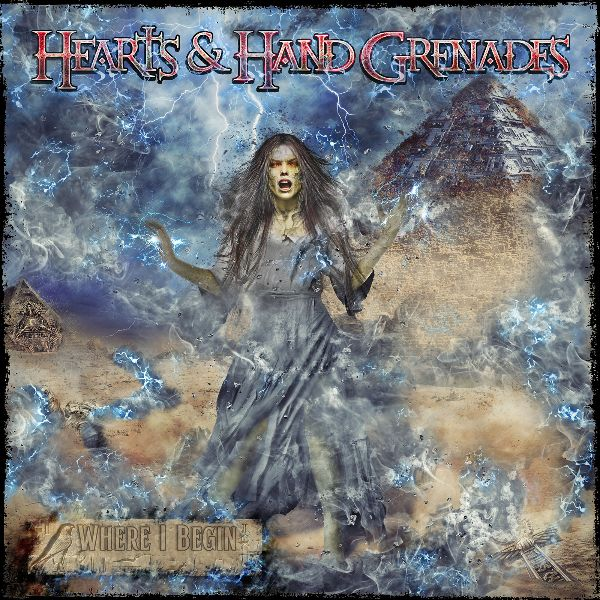 The new album by Hearts & Hand Grenades is entitled Where I Begin and the record is a blast of sass and attitude! The album takes us on a journey through the toxic politics of love and relations, tearing us up, rending us raw, leaving us burning to cinders. That's when we rise from the ashes and drown the whole damn forest fire in a thunderous squall, the music and lyrics coursing through us like sonic rip currents in the bloodstream of a savage with a battle hatchet. Listen to the songs and you will walk taller, shout louder, drive faster, and love harder. The hard groove of the guitar work and percussion is based on clever riffs and heavy, addictive hooks appealing to classic rockers, 80s metalheads, 90s grunge lovers, and enthusiasts who revelled in the post-2000s resurgence of hard-ass rock meant for bars and arenas, rock rooms, saloons, theatres and festivals, rock 'til you drop.
Moreover, bassist and vocalist Stephanie Wlosinski puts on a clinic for instrumental groove sense and glorious power-singing over an enormous guitar sound and drumming that is way more than satisfying. Where I Begin was produced, recorded, mixed, and mastered by Jeremy Tabor at Triple Zero Music, and the art was created by 119 Design. Where I Begin will be released on January 26, 2024 by Eclipse Records.
Pre-order / Pre-save Where I Begin at https://bio.to/wherei  
 
For more information about Hearts & Hand Grenades and their "Burn (By My Fire)" music video, please visit them on Facebook, Twitter, Instagram, YouTube, or TikTok, and follow them on Spotify, Apple Music, Pandora, Amazon Music, Tidal, or Deezer
Hearts & Hand Grenades discography
Where I Begin (LP) – 2024
Human (S) – 2022
Between the Lines (LP) – 2021
Turning to Ashes (LP) – 2020

Hearts & Hand Grenades lineup
Stephanie Wlosinski (lead vox, bass), Mike Bress (guitar, keyboard), Kenny Blesy (lead guitar), Cory Michalski (drums)