STONEDEAF PRODUCTIONS LTD PROUDLY ANNOUNCES THAT ENERGETIC SWEDISH MELODIC HARD ROCKERS H.E.A.T WILL BE COMING TO STONEDEAD FESTIVAL 2020
Stonedead is really pleased to announce our new line up in view of Tyketto not being able to undertake their plans due to COVID19. We are delighted that H.E.A.T will be coming to join our Festival. Please be assured that Stonedead is taking the current situation very seriously and has the fans best interests at heart.
H.E.A.T have established themselves as one of the hottest melodic rock bands on the scene
and we are thrilled to announce that they will play at Stonedead. With their self-produced 6th album H.E.A.T II, released in February 2020 to critical acclaim, H.E.A.T brings powerful melodic vocals with a huge sound. The album has gained plaudits worldwide, returning to a heavier style and cementing their place in the Melodic Rock genre. H.E.A.T will be bringing their high octane live show to Stonedead 2020.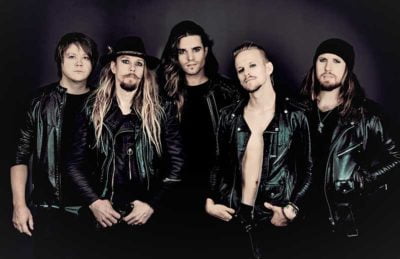 BLACK STAR RIDERS
special guests: TERRORVISION and GUN
with H.E.A.T, KRIS BARRAS BAND, BLAZE BAILEY, TYGERS OF PANG TANG,
MYKE GRAY featuring KIM JENNETT, Opening Poll Winner DEAD MAN'S WHISKEY
NEWARK SHOWGROUND, NOTTINGHAMSHIRE
SATURDAY, 29 AUGUST 2020
Stonedead 2020 is an outdoor, one day, one stage, one monster of a festival where rock music reigns eternal. Stonedead is firmly placed on the rock festival map and places the rock fan experience at its core. Come and see it for yourself!
Stonedead aims to excite both classic and new rock fans in providing a unique one day, one
stage festival where the music is the focus, the beer and food are priced competitively and you can camp/park 5 minutes from the level ground arena.
The festival is solely organised by volunteers and created for music fans, Stonedead is a festival experience not to be missed.
• Free signing tent brought to you in conjunction with Planet Rock Radio
• Dedicated covered wellbeing area with seating and sun cream!
• Bring alcohol into the arena – 4 cans of ready mixed spirits, beer/cider
• Large free car parking
• Included with a camping ticket purchase is exclusive access to the Friday night party with
Midlands Metalheads Radio
Tickets: www.stonedeadfestival.co.uk/tickets
FIND US:
Facebook: https://www.facebook.com/stonedeaffestival 
Twihttp://Facebook: Stonedead Festival Formerly Stonedeaf Festival https://www.facebook.com/stonedeaffestival/tter: stonedead_fest
Youtube: SDTV –StonedeadFestivalhttps://www.youtube.com/channel/UCCXF1P29FvLRXD_IqNhPNvA
Website: www.stonedeadfestival.co.uk