Terrorvision 'TV30' By Request Show with Support from The Bar Stool Preachers,  St Georges Hall, Bradford 03/11/23
Britpop rockers Terrorvision celebrate 30 Years of bouncing hard and tonight's gig starts with a big cheer and a sold-out home show at St. Georges Hall, Bradford.
The Bar Stool Preachers
Brighton-based ska-punk rockers The Bar Stool Preachers describe themselves as 'the perfect blend of intelligent punk anthems and poignant, unsentimental love songs, both combined with the most infectious music'. And I can't disagree, having had the pleasure of catching the band earlier in the year, they bring a vibrancy to what they have to say. It's not all four-chord strumming and oi-oi's.
With an upcoming album on the way, the band have a choice set to make their impact in front of 1500 Terrorivion fans, who have been eagerly awaiting the 'TV30 shows.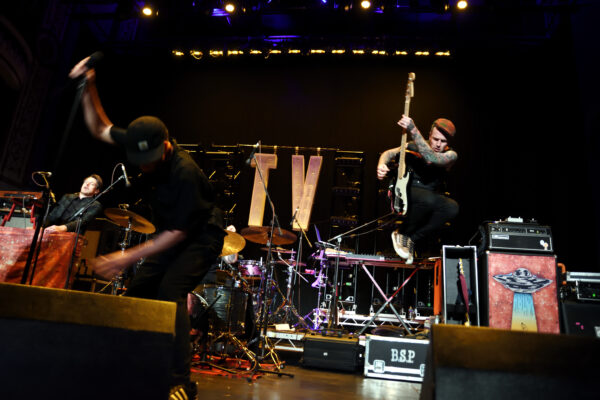 Letting rip with 'Choose My Friends' its catchy harmonies and chorus of 'Have you ever' strikes a chord with the Terrorvision fans, who love a 'be-bop-along'. Not a band to stand still, singer TJ McFaull zooms from one side of the stage to the other, captivating his audience, with charismatic charm. 'Love the Love' is another, smasher. The brotherhood is evident as the six-piece comprising Karl 'Bungle' Jeffery on bass, Alex D Hay on keyboards, Karl Smith and Tom Gibbs on guitars and Alexander 'Whibbs' Whibley-Conway on drums leave no piece of the stage untouched.  
It's a win for The Bar Stool Preachers, and I'd like to think this support act has won some new friends and influenced a few people tonight. Closing with their self-named track 'The Bar Stool Preachers' they leave a distinctive imprint with their zesty electric performance.
Be sure to catch the band on tour later this year!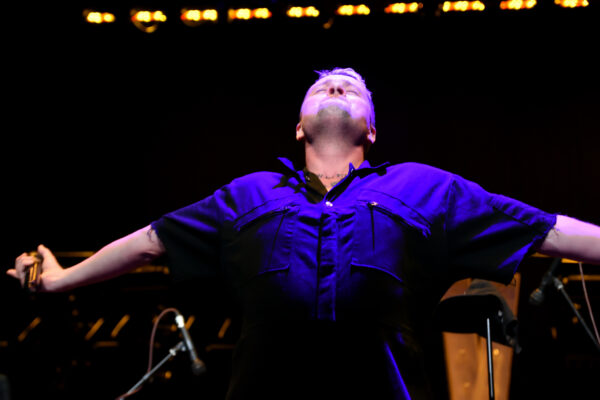 https://thebarstoolpreachers.com/ | https://thebarstoolpreachers.com/
More photos here – https://flic.kr/s/aHBqjB2hyv
TERRORVISION
Did I already mention tonight starts with a BIG cheer in 'Bratfud'?! Terrorvision doesn't disappoint as they put on a 'one-hell-of a show, playing 24 blistering songs, to a sell-out crowd at their home gig in St. Georges Hall, celebrating 30 years of Terrorvision.
The stage Letters 'T V', have got a promotion as they proudly sit 'high, bold and proud' on the stage rigging, If you don't know Terrorvision has become known affectionately as 'TV', or maybe being from Yorkshire they saved a few quid on letters by abbreviating themselves.
Cranking off with 'Discotheque Wreck', singer Tony Wright leads the way, dressed in a red suit with a black shirt. The light blasters explode bright white light over the stage as the rest of the band, join in Wright's unison of matching outfits of red, pink and black featuring Mark Yates on Guitar, Leigh Marklew on Bass, Milley Evans on Keys and new addition, Chris Bussey on drums, not forgetting the later appearances from Liz Mitchel and Nick Hughes on the brass section.
Tonight is nostalgic for many reasons, Terrorvision has a very loyal fan base, and some have been following since the band unleashed their debut album Formaldehyde. 'New Policy One' from that album, gets a second big cheer as Wright beckons his crowd with the words "Come on in, make yourself at home", with his microphone stand held out for the fans to sing back. Joyfulness fills the room and Tony's face says it all, and they are only two songs into the night.
Pausing in front of the crowd Wright, says 'It's a bit rude of us not to introduce ourselves. "We're Terrorvision from Bradford", cue a massive crowd cheer, as the band break out 'American TV'.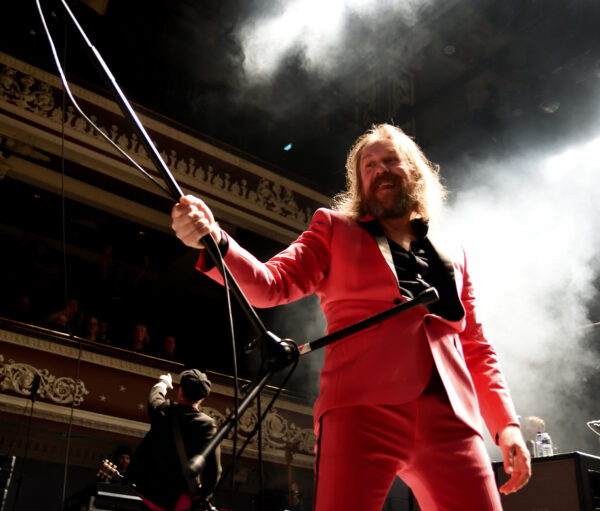 Songs for bouncing and lighters
Going for gold with Jose Cuervo, Terrorvision's No.2 chart hit 'Tequila' has a magical effect, and just like the spirit, it makes the crowd's faces explode with infectious grins as the band is joined by Liz Mitchel, saxophone and Nick Hughes on trumpet which makes-up the rhythmic brass section.
With its notable riff intro, guitarist Mark Yates starts the intro, on this high-octane fan favourite, and new addition, Chris Bussey looks like he is having the time of his life as he pounds the drums to 'Alice What's Matter'. The crowd energy is electric and the bouncing is on form, as the fans loudly chant back the chorus of "Alice, what's the matter" I think you could hear the crowd on the other side of Bradford!
It's still amazing to see Terrorvision give it their all, 30 years on. But we all need to slow it down to keep it going. Tony Wright introduces their next song 'Some People Say' 'for all the people who carry a lighter in their pocket'. With arms and phone lights in the air, the crowd responds to Wright's cue.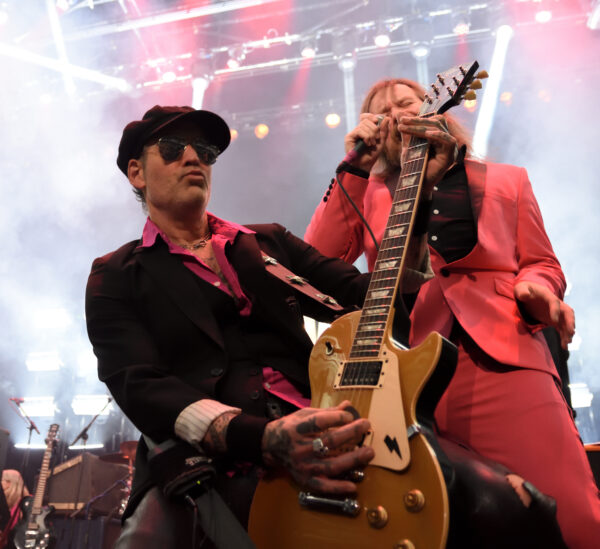 B-side and rarities
With six studio albums, Formaldehyde was the album that spawned a few surprises tonight with 'Jason' and 'Don't Shoot My Dog'. Like a track race, Super-Deluxe was the only album that didn't get a look in. From their 'B-sides and Rarities', 'This Drinking Will Kill Me', was an encore special, and one I believe the band hadn't aired for the last ten years. I was surprised to see 'Friends and Family' didn't make the cut, for this by Special Request show.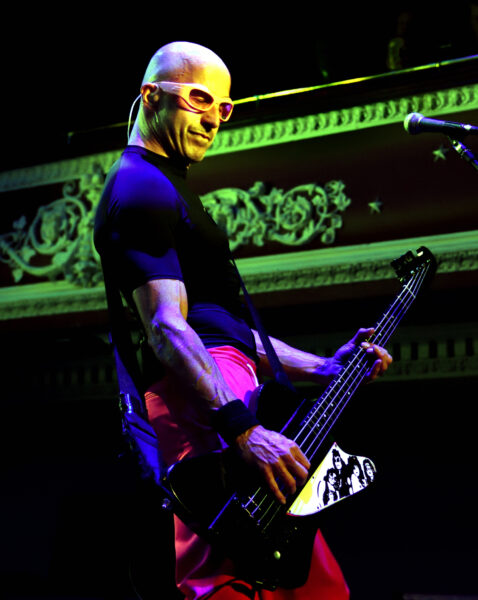 The Classics to Oblivion and Beyond
Playing a cluster of classics, from 'Fists of Fury, III Wishes, to Problem Solved'. The hero of which was a young lad rocking out on the balcony in a bright lime t-shirt, to 'Celebrity Hit List', what a trooper.
Introducing 'Problem Solved', Wright says about the song 'it was first played live in The Queens Hall, cellar bar in Bradford', 'that started with a massive cheer, 'int' Bratfud"! The beefy bassline from Leigh Marklew guides this foot stomper as the crowd goes for it, and we're only halfway through the set.
Unleashing 'Pretend Best Friend' Milly Evans on keys, with some serious head banging, tears it up. There's an even bigger audience cheering for 'My House'. Wright dances around the stage, as he bounces left to right, holding his mike in his hand, Wright throws his right arm back and forth like a frantic dart player.
Ooh wop bop ba doo wop, Oh goodness, my gracious…Terrorivison goes all out on this infectious party anthem, 'Oblivion'. The crowd retorts with raucous singing and arm swaying. The momentum builds as the axe men, Yates and Marklew meld shapes and poses, and the whole band let loose on stage to set closer to 'D'Ya Wanna Go Faster'.
It's all about the Whales and Dolphins and Yorkshire
As the band takes an encore. The crowd doesn't miss the opportunity to start a chant of 'Yorkshire, Yorkshire, Yorkshire' and it's always a beautiful sound to hear. Yorkshire folk, love making their presence known.
So, how do you follow a phenomenal set of 22 'shit 'ot' songs, (that means 'superb' if you are not from Yorkshire)? The jestful 'This Drinking Will Kill Me', does the trick. But, the best hand was played last and Terrorvision was right to put their money where their mouth was, on set closer 'Perseverance' (I was right about the whales and the dolphins,) tune!
What an epic end to their 30th Anniversary show! The band takes a stage bow as Carly Simions, 'No One Does it Better', airs in the background, I couldn't have put it better!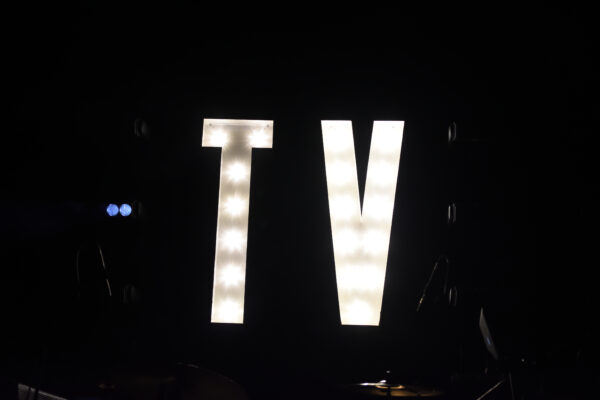 Links: https://www.facebook.com/terrorvisionofficial/?locale=en_GB| https://www.instagram.com/terrorvisionofficial/?hl=en|
Terrorvision is – Tony Wright (vocals), Mark Yates (guitar), Leigh Marklew (bass), Milton Evans (keys/trumpet/BV's), Chris Bussey (drums), Liz Mitchell (Saxophone), Nick Hughes (Horns)
More Photos here: https://flic.kr/s/aHBqjB29H6
Words and photos by Alex English