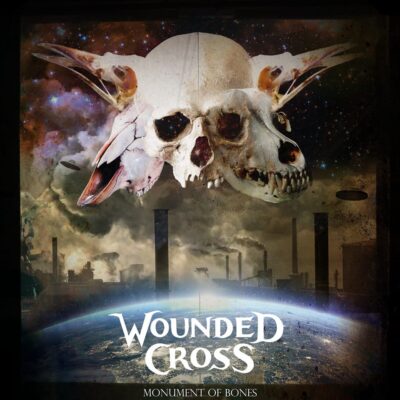 Wounded Cross return from the wastelands to unleash their latest single 'Monument Of Bones' to tackle the subject of our environment and focusing on climate change, asking, "What will be left of our planet if we continue down the path we're on?"
It's the first single taken from an upcoming 2024 full length album and judging by the quality of this single, it's going to be a must buy!
This seven minute plus magnum opus, opens with a Tool like, lengthy intro that meanders into neat guitar lines and inventive drum patterns, but really hits the ground running when the cathartic lead vocals kick in, easing back to mellower passages, breaking its shackles for a brief full on metal midsection, ending on progressive vibes. It shifts on its axis at the five minute mark for drum driven dynamics and fretboard burning fireworks to keep the air guitarists busy until it ends on a cold hearted shiver.
Job well and truly done! The band are down to a trio after forming as a quartet in 2014, split in 2017, reforming in 2023.
Band info is here :- https://www.facebook.com/WoundedCrossMark2 / https://woundedcross.bandcamp.com/track/monument-of-bones / https://www.youtube.com/results?search_query=wounded+cross / https://open.spotify.com/artist/0NggW5LoNUoAKvaWEKC0LC?si=j_m6lqriRterMAyhf4Z1eQ&nd=1
Wounded Cross band line up :-
Tom Love – Guitar.
Stubn – Drums and bass guitar.
Graham Orion Pax – Vocals.
A statement of intent return, sees Wounded Cross hit hard and heavy with new single, 'Monument Of Bones'.