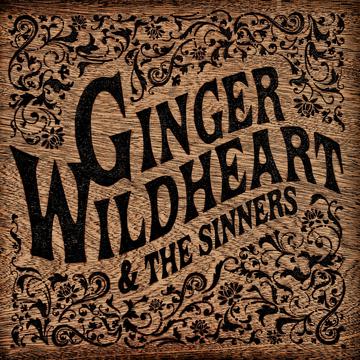 I think I've run out of fingers and toes to count how many bands Ginger Wildheart is in but here's one of them as he releases the debut album Ginger Wildheart And The Sinners by the band of the same name, and what a debut it is on Wicked Cool Records, owned by Stevie Van Zandt. Ginger formed the band in August 2019 and is celebrating the album by playing ten UK shows in October 2022.
Ten songs are crammed into just over a half hour of histrionic party starting and finishing majesty kicking off with 'Wasted Times' that bustles on a 'Brown Sugar' vibe which is no bad thing to these ears. It's Southern rock tinged grooves and a splash of barroom boogie are an early highlight, topped off with good measure from a trademark Ginger vocal that always tugs on the heartstrings, point proven by a lyric of "You're part of me like one of these tattoos".
A twenty four carat solid gold main riff for 'That Smile' jabs at your ears throughout this bright and breezy number, chock full of sugar sweet choruses that have to be shouted out loud and proud!
Vocals on 'Footprints In The Sand' come from guitarist Neil Ivison with a gritty delivery to reflect the songs urgency that brought to mind Bruce Springsteen. It's a rabble rousing rocker of the highest order with yet another chorus to die for.
A ballad, but a ballad with balls sees 'Lately, Always' ebb and flow on stratospheric height harmonies.
Time seemed to stop in their near perfect cover of my favourite Quo song 'Dirty Water' and I'll admit to being reduced to tears. It's a song of sheer beauty and they've put a lovely twist to it with Neil on vocals again.
'Work In Progress' is a hairy hoedown to get you busting some moves out on the dancefloor. Once again the lyrics are bitter sweet but also uplifting to blow away the clouds for some autumn sunshine!
'Breakout' highlights the wordsmith of Ginger as this shimmering song made me think of Dick Dale in the jarring guitar chord structures as he croons through soul searching verses and bombastic choruses to make it the heaviest song here musically and emotionally!
'Six Years Gone', a cover of the Georgia Satellites classic will make you boogie oogie oogie till you just can't boogie no more! It's a tantalizing toe tapper that bounces along like an over inflated spacehopper!
Reggae like chops in the verses of 'Not The Staying Kind' give this tune more bite as do the hefty drum patterns but the spotlight is stolen by twin vocal choruses until it ends on a guitar fuelled outro.
Final song 'Code Of The Road' does exactly what it says that portray life on the road and the code which must be obeyed with tongues firmly placed in cheeks from the hilarious lyrics that include "No solids in the toilet, put the paper in the bin provided!
This quote from Ginger explains the album better than I ever can. "The spirit of the music that we all collectively love, from childhood to the present day. Little Feat, The Allman Brothers, Wilco, The Band, CCR, The Jayhawks, Lone Justice, Jason And The Scorchers, Georgia Satellites, Status Quo, The Stones…….From roots country to rock n roll and Americana".
Purchase links to the album and other band info are here :- https://amzn.eu/d/8Vm4dqk I https://www.facebook.com/gingersinners I https://www.youtube.com/results?search_query=ginger+wildheart+and+the+sinners
Album track listing :-
Wasted Times.
That Smile.
Footprints In The Sand.
Lately, Always.
Dirty Water (Status Quo cover).
Work In Progress.
Breakout.
Six Years Gone (Georgia Satellites cover).
Not The Staying Kind.
Code Of The Road.
Ginger Wildheart And The Sinners band line up :-
Ginger Wildheart – Lead Vocals/Guitar.
Shane Dixon – Vocals/Drums/Piano.
Neil Ivison – Vocals/Guitar.
Nick Lyndon – Vocals/Bass Guitar.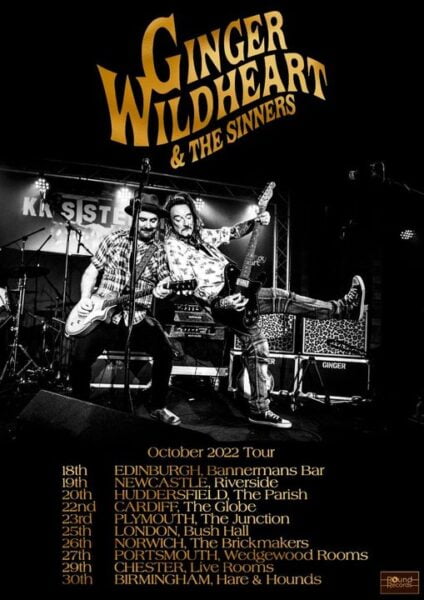 Let's go wild for the self titled debut studio album from Ginger Wildheart And The Sinners!