Italian Gore gods Electrocution brings us only their third full length album in (incredibly) 26 years. Formed in 1990 in Bologna, 'Psychonolatry' shows us how far this band has come since their debut album 'Inside the Unreal', which many believe to be an all time Death Metal classic.
Title track and opener 'Psychonolatry (The Icons Of God And The Mirror Of the Souls)' points exactly where this album is heading. Ugly vocals, speed and punishing guitars set the tone perfectly. Relentless speed throughout an enthralling opener. 'Hallucinatory Breed' brings more of the same. Shades of Morbid Angel, who I had the pleasure of spending an hour backstage with many years ago at Manchester Academy 2. I'm hearing lots of 'Death' here. Another band that won me over after their 'Holy Terror' album.
'Bulaggna' gives us patches of slower speeds which, at this point I think the album needs. So far it's been non stop ferocity. I feel sometimes even Death Metal like this needs to take a breather, even if just to show us some diversity. Electrocution have opted for pure aggression throughout this album. 'Warped' being another example of this.
'Of Blood And Flesh' has a more 1990's manic thrash feel to it, but again relentless. Lets just remember here that the precision these guys play with and their writing ability is second to none. That must never be ignored. As we journey through other classics such as 'Divine Retribution', 'Organic Desease Of The Sensory Organs', and 'Bologna' its settling to learn that Electrocution have been able to replicate, if not exceed the success of their first two albums. This album is for the hardened ears amongst us.
Track Listing:
1 – Psychonolatry (The Icons of God and the Mirror of the Souls)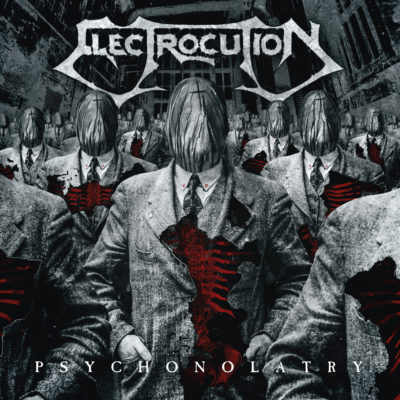 2 – Hallucinatory Breed
3 – Bulaggna
4 – Warped
5 – Of Blood And Flesh
6 – Misanthropic Carnage
7 – Malum Intra Nos Est (Seneca I Century AD)
8 – Divine Retribution
9 – Organic Desease Of The Sensory Organs
10 – Bologna
11 – Premature Burial (Re-recorded)
Line-up: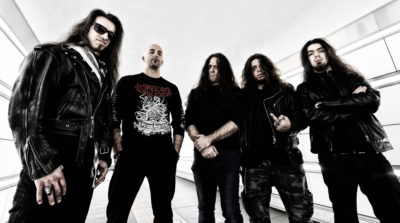 Mick Montaguti – Voice
Vellacifer – Drums
Mat Lehmann – Bass
Neil Grotti – Guitar
Alessio Terzi – Guitar
Links:
Release date 08/02/19. Ferocious attack of Death Metal/Gore. You have been warned.
£6.13 (Digital Download)

editor rating