Here's something that landed on my lap a few weeks or so ago, but a busy band schedule has kept it on my lap until now. Meet Stitched Up, a three piece Metal band from Austin, Texas, the U.S.of A and not to be confused with the UK band of the same name. Formed in 2016 when guitarist and vocalist, Chris Rogers crossed paths and began collaborating. After a few line up changes they we're introduced to drummer Rom Gov.
Heavily influenced by the classic rock/punk scene from the 60's and 70's to the metal/thrash metal movement of the 1980's along with the metal/Nu Metal movement of the 90's and the current wave of hardcore, metalcore, groove metal of the 2000's. It's the confluences of these styles that makes the sound that is Stitched Up.
Opener 'Brujas…Slowly They Burn ' oozes 80's Exodus and is a great start to the album while 'Zero Bullshit ' throws a brutal opening riff into the equation. It most certainly is 80's thrash which brings a wry smile to my face. Love the closing riff in 'Zero Bullshit '.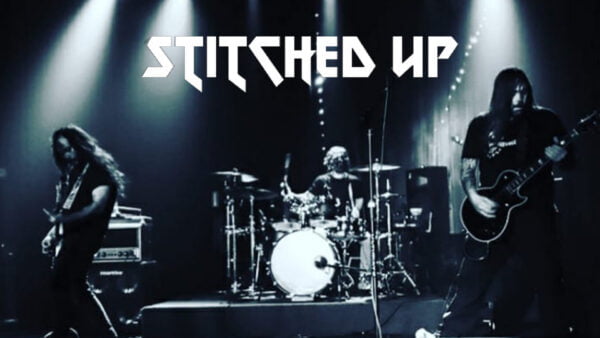 By the time 'Gravity Kills ' opens with its serene bass intro, it's quite clear where we are heading and it is indeed back in time to my favourite era of the late 80's where thrash came to the fore and spawned many a band, most of whom are still around today.
One of Stitched Up's traits seems to be iconic intros to each song which ultimately gets the floor stomping. Is it easy listening? Yes, it is for all of us who love this genre. To put a stamp on influences, I'd say Pantera, Sepultura, Slayer, Exodus, Metallica etc…. but each song stamps the band's own authority and style which makes Stitched Up a band that needs to be seen live. I don't think the album does the band justice, as I can imagine a manic mosh pit swimming to these tracks. All in all though, a great album that may take time to enjoy for some, but not for me. Lovely.
Track listing:
1 – Brujas…..Slowly They Burn 2 – Zero Bullshit 3 – Gravity Kills 4 – David Carradine 5 – X2Y
6 – California Locust 7 – Goat Fucker 8 – C4YC 9 – Necromantis 10 – Marz
Line-up:
Matthew MacMorran – Guitar/Vocals / Chris Rogers – Bass/Vocals / Rom Gov – Drums
Featuring James MacMorran – Keys
Links:
Release date - 13/05/22. Running length - 49mins 42secs.