Manchester based Deus Mori are another new band to me, recommended by my brother Lee Beardall from Hardcore punk outfit Eye Licker,  and I thank him for this brilliant recommendation.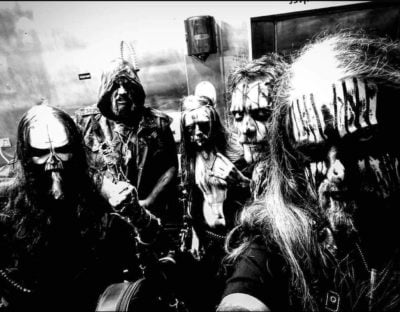 Only two years old are Deus Mori, but there is no sign of a lack of experience within this EP at all. Opener 'Rendezvous With Death ' is a spoken dialogue with beautiful music behind it. I played this four times before moving on to 'Obsequies In Earth ', such is the beauty and meaning within this intro. 'Obsequies In Earth ' batters the ear drums from the off. Power, doom, depression all rolled in to one. It's lazy, but such is the vast transformation of sections that make up this track, well, I can only describe it as been put together in an astonishing way.
'Under The Sigil Of Death ' steamrolls along nicely and incorporates that depressive feel. It's a strange feeling I get listening to this track. Yes, it is very depressive, but it also boasts sections that fill you with hope, and passion, and purpose. But suddenly it's gone. Replaced with 'Ritual Silence '. A seven minute stonker. A bit more hardcore punk is this track, but still maintains the doom and gloom. This is the best track so far. Full of energy and brutalness. Some of the speed changes here are clinical in every way. Some of the time changes defy logic. Fantastic.
What's great about this EP is that each track leads into the next. It's a story. The title track is the final full length offering here and is another pearler at just shy of seven minutes long. Amazing speed changes, which come without any warning whatsoever. You just need to listen to these guys to fully understand what I'm trying to describe.
The EP finishes with some returning dialogue from the opening track. This band can go a long, long way. Seriously. And seriously, buy this EP. It's £6 well worth spent in these difficult times. Fantastic stuff.
Track-Listing:
1 – Redezvous With Death   2 – Obsequies In Earth   3 – Under The Sigil Of Death   4 – Ritual Silence
5 – Umbra Mortis   6 – Suicide In The Trenches
Line-Up:
Dødsklokken – Vocals   /   Exigne – Guitar, Vocals   /   Enecate – Guitar, Vocals   /   Skogen – Bass   /   Krosis – Drums
Links:
Release date: 04/04/20. Running length: 26mins 37secs. Amazing EP. Truly amazing.