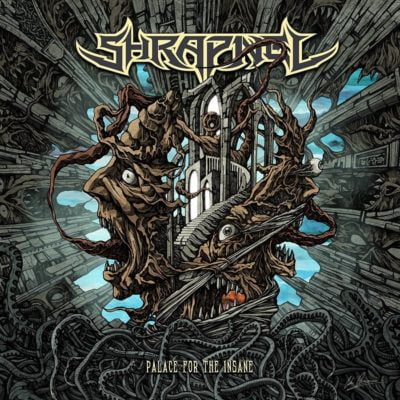 2020 is already looking a healthy year for thrash metal and Norwich based Shrapnel are adding a lot more muscle to it with their latest studio album Palace For The Insane. Due for release on May 15th via Candlelight Records it's dizbusting dozen songs decimate from the off with the body blow dynamics of 'Begin Again'. Riffs grind alongside a battery of kick drumming and a mighty roared lead vocal from Aarran Tucker make it a hard act to follow.
Drum overload from Chris Williams batters 'Bury Me Alive' along for this lesson of thrash to the finish line as riffs fly straight out of the starting blocks to. 'Cannibal' is all neck breaking grooves as chugging verses speed up for the face melting choruses. A drop in pace but not for intensity sees 'Future Sight' crawl along on a powerfully messaged vocal until it kicks in midway with raging guitar work from Nathan Sadd. We're back to the mayhem as 'Infernal Choir' is a brilliant blur of mind blowing time changes,  Thor hammer blow drums and a guest guitar solo by Kristian Havard from Xentrix.
A melodic guitar intro sets the scene for the neck breaking banger 'Might Of Cygnus'. Guitars are like weapons of mass destruction here as they don't let up for a thrashtastic seven minutes! The title track is a brutal pit opening pummel of unrelenting speed metal as a full on gallop brought to mind the ferociousness of early Exodus. A shock wave of kick drums opens up 'Salt Of The Earth' as the song eases off for an assault of mid paced thrash, ending on a devilish vocal outro. 'The Mace' took a few spins around it due to it being so overwhelming. The only way to describe it is a total annihilation of power and precision!
A diamond cutting main riff opens up 'Turn Off The Lights' as a monstrous route march of rib rattling kick drums, volatile vocals and guitar overload crank up the intensity. An suffocating cloak of heavy doom riffing propels 'Violent, Now Forever' along as gang like hollered choruses drive their message home. Another number that took repeated plays to let it all sink in as 'Vultures Circle' is mesmerizing by the sheer majesty of it. It's a monolithic metal meltdown as the second half of brutality raises the bar even higher!
Album track listing :-
Begin Again.
Bury Me Alive.
Cannibal.
Future Sight.
Infernal Choir.
Night Of The Cygnus.
Palace For The Insane.
Salt The Earth.
The Mace.
Turn Off The Lights.
Violent, Now Forever.
Vultures Circle.
Shrapnel band line up :-
Chris Williams – Drums.
Nathan Sadd – Lead guitar.
Chris Martin – Rhythm guitar.
Aarran Tucker – Vocals/bass guitar.
The doors of the palace for the insane have been kicked down by the battering from Shrapnel.