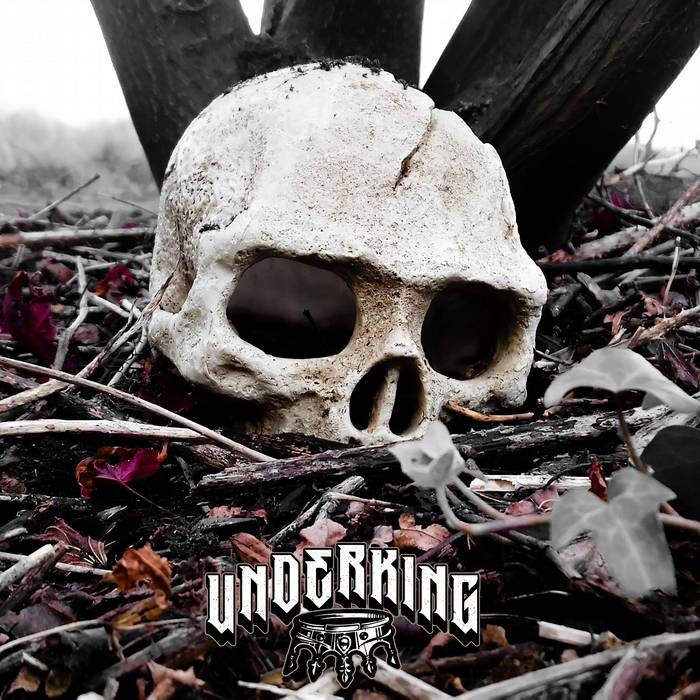 Ghosts Of The Past, one of two debut albums released on April 3rd 2020 by Underking is a much different animal to its twin, the full on metal mayhem of Amongst The Dead.  A change of personnel sees Maxwell Jeffries not just play all the music, he also takes on lead vocals with backing vocals coming from Adam Buckley.
This seven track album begins with 'Hex', an interesting amalgamation of power metal, melodic vocals that are pinned down by a spiraling riff and snappy snare drum work. 'Underking' begins with an early Rainbow like vibe which matches the lyrical content that tells a tale of a goblin tribe rebelling against a mythical creature. An eerie vocal adds to the desperation of the lyrics. 'Fading Colour' is a chilling, short and sweet ballad with ethereal nuances. A solid main riff for 'Black Lungs' gets the heaviness quota up as do bursts of kick drums and it heads off into a headbanging segment midway, all backed by passionate vocals.
'Chasing Ghosts' is a casually strummed instrumental that beefs up to a doom outro. 'To My Death' is another riff heavy monster that shifts from hard rock to mid paced thrash tempos as an extra edge comes from intermittent guitar fills. This diverse album ends with my personal favourite, the all consuming seven minute epic 'Witch Hammer'. It's main body is of heavy, symphonic metal as ghoulish lyrics add menace to the grisly subject matter. A spine tingling scene setting instrumental intro is followed by a crushing riff and the song ends on the creepily repeated vocal of "Burn Them All".
Album track listing :-
Hexed.
Underking.
Fading Colour.
Black Lungs.
Chasing Ghosts.
To My Death.
Witch Hammer.
Ghosts Of The Past should lift the spirits of rock/metal fans everywhere.