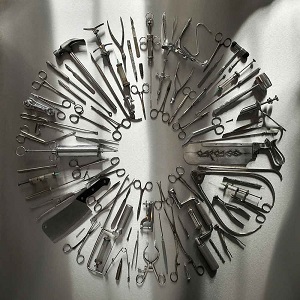 UK melodic death progenitors Carcass, have released their new album "Surgical Steel". A lot of putrid water has passed under the bridge in the seventeen years since their Swansong and Jeff Walker alongside Bill Steer surprised many with a return to the studio.
In the interim, Walker gave us the death & roll of Blackstar, contributed with Brujeria and even light engineered for fellow scousers Anathema on tour while Steer went on a voyage of discovery that let him explore the blues with Firebird and he even guested on folk singer Marianne Segal's "The Gathering". At times, it really seemed that a reunion was nigh on impossible. Yet in 2007 a short festival run of dates reignited the flame and last year Carcass autoclaved their implements and once again took their creative minds to the morgue. "Surgical Steel" is Carcass being clinically brutal with their familiar sound that nestles comfortably between "Necroticism: Descanting the Insalubrious" and "Heartwork". When "Captive Bolt Pistol" was released in advance of the album, it confirmed to the internet generation that Carcass were back and had lost none of their concussive maliciousness.
From the offset, the polished twin leads of "1985", meld together before the initial onslaught of "Thrasher's Abbatoir" – a jaw dropping two minutes of fury. Walker's vitriolic snarl is still as acerbic as ever. The scything "Cadaver Pouch Conveyor System", the neck breaking "Unfit for Human Consumption" and the sensational complexity of "Noncompliance to ASTM F 899-12 Standard" are more akin to the melodic nature of "Heartwork", jam packed with lead harmonies and cascading drum fills. The death-groove of "A Congealed Clot of Blood" takes down the frenetic pace of the album with its marginally slower riffing. Steer's blusier solo towards the end is a perfect contrast to his technical wizardry that abounds throughout "Surgical Steel". Notably on "The Master Butcher's Apron", new drummer Dan Wilding, spills his blastbeating tempestuousness with a precision that enhances the Carcass sound for 2013. With the new line up bolstered by Ben Ash, this collection of songs will fit seamlessly into the live set on the upcoming tour dates.
Carcass' influence on the extreme metal scene is undeniable. Theirs is a legacy of savagery that has been surgically refined with the release of "Surgical Steel", proving in a world obsessed with nostalgia that some reunions are more than just an exercise in accountancy, they are a justified extension of a still relevant entity.
On "Surgical Steel", Carcass have once again imparted an analytic lesson in evisceration.
The Tracks:
1985
Thrasher's Abattoir
Cadaver Pouch Conveyor System
A Congealed Clot Of Blood
The Master Butcher's Apron
Noncompliance to ASTM F 899-12 Standard
The Granulating Dark Satanic Mills
Unfit For Human Consumption
316L Grade Surgical Steel
Captive Bolt Pistol
Mount Of Execution
The Band:
Jeff Walker – Bass and Vocals
Bill Steer – Lead Guitar and Vocals
Daniel Wilding – Drums
Ben Ash – Guitar
The Links:
https://www.facebook.com/OfficialCarcass
https://twitter.com/CarcassBand
On "Surgical Steel", Carcass have once again imparted an analytic lesson in evisceration.