CARCASS ANNOUNCE 'BLOODY BLIGHTY 2023' UK TOUR DATES
CARCASS has announced a non-stop, two-week run of intimate UK club shows this May and June, dubbed the 'Bloody Blighty 2023' tour, followed by a performance at Download Festival. Support will come from Unto Others (June 1st onwards) and Conjurer (all dates).
CARCASS, who will also be playing three shows in Ireland this March, followed by a month-long USA run with Municipal Waste, Sacred Reich and Creeping Death, released their esteemed record Torn Arteries last year. Decibel stated that the band's 7th record is a fusion of "the best elements of virtually every era of the extremely varied Carcass back catalogue", with Metal Hammer voicing that "Once again, this is Total Carcass. No one does it better. In fact, no one else does it."
Jeff Walker stated:
"I've a wager with Kam from Live Nation that this tour will NOT sell out. I'm banking on the Great British public to make me ten pounds richer by the time we get to Download. Thank you in advance".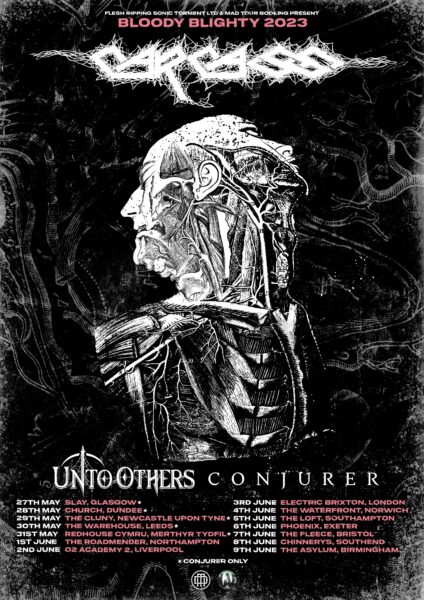 Tickets for all shows are on sale now via the below links.
Bloody Blighty 2023 Tour
^^ with Unto Others + Conjurer
** with Conjurer
27 May – Slay, Glasgow **
28 May – Church, Dundee **
29 May – The Cluny, Newcastle **
30 May – The Warehouse, Leeds **
31 May – Redhouse Cymru, Merthyr Tydfil **
01 Jun – The Roadmender, Northampton ^^
02 Jun – o2 Academy 2, Liverpool ^^
03 Jun – Electric Brixton, London ^^
04 Jun – The Waterfront, Norwich ^^
05 Jun – The Loft, Southampton ^^
06 Jun – Phoenix, Exeter ^^
07 Jun – The Fleece, Bristol ^^
08 Jun – Chinnerys, Southend-On-Sea ^^
09 Jun – The Asylum, Birmingham ^^
08-11 Jun – Donington, Download Festival
Ireland 2023 Tour Dates
16 Mar – Belfast, Limelight
17 Mar – Limerick, Dolans
18 Mar – Dublin, Academy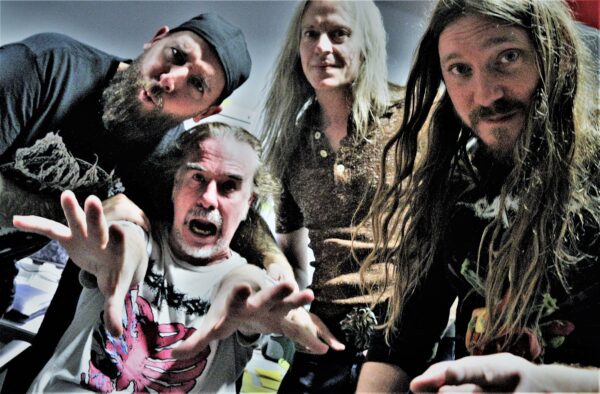 USA + Canada 2023 Tour Dates w/
Municipal Waste, Sacred Reich, Creeping Death
31 Mar – Santa Ana, CA – The Observatory
01 Apr – Mesa, AZ – The Nile Theater
03 Apr- Austin, TX – Mohawk
04 Apr- Dallas, TX – Granada Theater
05 Apr – Houston, TX – White Oak Music Hall
07 Apr- Atlanta, GA – The Masquerade
08 Apr- Tampa, FL – The Orpheum
11 Apr – Raleigh, NC – The Ritz
12 Apr – Baltimore, MD – Baltimore Soundstage
13 Apr – Brooklyn, NY – Warsaw
14 Apr – Worcester, MA – The Palladium
15 Apr – Montreal, QC – Club Soda
16 Apr – Toronto, ON – Phoenix Concert Theatre
18 Apr – Chicago, IL – Metro
19 Apr – Minneapolis, MN – First Avenue
20 Apr – Lawrence, KS – The Granada
21 Apr – Englewood, CO – Gothic Theatre
22 Apr – Salt Lake City, UT – The Depot
24 Apr – Seattle, WA – The Crocodile
25 Apr – Vancouver, BC – Commodore Ballroom
26 Apr – Portland, OR – Hawthorne Theatre
28 Apr – Berkeley, CA – The UC Theatre
29 Apr – San Diego, CA – The Observatory North Park
30 Apr – Los Angeles, CA – The Belasco
Stream and purchase Torn Arteries at: https://bfan.link/Carcass-TornArteries
More from Torn Arteries:
The Scythe's Remorseless Swing – music video: https://youtu.be/kkE-o-5RqwM
Dance of Ixtab (Psychopomp & Circumstances March No. 1 in B) music video: https://youtu.be/34uxC0cfQc4
Kelly's Meat Emporium visualizer: https://youtu.be/hdcfhccjk78
Kelly's Meat Emporium drum playthrough: https://youtu.be/bYnJpfL4DW4
Under the Scalpel Blade audio track: https://youtu.be/fT24YUVzI5I
Torn Arteries drum playthrough: https://youtu.be/dL_ehBPJ1mI
CARCASS is:
Bill Steer – Guitars
Jeff Walker – Bass/Vocals
Daniel Wilding – Drums
James Blackford – Live Guitars