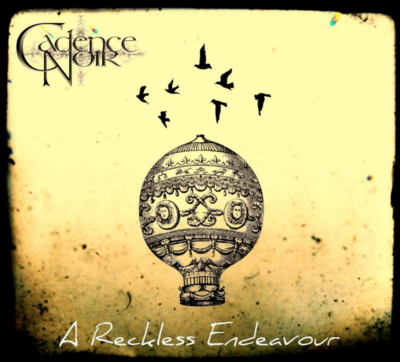 Self proclaimed Gothic Folk 'N' Rollers Cadence Noir return from the wilderness to defy us with their eccentricities courtesy of the latest musings on new EP A Reckless Endeavour.
Even by their ludicrously over the top standards, opener 'Weighing Owls' is a jiggingly jiggy jig as Emma Bennett on violin gets the party started backed by a hefty guitar riff from frontman Adrien Perrie. Side splitting choruses and a guitar/violin standoff midway, add to the madness! The way 'Hammered And Sickened' blasts out, I could envisage a wall of death at a concert open up with everyone playing air violin.
A re-recording of the 2015 take of 'A Reckless Endeavour' sees the guitar lines sound sharper in the mix and the bongos are hit harder than Ian Gillan ever hit them. A demented breakdown midway is bombastic but after all these years, why have I only just noticed that the intro is like 'I Predict A Riot'? It's typical of Cadence Noir that they get you into a party mood, then break your heart. This time it comes from the beautiful ballad 'Down The Park'. Powerful lyrics reflect how simple life was in our childhood and as we get older, we realise how cruel human beings can be, but a touch of joviality comes midway courtesy of a jaunty jig.
A re-recording of the 2014 'My Place' is a short, sweet early summer breeze feel good ditty with lyrics we can all relate to. Probably the oddest track here (in a good way) is 'Dave's Turnip Tart', basically a four minute drum solo from David Budge. They were a staple at 70's/80's rock gigs which gave you chance to go for a pint, a slash, a smoke or all three depending on how pretentious the band playing was. Thankfully enough David impresses here with some hard hitting, inventive patterns. A big, fat grin inducing number 'Hey Yeah' (secret track) closes this highly entertaining EP. Musically it's a jovial jaunt backed by a rush of blood lead vocal. Job done!
The EP is due for release on June 19th 2020 as they proclaim they are "Now entering their ninth year of absurd existence".
A Reckless Endeavour EP track listing :-
Weighing Owls.
Hammered And Sickened.
A Reckless Endeavour.
Down The Park.
My Place.
Dave's Turnip Tart.
Hey Yeah (secret track).
Cadence Noir band line up :-
Adrien Perrie as 'Mr Noir' – Guitar/vocals.
Nick Chamberlain as 'Some cretin we found in a skip' – Guitar/backing vocals.
Tom Smith as 'The Pirate' – Bass guitar.
Emma Bennett as 'Lady E' – Violin.
David Budge as 'Himself' – Drums.
A not so reckless endeavour from these seven pearls of wisdom songs.